Relaxing in Rio
28 January 2015
Journalist Sean Sheehan shares his tips on how to get the most out of Rio de Janiero, Brazil.
It is a truth universally acknowledged, as Jane Austen might have put it, that anyone in search of an excessively good time will sooner or later discover Rio de Janeiro. It is a rumbustious city whose citizens are determined to enjoy themselves. Take an 8 am morning stroll along Copacabana and you'll see surfers eying up the waves; by the afternoon the beach is filled with sun-seekers lazing under umbrellas or fit young men playing handball; come 11 pm, city nightclubs are beginning to spark with hedonistic energy. Whatever the time of day or night, the pulse of a city alive to its sensuality is felt beating to its Latin American rhythm and you feel it frequently. This is Rio, the cidade maravilhosa ("marvellous city"), and it can be exhausting: to stay comfortable and sane you need somewhere tranquil to dine and somewhere soothing to lay your body to rest.
The gringo-friendly neighbourhood of Santa Teresa is the most agreeable place to stay in Rio. Untypical for the capital, it is an anomaly to be celebrated: residential and safe but mildly bohemian, with cobbled winding streets and a shabbiness that verges on the chic. The area's appeal to visitors is obvious – with bars, art-and-craft shops and restaurants — but its tourist potential has not yet spoiled Santa Teresa's character. Take Mama Ruisa, a lovely old house, built in 1917, where breakfast is served on a balcony looking out to sea through banana plants and palm trees. Flowering frangipani overlook a small swimming pool and a tasteful elegance characterises the eight bedrooms and sitting room. Casa Beleza is even smaller with four rooms, though there is also a secluded little bungalow on higher ground with a hammock-equipped balcony, and with breakfast served al fresco on the lawn this is another delightfully relaxing place to stay.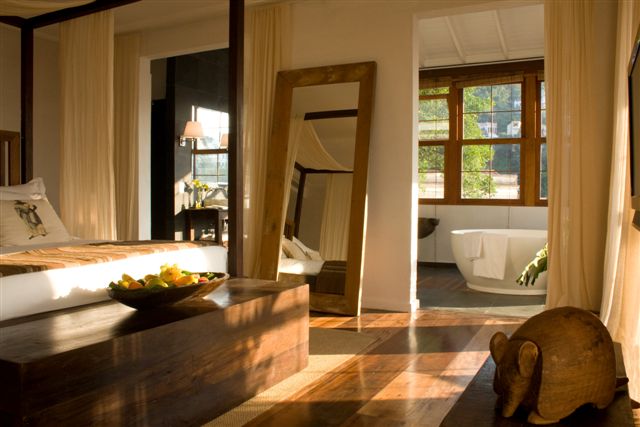 The fit and fun way to see Rio's iconic beaches and sights is by bicycle, pedalling along safely with a guide with interesting stops along the way. The first rest comes outside the Art Deco Copacabana Palace Hotel perhaps not as visually stunning as the giant statue of Christ the Redeemer – the image of which instantly references Rio de Janeiro – but still hugely wonderful to behold. Build in 1923, in splendid isolation on a largely empty beach, it became the symbol of Rio's high-life appeal.
If not fortunate enough to be staying here, you need to return for its Northern Italian restaurant, Cipriani, or the pan-Asian Mee. The cycle tour, which continues to Botafoga and stops for scenic views before looping around to Ipanema, is run by a small local company, Rio by Bike, and if their walking tours are as good as the bike trip I experienced then they're worth checking out. If nothing else, the mention of Ipanema is a reminder to put some versions of The Girl from Ipanema on your phone before you fly down to Rio.
Journalist, Sean travelled with Journey Latin America. Rio is one of our most places to visit in Latin America. For more information or general tips, give us a ring on 020 8747 3108
Click here for Sean Sheehan's full article 'Relaxing in Rio' which feature in Glass Magazine on 05 January 2015.
Tailor-made holidays
Flexible, custom-made holidays to Latin America created to match your exact requirements: our tailor-made itineraries are as unique as the clients for whom they are designed.
Design my trip