Anyone who knows me even slightly will know that I am the least adventurous person there is. A combination of fear and a lack of interest has stopped me from ever taking part in any adrenaline-inducing activities which other people actively seek out. So when I found out that I would be zip lining in Costa Rica I was instantly nervous, but also slightly curious. Zip lining is an extremely popular activity in Costa Rica. Not only do you get a large dose of adrenaline but you are given an extremely advantageous view of the landscape.
As we headed into Monteverde Cloud Forest Reserve, we were united in fear. A group of 6 females who had literally only just met each other, we were all beginners and the guides laughed at us from the second they met us to the moment we said goodbye.
Sky Adventures in Monteverde has 7 zip lines, the first is a short training line where the guides will get you geared up, give you all the instructions and an extensive safety briefing. At this point you have to make the final decision - do you or do you not go ahead with the Sky Trek - as once you've started, there's no backing out. This was a decision made by a member of our group who was more than happy to enjoy a cold drink while waiting for us to make our way down. The rest of us continued on with butterflies in our stomachs. However we were all reassured that death wasn't an issue and that all safety measures have been taken before and during our visit. Plus it was extremely comforting to watch the guides glide seamlessly as parrots through the forest.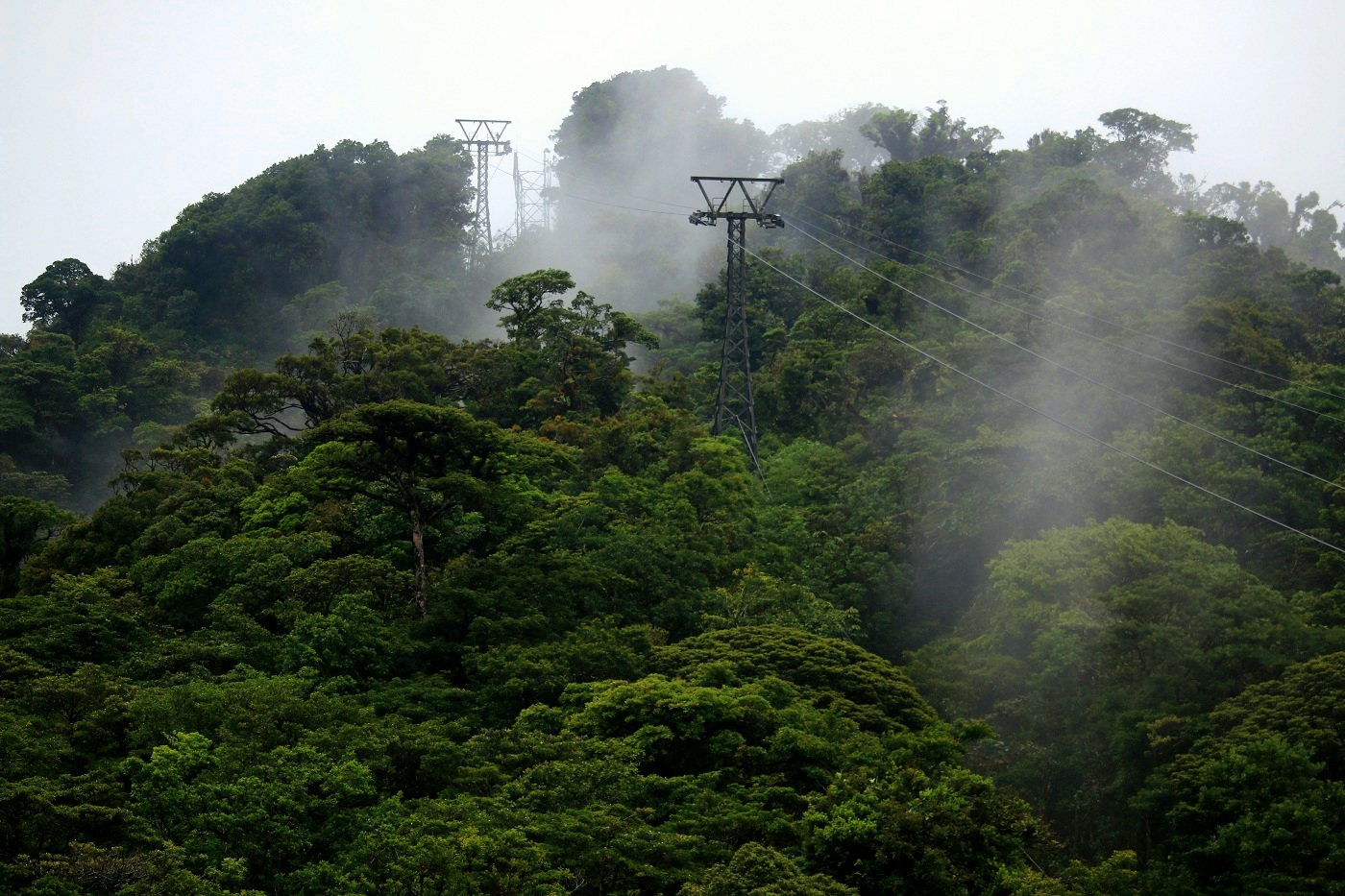 As you make your way up the mountains to the other lines on a sky tram gondola the view is stunning. If you're lucky enough to be there on a good day like us, you'll be able to see the Nicoya Peninsula on one side and on the other the Arenal volcano. But before long you've reached platform 2 where the adventure continues. Each line varies in length and altitude which give rise to different speeds. One thing is for certain, whether you enjoy the few seconds of whizzing through the sky or not, the view from each platform is incredible! There aren't many opportunities to look down at the lush canopy and absorb all the surrounding landscape and sounds. So as you wait for your turn, take a moment to really enjoy it.
The benefit of having to go through 6 different lines is that although we all started off scared, by the 3rd line we were enjoying every second of flying through the sky, looking around the cloud forest and the birds flying around us. And by the final line we all felt like pros and would have happily continued on for another hour.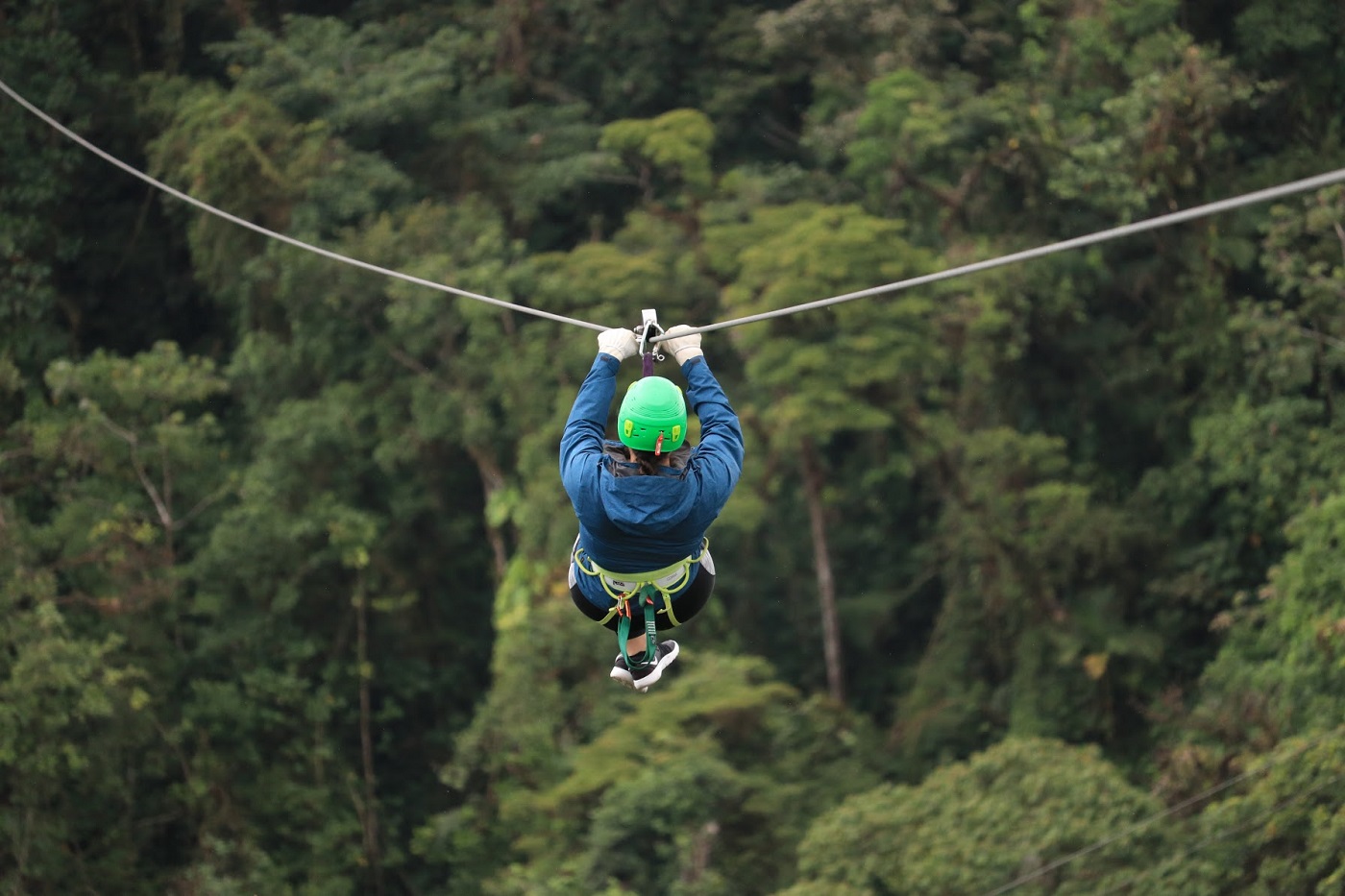 For absolute beginners it does take some encouraging and fear will certainly stay with you for a while but don't give in to it. It's a wonderful experience that lets you really immerse yourself in your surroundings. Had it not been planned for me, I doubt I would have ever booked zip lining on a holiday, but I will certainly be doing it again in the future.
Top tips for beginners:
Dress appropriately: Tighter fitting clothes are better as it allows the harness to sit firmly on the body. Long trousers opposed to shorts for comfort and a long sleeve top or light jacket as it can get very windy.
Pay attention to the instructions and safety briefing, this will quash any doubts and don't be afraid to ask questions!
Do wear sunscreen and insect repellent.
Most of all enjoy it! Look around, listen to the wildlife and embrace the wind in your face.
Tailor-made holidays
Flexible, custom-made holidays to Latin America created to match your exact requirements: our tailor-made itineraries are as unique as the clients for whom they are designed.
Design my trip