Going off the beaten track in Peru
7 December 2016
Journey Latin America client Rosemary Morlin shares her experience of going off the beaten track in Peru - from trekking in the north to exploring hidden parts of the Sacred Valley.
Despite having visited Peru 11 times I had no difficulty deciding where to go in 2016 as it's a country that yields many surprises. For a long time I had been considering the Cordillera Huayhuash as I had seen Touching the Void and had often glimpsed the cordillera from the Lima–Caraz bus. Despite an aborted attempt in 2013, I was determined to set foot in Choquequirao since Javier who was my guide on the Salkantay Trek in the Sacred Valley, which I undertook last year, thought I was up to the challenge and there was a new footbridge across the Apurimac replacing the oroya (basket dangling from a cable). I thought it would be good to get Choquequirao out of the way before construction started on the cable-car link promised by the Peruvian government.
Cordillera Huayhuash, Northern Peru
The standard Huayhuash trek normally takes 12 days and since I had a maximum of four weeks' holiday and needed to take into account time spent acclimatizing, Jorge (guide) and Alberto (proprietor of the local tour operator in Caraz) put their heads together and came up with a six-night alternative which takes in spectacular mountain scenery.
Taking advantage of new roads in the area Alberto dropped Jorge and me off at Queropalca where we spent the night in a local hostelry and met Alejandro the arriero and nine-year-old gelding Lucio who was to be my mount. After a breakfast of quinoa we started to trek towards Carhuacocha where we would camp for the first two nights in the shadow of Siula Grande, the second-highest mountain in Peru, which was the scenario in Touching the Void. We dined on fresh trout from the lake which Jorge filleted and cooked.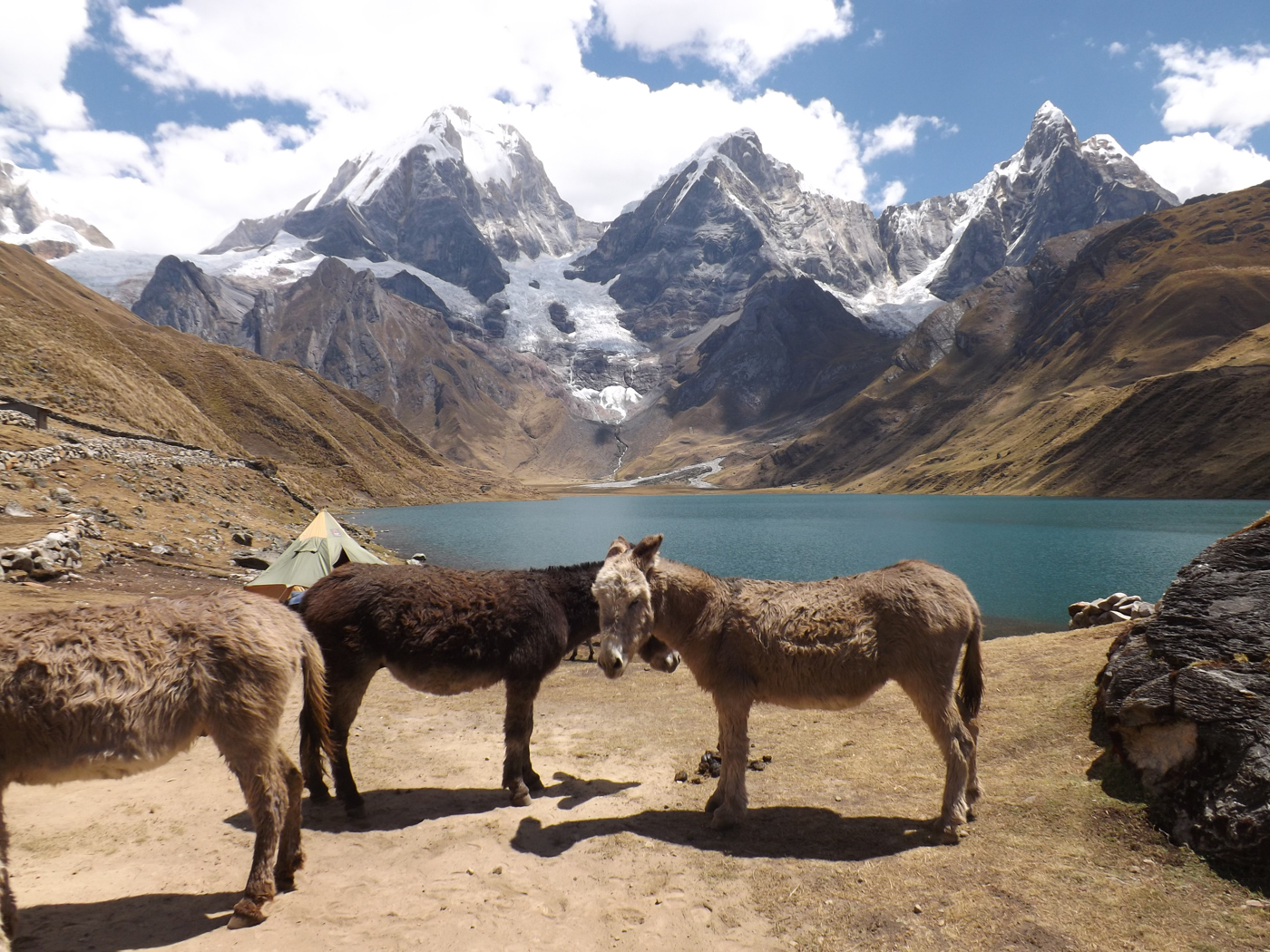 After a challenging day in the saddle we camped at a site named after the cordillera and the day after woke up to frost (the campsite is a good 4,700 metres above sea level). The route was relatively easy with views of the Cordillera Raura until we reached the artificially extended Laguna Viconga, part of Peru's hydro-electric scheme. The descent to the campsite was somewhat difficult, so I did it on foot and was greeted by a loud neigh from Lucio which meant he accepted me as a friend. We took advantage of the camp's hot springs to ease our aching limbs.
We began our descent to Cajatambo the next day. Since there were no steep ascents or descents, Lucio was pleased to be let off the leading rein (which he tolerated) and Jorge gave me a tutorial in dressage. I was able to ride Lucio by myself until we arrived at the place where the combi would stop and pick us up for the rest of the journey to Cajatambo where we would spend our final night.
Choquequirao, Sacred Valley
After spending the first night of this trek in a hostelry in Cachora so that we could start early the next day and be sure of reaching Santa Rosa campsite before dusk, we were driven to Capuliyoc (which I believe is now standard for most trekkers) where we met Raúl, the arriero, and two mules (Fabrito and Blanco) and Bayo (gelding) who would accompany us to Choquequirao.
We then began our descent of the Apurimac gorge which was hot and steep, not helped by the fact that I was wearing a long-sleeved T-shirt and gloves as protection against the biting insects. After stopping for lunch at Chiquiska we then crossed the Apurimac by the new suspension bridge at Playa Rosalina and then ascended to Santa Rosa. We ate our evening meal in what had once been a chapel with a statue of the Virgin Mary keeping an eye over us. The only other campers were a small group of French and Argentine women who wished they had hired pack animals.
We set off early the next day and waited for Raúl and the animals at Santa Rosa Alta. My mount today was Fabrito the younger and less experienced of the two mules. I rode him as far as Maranpata our next camp which we reached in an hour or so. Javier and I then continued on foot to Choquequirao along a narrow descending path. Raúl and Fabrito then caught up with us and I rode the rest of the way. We spent the rest of the morning and afternoon at the site concentrating on the main square and the ushnu (ceremonial area) and Lucio the cook brought us our lunch.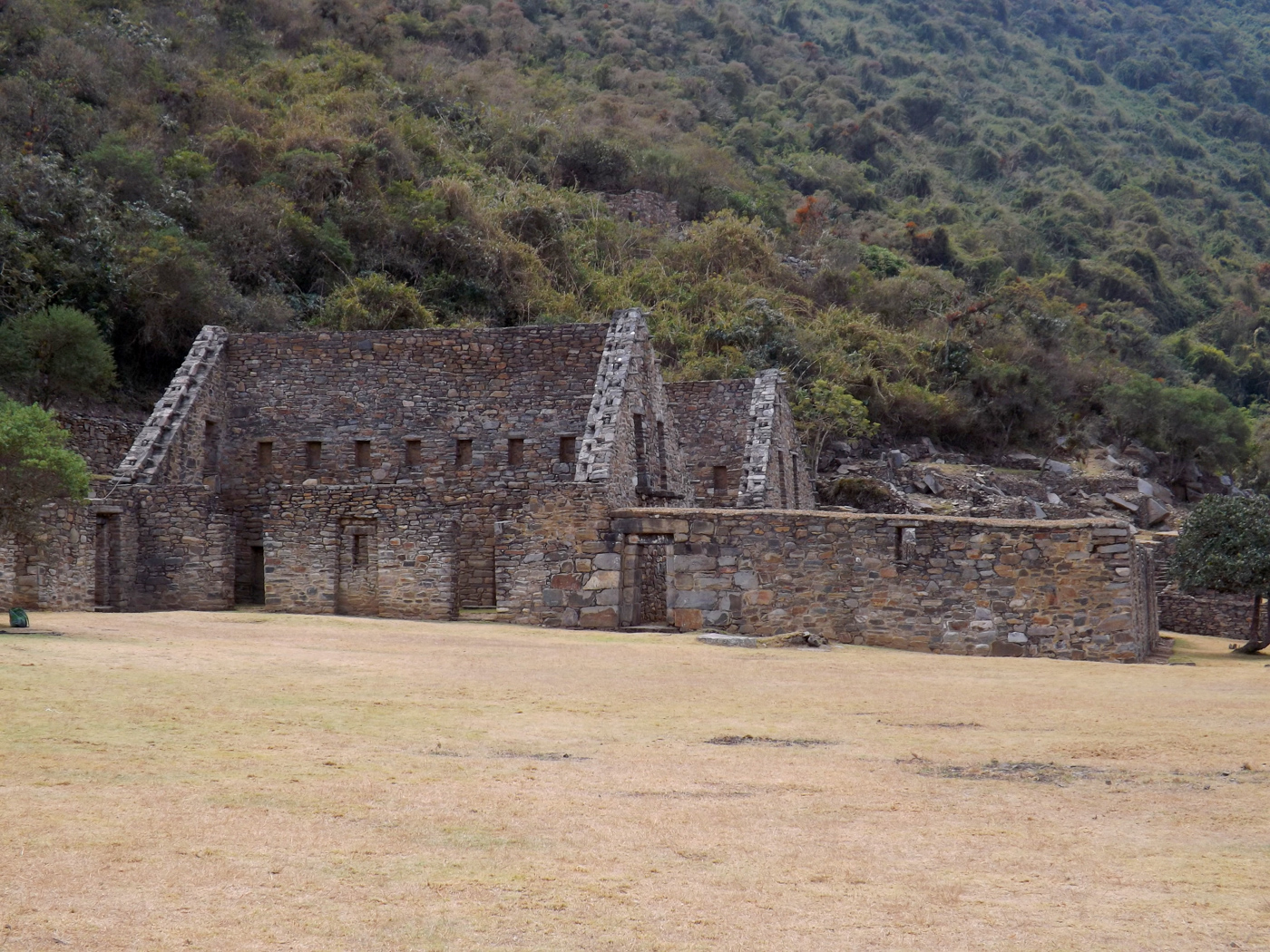 We then returned to Maranpata with the help of Blanco and celebrated my efforts with a bottle of beer from the camp shop that evening. I was also presented with a cake at breakfast next morning for being among the 70 per cent of trekkers who reach Choquequirao. We then retraced our steps, stopping briefly at Playa Rosalina and then for lunch at Chiquiska where we met a Mexican family from Guadalajara and a Peruvian couple from Arequipa who claimed to have visited every region of the country except Huancavelica. I warmly recommended that they should visit Huancavelica.
After lunch Javier and I continued on foot to Ccocamasana, our last camp. En route we were able to appreciate the sun setting over Nevada Padreyoc reaching camp just before dusk. After an evening meal and an early night we began our ascent to Capuliyoc the next day. We were rewarded by the sight of condors returning to their nest. After saying goodbye to Raúl and the animals we hitched a lift with the Mexicans to Cachora where our transport to Cusco was waiting. Two days later Flor, the administrator of the trekking agency, presented me with a T-shirt stamped with 'Sobreviví Choquequirao'('I survived Choquequirao').
I am quite tempted to return to Choquequirao next year but probably by a different route starting at either Huancacalle or Colpapampa and concentrate on the terraces which we didn't have time to see. I am also thinking of trekking another stretch of Capaq Ñan, this time from Baños to Junín and Jorge is also talking of another trek in Huayhuash.
Browse our Active holidays to Peru.
Tailor-made holidays
Flexible, custom-made holidays to Latin America created to match your exact requirements: our tailor-made itineraries are as unique as the clients for whom they are designed.
Design my trip