Driving Aisen
16 January 2015
Aisén (Chile's Region XI) is the third largest of Chile's 15 regions, with the smallest population - over half of whom live in the only town of any size, Coyhaique (57,830). A region of staggering natural beauty, it was for centuries neglected: its fractured landscape of fjords and glaciers hard to negotiate, its agricultural potential meagre, its natural resources hidden away. Political dissidents were sent into exile here, and immigrants from persecution also found peace among the pines. Now, following the upgrading of the original dirt road known as the Carretera Austral, the region is opening up to visitors. Public transport is still scant, so an adventure by hire car is the best and most interesting way of exploring.
Former Journey Latin America Head of Product Diana Henderson took to the wheel and enjoyed an adventurous tour discovering the hidden highlights. This is what she had to say on her return.
Route 7 (the Carretera Austral, or Southern Highway) replaced rough tracks in the 1980s but now the pivotal route ranges from well graded and hard surfaced to contour-crawling gravel track, portions of which remind me of my youthful driving in the American West.
Our self-drive adventure began at the Balmaceda Airport where a diesel Nissan two-wheel drive, 5-speed manual transmission pickup truck – suitable for the gravel roads – awaited. (N.B.: Journey Latin America now only provides 4WD vehicles for this route). It had a few nicks and scrapes plus a small chip in the windscreen, but was excellent mechanically with power steering and robust brakes. We headed off bound for Puerto Rio Tanquilo – a 215 km drive.
The road south from Balmaceda (about 40km southeast of Coyhaique) to Villa Cerro Castillo is well graded, tarmac, two lanes, in good condition, grooved on steep portions and was comfortable at 80-90kph. The remaining 150km was a bit more sporting. The road is hard base with gravel on top and had been recently graded, allowing an average of 70kph (lower in summer). Although mostly wide enough to be two way, it is primarily a single-plus lane road occasionally narrowing with space for only one vehicle. When meeting traffic, one gingerly swings to the outside, off the packed track onto a surface which was generally harder than it looked.
The road climbed several passes which were rather challenging – we adopted a cautious speed of 15kph while following blind, switchback curves, with steep drop-offs unencumbered by guard rails and washboard surfaces. Challenging our skills further, we encountered the occasional lorry growling up from the opposite direction. Darkness and light rain added frisson to the experience; here, rally driving skills are more helpful than motorway sensibilities!
We stayed in Puerto Rio Tranquilo with a single fuel station which accepts Chilean pesos. No cards are accepted, nor foreign currency, and there's no currency exchange in the town. We stayed in a B&B which was somewhere between chic hostel and Swiss chalet. There are a couple of small supermarkets (the larger with a range from ham to horseshoes) and several cafés. One can hire a boat and guide on Lago General Carrera (L. Buenos Aires on the Argentine side) to the Marble Cathedral, an impressively eroded marble boulder the size of a large house. The stippled surface would do a sculptor proud and the turquoise waters over white marble looked positively tropical.
After two nights, we continued south from Puerto Rio Tranquilo toward Cochrane, about 120km. Cochrane boasts two fuel stations, both taking credit cards, although we failed to obtain any cash on Easter Friday. From there we continued the roughly 120km to Caleta Tortel, a settlement built on a hillside, connected by board walks and stairs. We parked in a municipal car park and walked around 1,000m to our lodgings, a very nice B&B run by an architect and a local boat builder. The advice was to take only necessities, but it was not clearly stated that there were 205 steps down from the car park to the main walkway along the shoreline and an additional 167 up to our B&B. I won't be taking quite so much luggage next time!
After dragging the bags back to the truck on Saturday morning, we retraced our journey to Lago General Carrera and Puerto Guadal on the lake's southwest corner. We stayed at Mirador Puerto Guadal, a series of houses dotted on the side of a hill providing privacy and wonderful views over the lake to the mountains and glaciers beyond. Our host provided suggestions for a day trip which included a walk to a waterfall and a drive to an abandoned mine.
After two nights, we drove north to Coyhaique, a very vibrant city which has far more amenities than one might expect of a city of 58,000. As the regional capital and major city in Aisén, Coyhaique is the commercial and financial centre with fuel, currency exchange, and a buzzy central area.
The next day, we proceeded north from Coyhaique on a very scenic, hard-topped road for 100km or so to Puerto Cisnes, where the decent road came to an abrupt end. The road from there north to Puyuhuapi with the pass through Parque Nacional Quelat, with its famous blue tinged hanging glacier, was the narrowest, steepest and roughest road we encountered on the trip. We were extremely pleased not to have eyeballed any lorries!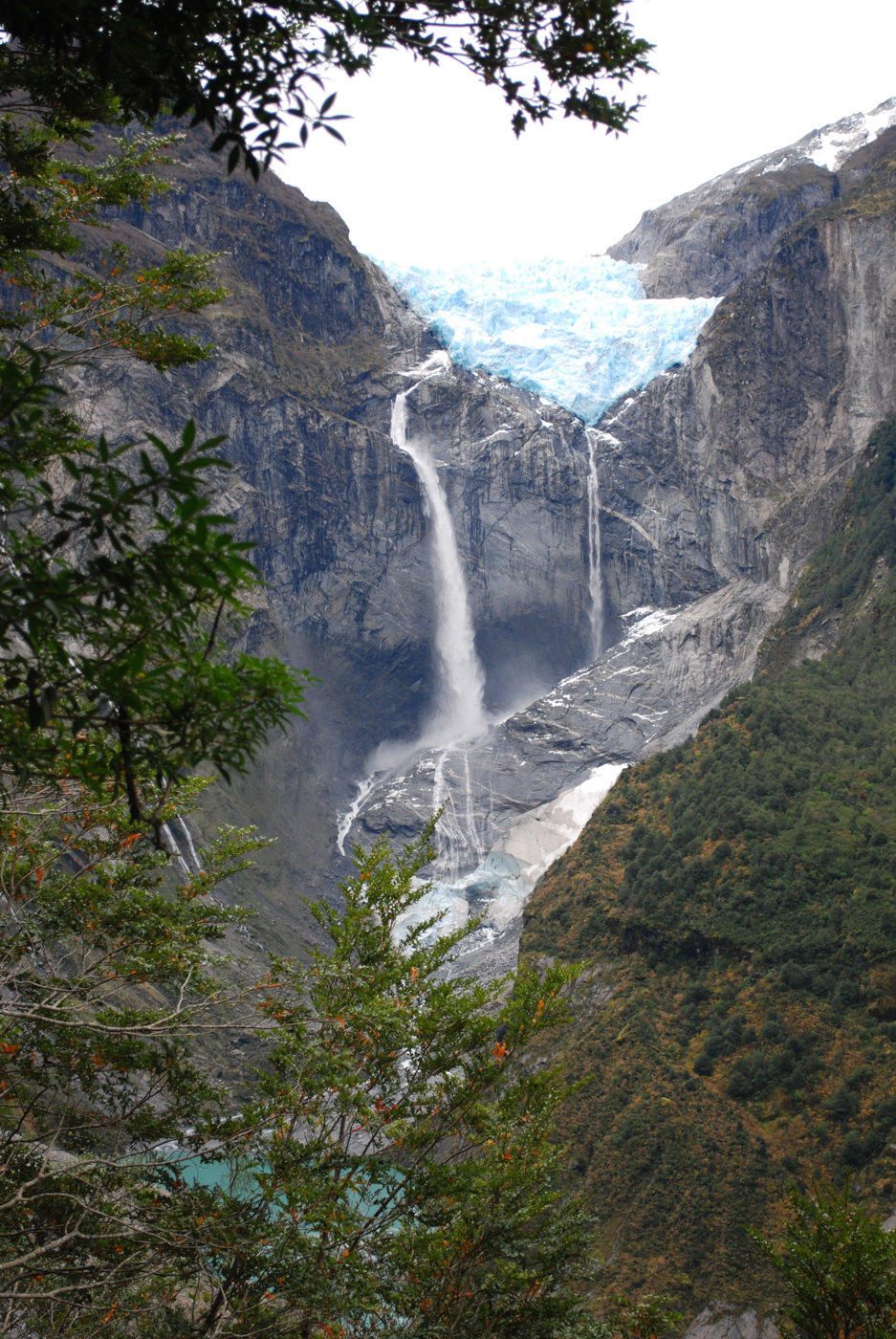 The relaxing Puyuhuapi Lodge & Spa was un-crowded, featuring a full spa, thermal hot pools and an excellent dining room. We followed the self-guided trail, wearing the borrowed – and much needed - wellies on our full day there. The walk's thrill was 4 large black woodpeckers which we watched for nearly half an hour.
After two nights, we retraced our route to Coyhaique and then Balmaceda Airport.
Our trip was in the autumn and after high season. The roads had been recently graded and were, we were told, in good shape. Self drive is an excellent way to discover the area. However, you have to be comfortable in a left-hand drive vehicle following unpaved and ill-marked roads with some steep drops just beyond the shoulder; and navigating via rudimentary English-annotated maps or lovely detailed maps with Spanish annotations. The driving can be fatiguing with rough – sometimes very rough – roads and plenty of dust. Fuel is not inexpensive, and the price increases with distance from Coyhaique.
That said, as we wandered a bit from the main track, stopping for photos and set our own pace, we thoroughly enjoyed our pioneering adventure.
If this trip inspired you, we recently launched a Self-Drive Chile: Off-the-beaten track holiday which discovers some of the more sparsely populated, traditional corners of this wildly beautiful country.
Tailor-made holidays
Flexible, custom-made holidays to Latin America created to match your exact requirements: our tailor-made itineraries are as unique as the clients for whom they are designed.
Design my trip