Visiting Iguazú Falls
2 October 2018

The Iguazú Falls. Many think of them as just another tourist attraction – something you go and stand in front of, take a photo of, look at for ten minutes and then leave. That's certainly not the case! We always recommend a minimum of two nights in the area and it's amazing how quickly this time will fly when you consider all of the possible things you can do and see here.
The Iguazú Falls are located on the border between Brazil and Argentina (and not far from Paraguay) and both countries have their own National Park surrounding the falls, with trails and walkways criss-crossing through the rainforest leading to excellent viewpoints. While the Iguazú River runs much of its course through Brazil, 80% of the actual waterfalls are on the Argentinean side of the border. You really do need to see it from both countries to fully appreciate the enormity – over a stretch of 1.7 miles there are 275 drops, some towering as high as 82m above the river below and with an estimated 450,000 cubic feet of water flowing over every single second!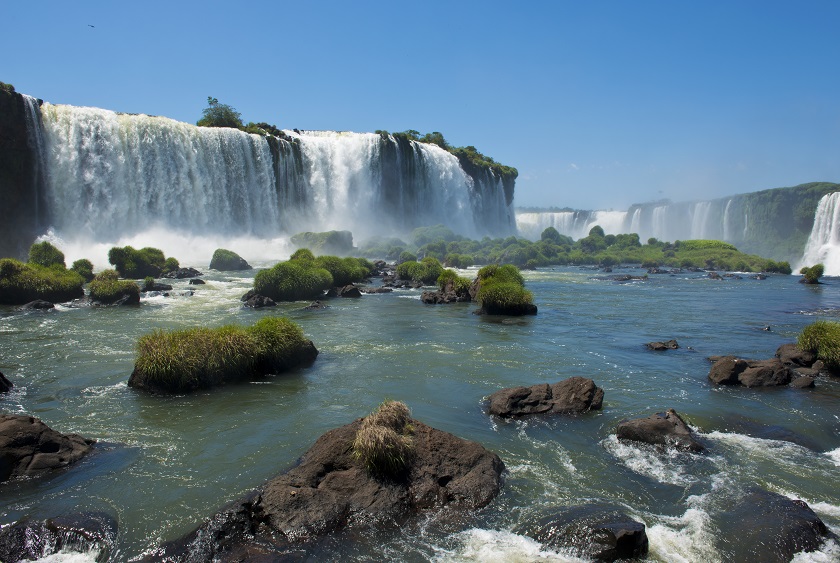 From the Brazilian side you follow a 1.5km walkway directly opposite the first stretch of waterfalls which are just across the river and over the border in Argentina, giving you incredible panoramic views. You'll eventually descend a platform that takes you out into the mist and spray that blows steadily from the Devil's Throat, the thunderous chasm where the majority of the water flows over the edge. Entering the Argentinean side of the National Park you've a number of options to choose from, and your guide will take you around them one by one. First, the upper and lower walkways take you weaving in and out, above and below the falls, offering new viewpoints and letting you get even closer to the tumbling water. Finally you'll make your way across various footbridges and walkways that span 2km of the Rio Iguazú – deceptively still and calm before it reaches the drops. The noise of the vortex will reach you first, a thunderous roar that drowns out everything else. Staring down into the Devil's Throat from above, you'll start to grasp exactly how much water 450,000 cubic feet really is. And if you look down the river and through the mists, you might just be able to make out the people exploring the falls on the Brazilian side of the border.
If sticking to the walkways doesn't sound exciting enough for you, you can jump in a boat on the river and see the falls from an altogether different vantage point. Watch out though – it's not just a scenic boat ride! You'd be advised to take along a waterproof poncho and leave your belongings on dry land as you'll be getting pretty wet! After speeding downriver and over rapids for 10 minutes or so you'll find yourself completely submerged underneath some of the smaller drops on the approach to the Devil's Throat. It's an exhilarating ride, and a unique way to feel refreshed in the tropical heat and humidity of the region – although if you're not so keen on getting soaked there is an option B: the 'dry' boat, protected by a perspex domed roof. Even if you go for the latter option, or skip the boats altogether, it's advisable to take a waterproof layer with you to Iguazú – thousands upon thousands of litres of water splashing and crashing down makes the air thick with moisture and the spray from the falls will make you feel like you've been caught in a rain shower. If you're catching a flight immediately after a visit to the falls, I'd really recommend taking a change of clothes as sitting on an air-conditioned plane in damp clothes for a few hours is probably not the best way to end your day.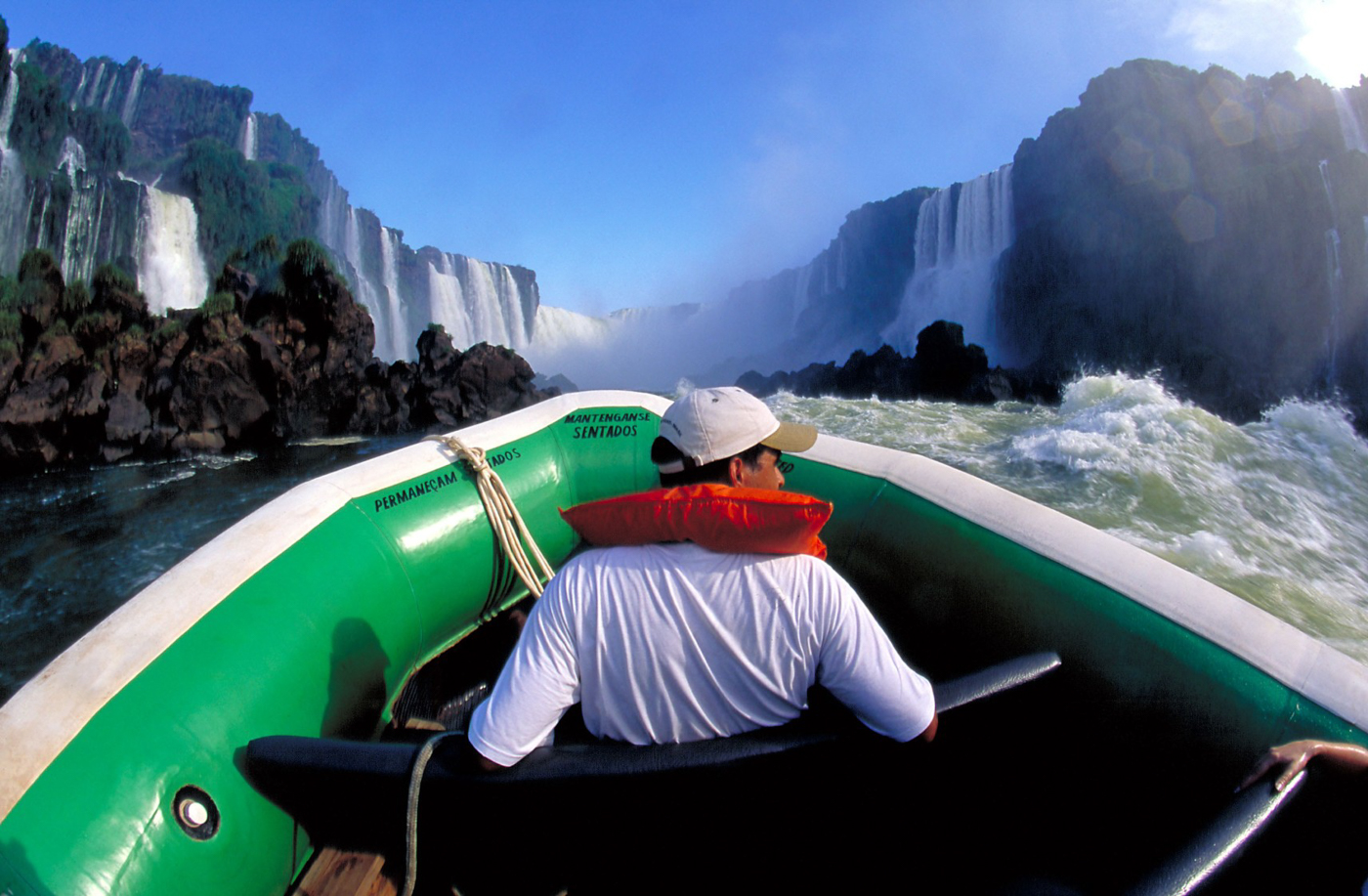 Outside of the National Parks there is still plenty more to see. In Brazil you have the Bird Park: an informative and immersive aviary that lets you get up close to toucans, macaws, flamingos and countless other birds of all shapes, sizes and colours. It's a great place to take the family for an afternoon, and as it's situated just outside of the national park you can easily combine it with your visit to see the falls. If engineering is more your thing, visit the Itaipu Dam, just 10km from Foz do Iguacu and voted one of the seven modern Wonders of the World.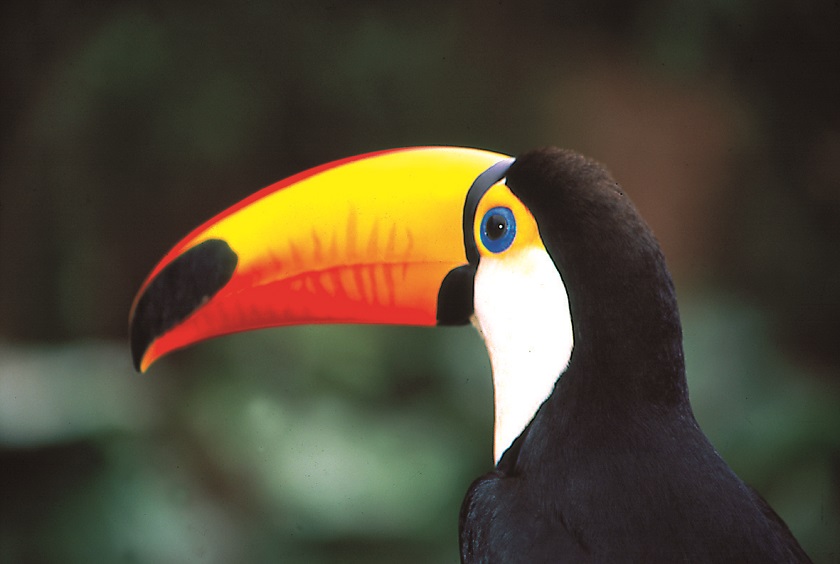 With great accommodation options in both Argentina and Brazil, and so much to do while you're there, there's no reason that Iguazú shouldn't be a highlight of any holiday to South America.
LATAM Airlines offers access to the most extensive flight network in Latin America, reaching more than 120 destinations in Brazil, Argentina, Chile, Peru, Ecuador, Colombia and Paraguay.
You can fly with LATAM Airlines via São Paulo to Puerto Iguazú.
It's now possible to take a direct flight from Puerto Iguazú to Salta, Argentina.
Tailor-made holidays
Flexible, custom-made holidays to Latin America created to match your exact requirements: our tailor-made itineraries are as unique as the clients for whom they are designed.
Design my trip