Hats off to Panama
14 February 2014

2014 marks the 100th anniversary of the extraordinary marvel of engineering that is the Panama Canal.
To celebrate the 100th anniversary of the Panama Canal we have launched a special 8-day Panama Canal-inspired itinerary. To visit this extraordinary feat of engineering is a once-in-a-lifetime experience and to do so in 2014 the year of its 100th anniversary will leave special and treasured lasting memories. One minute you're observing a family of monkeys leaping from tree to tree and then quite spectacularly, as you turn to move you're confronted with a gigantic Panamax cargo ship silently gliding past - a surreal experience when you're in the middle of the rainforest yet business is as usual on the waterways.
Highlights Include: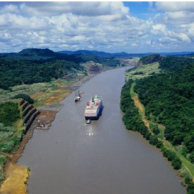 Visit to historic Portobelo town, a World Heritage Site.
Visit to the Panama Canal expansion site.
Visit to San Lorenzo National Park for amazing wildlife opportunities.
Ride on the vintage-style Panama Canal Railroad train.
Full-day ocean-to-ocean transit of the canal.
Holiday departs:
12 - 19 April 2015
12 - 19 July 2015
9 - 16 August 2015
13 - 20 December 2015
10 - 17 January 2016
14 - 21 February 2016
10 - 16 April 2016
12 - 19 June 2016
14 - 21 August 2016
Costs from £1,549pp - international flights not included.
(We highly recommend the August 2014 departure which coincides with the actual anniversary on 14th August 2014. Fireworks and celebrations are expected but yet to be announced.)
Brief short itinerary:
Day 1:
Guided drive from airport to your hotel in the buffer zone of Camino de Cruces National Park
Radisson Summit Hotel
Day 2:
Travel by dugout canoe up the Chagres river to reach the local village of Embera and learn about their daily life.
Radisson Summit Hotel
Day 3:
Enjoy the spectacular Soberania National Park home vast array of bird, animal and wildlife. Then board an expedition boat and cruise up the Panama Canal dodging gigantic cargo ships.
Radisson Summit Hotel
Day 4:
Explore the historic town of Portobelo an important stronghold during colonial times, before admiring the Panama Canal Expansion project from the observation deck at Gatun.
Hotel Melia Panama Canal
Day 5:
Visit Castle of San Lorenzo within the lush, verdant San Lorenzo National Park. Then step back in time aboard the Panama Canal Railroad train.
Country Inn & Suites Amador Hotel
Day 6:
Take an insightful walking tour of the old town in Panama City, stop by the Biodiversity museum and the Punta Culebra Nature Centre. Dine above the Panama Canal in the Miraflores locks.
Country Inn & Suites Amador Hotel
Day 7:
Full day ocean to ocean crossing, aboard a 250 passenger ferry witnessing the engineering marvel of the Panama Canal in action.
Country Inn & Suites Amador Hotel
Day 8:
Optional visit to the smart new BioMuseo in Panama City.
Transfer to airport for flight home.
If this takes your fancy, contact us for more information.
Tailor-made holidays
Flexible, custom-made holidays to Latin America created to match your exact requirements: our tailor-made itineraries are as unique as the clients for whom they are designed.
Design my trip