Frida Kahlo's Mexico City
14 June 2018
With the current Frida Kahlo: Making Her Self Up exhibition at the V&A Museum in London, we're zooming in on Mexico City, the place where Mexico's most famous and charismatic artist's life began and ended. Follow in Frida Kahlo's footsteps and see the city through her eyes by exploring the different sites that can still be visited today.
Frida Khalo was born at what later became known as 'La Casa Azul' ('The Blue House') in the rural borough of Coyacán, Mexico City. The house is built around a central courtyard and stands out because of its cobalt-blue walls. Frida grew up in the house, and would spend the last years of her life here as well, together with her husband, the famous artist Diego Rivera. In 1958, Rivera's will donated the home in order to turn it into a museum in Frida's honour. The rooms and garden of the property have remained the same as they were in the 1950s. The museum is one of Mexico's most popular museums and features artwork by Frida and Diego, as well as photographs, artifacts, memorabilia and personal items of the two. Visiting La Casa Azul is the perfect way to introduce you to Frida Kahlo and the neighbourhood she spent most of her life in.
San Ildefonso College
Frida went to preparatory school at the former Jesuit-college San Ildefonso College where she first met her future husband. At the time, the Mexican government was supporting distinguished muralists to create artwork for the walls of the school. Diego Rivera was one of the muralists who was invited on this occasion, and he was painting the piece Creation on the walls of the Bolívar Auditorium while Frida was watching him. Their paths crossed again a few years later. Nowadays, San Ildefonso College is an impressive museum and cultural centre displaying artwork with a historical and political impact.
Mercado de Coyoacán
Frida Kahlo allegedly loved to go to the local markets, and was a keen visitor of Mercado de Coyoacán, a traditional Mexican market selling a large variety of produce, food items, souvenirs and local handicrafts. Still going today, it's a popular dining location where traditional dishes can be sampled such as the tlacoyos: corn patties filled with either requesón (cheese), fava beans or refried beans.
Xochimilco Gardens
Frida and Diego would regularly take their friends out to the Floating Gardens of nearby Xochimilco where they would hire a trajinera, a colourful gondola, and visit the 'canals' of this borough. The canals themselves are actually the remains of the lake that Mexico City was once built on and this neighbourhood is still a popular weekend destination for Mexicans. On Sundays you'll often see families enjoying some time out on the water having a picnic together. There are floating bands and stalls selling arts and crafts, flowers, drinks and food – which makes for an interesting and fun trip.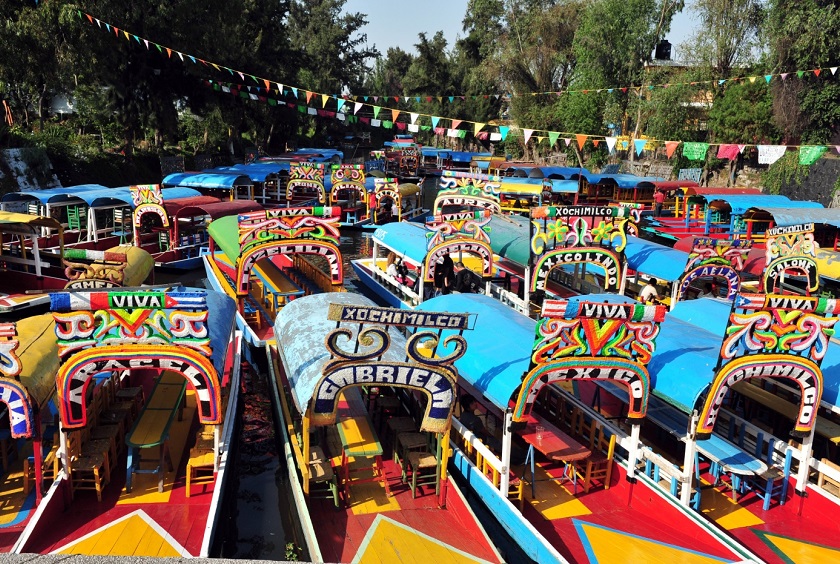 Café de Tacuba
Although Frida allegedly didn't go out to dinner much, she apparently did love Café de Tacuba's traditional enchiladas. The famous restaurant in Mexico's city centre opened its doors in a 17th century convent in 1912. Oil paintings of Aztecs and conquistadors gracing the walls, stained glass and high ceilings supported by large wooden beams give it a real 'Old Mexico' feel. On certain nights of the week guests are entertained by local mariachi bands.
Museo Casa Estudio Diego Rivera y Frida Kahlo
While Frida and Diego were living in the United States they asked their friend, architect and artist Juan O'Gorman to design and build a home for them in San Ángel, Mexico City. The result was essentially two separate buildings connected by a bridge that represented the couple's love for each other. Once they returned to Mexico, Frida moved into the cobalt-blue building, while Diego moved into the pink and white coloured building. The couple lived there from 1934 to 1939, when they divorced and Frida moved back to Casa Azul. Today, the home in San Angel is a museum featuring artwork from the two, as well as furniture and artifacts they collected over the years.
Palacio de Bellas Artes
One day after her death, on 13th July 1954, Frida's body was taken to the Palacio de Bellas Artes (Palace of Fine Arts) where her family, friends and even fans came to pay their respects. The building is one of the grandest sites in Mexico City and is a prominent cultural centre, hosting theatre, music, opera, dance and arts events throughout the year. It also houses the National Museum of Architecture and works of famous muralists, including Diego Rivera, are displayed on the walls of the interior. The Palace of Fine Arts is located on the western side of the city, right next to the Almeda Central Park.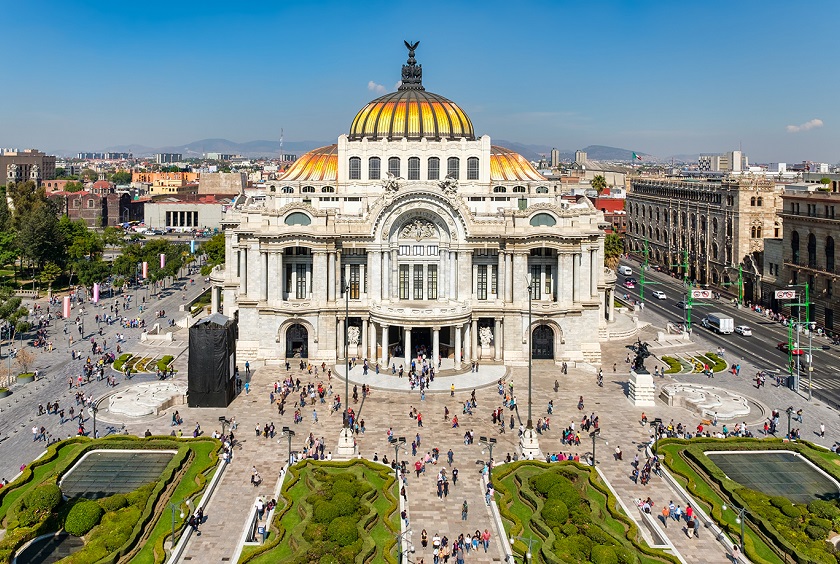 Gain an in-depth insight into Mexico's artistic heritage with our The art of Mexico holiday. Visit museums (including La Casa Azul and Museo Casa Estudio Diego Rivera y Frida Kahlo), palaces and art galleries in Mexico City and San Miguel de Allende.
Tailor-made holidays
Flexible, custom-made holidays to Latin America created to match your exact requirements: our tailor-made itineraries are as unique as the clients for whom they are designed.
Design my trip