Ecuador is a tiny country by South American standards but it has made a global impact with some of its bigger exports: oil is the most important export for the country's economy and bananas from Ecuador can be found in supermarkets across the globe. But there is another export that many people may not know about: flowers, and roses in particular.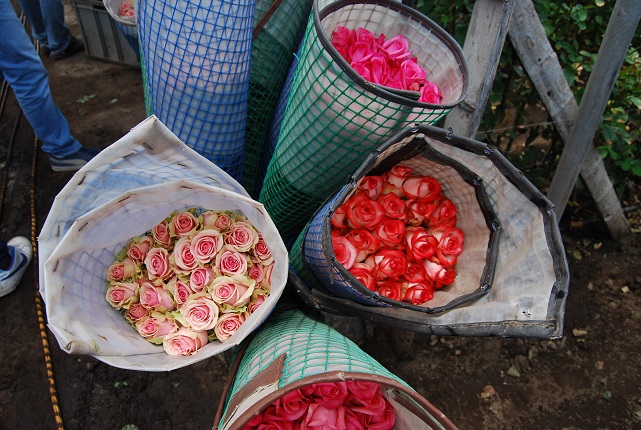 Thanks to its location on the equator, Ecuador's roses have the advantage of natural light all year round and the high elevation in the Andes means they take longer to grow, resulting in longer stems and larger heads – a variety favoured by Russian buyers (Russia and the USA being the main importers of Ecuador's roses).
On a recent trip to Ecuador I visited a rose plantation near Cotopaxi in the Avenue of the Volcanoes. This particular plantation produces on average 60,000 roses a day – although this number goes up to 80,000 in the run up to Valentine's Day! Here, they cultivate 52 different varieties, including incredible multi-coloured roses and limited edition versions celebrating 4th July and other festivities around the world. While not to my personal taste, the multi-coloured roses really were beautiful to see!
Ecuador's flower industry has flourished over the last 25 years following the introduction of a US-backed programme which aimed to boost legal industries in Bolivia, Peru, Colombia and Ecuador in an attempt to provide an alternative to drug trafficking in the Andes. Despite facing criticism in the beginning over working conditions and wages, the flower industry has since become far more regulated and it was clear to me on my tour of the plantation that these problems no longer exist: having been a fair-trade company since 2002, the plantation even has its own dentist and a nursery on site.
Now an integral industry with an immense scale of production (some greenhouses shelter rows and rows of roses as far as the eye can see) roses have become the lifeblood of the area and the people of the highlands rely heavily on jobs in the industry: visiting a rose plantation was surprisingly fascinating and as I walked around I felt that I was gaining an insight into a way of life I didn't know existed!
Browse our Ecuador holidays.
Tailor-made holidays
Flexible, custom-made holidays to Latin America created to match your exact requirements: our tailor-made itineraries are as unique as the clients for whom they are designed.
Design my trip