Tikal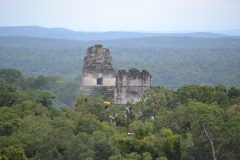 Widely considered the most impressive of all Mayan sites (and we agree), Tikal is shrouded in remote rainforest. Carved stelae are ubiquitous in this pre-Columbian skyscraper city. Three steeply-stepped pyramids poke through the rainforest canopy, allowing climbers panoramic jungle views. Stay at the Jungle Lodge, basic cottages close to the ruins.
Day 1: Fly from Guatemala City to Flores and continue by lonely road to the lodge within the national park, its grounds often swarming with exotic mammals and bird life. You will be escorted on a tour of the archaeological ruins.
Day 2: Since you are staying close to the entrance, you may revisit the park in the morning, before all the day trippers arrive. As dawn breaks you can see and hear the wildlife as it awakens: toucans, parrots and spider monkeys are rampant.
Day 3: Transfer back to the airport and fly back to Guatemala City. Stay at Hotel Barceló near the fashionable Zona Viva with its museums, art galleries, cafés and boutiques.
Day 4: Continue your holiday or return to the airport for your international flight.
UK clients arrive home the following day.
Breakfast daily, lunch day 1.
4 days from £857pp