Peruvian Amazon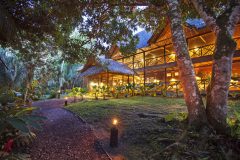 The Peruvian Amazon is just an hour's flight from Cusco or an hour and a half from Lima. This bird-filled area of humid tropical rain forest embraces many ox-bow lakes, an ideal home for caimans, turtles and giant otters.
Luggage: Take only necessary items (see our Briefing Dossier for details) to the lodge. You can leave the rest of your baggage in secure storage at Puerto Maldonado.
Day 1: Transfer to Lima or Cusco airport for the flight to Puerto Maldonado. Staff from Hacienda Concepcion will escort you to the lodge by road and dugout canoe (30 mins).
Catering for lovers of nature, this lodge is set alongside a lake in an area of rainforest found between the Tambopata National Park and the banks of the Madre de Dios river.
After lunch, walk along the nature trails around the lodge where you will learn about the primary and secondary forest, and later at dusk navigate the Madre de Dios River by canoe.
Day 2:
A full program of included activities begins with a trek to the Tambopata National Park to reach Lake Sandoval. Travel across the mirror-like oxbow lake, home to the endangered river otter, blue and yellow macaw, red howler monkey and black caiman before returning to the lodge for lunch.
In the afternoon visit the Inkaterra Canopy Walkway Interpretation Centre home to two 30 metre towers to walk the seven suspended bridges that connect the tree tops, affording a new perspective of the canopy and the chance to see white-throated toucans, woodpeckers, trogons, squirrel monkeys and three-toed sloths.
In the evening explore the rainforest at night, learn about the nocturnal creatures that only emerge after dark and how their unique adaptations help them survive in the darkness of the jungle.
Day 3: Return to Puerto Maldonado and fly to Lima. Transfer to your hotel in the Pacific-side district of Miraflores.
Day 4: Continue your holiday or transfer to the airport for your international flight.
UK clients arrive home the following day.
Breakfast daily, full board days 1, 2.
3 days from £748pp