Nazca Lines + Paracas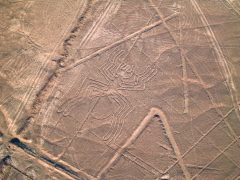 Travel to the Paracas Peninsula and explore the bird-smothered Ballestas Islands by boat. Fly over the Nazca Lines for a bird's eye view of the giant symbols and lines carved into skeletal desert rock by the pre-Columbian Nazca people.
Day 1: From Lima, travel by public coach south to Paracas (3.5hrs) on the Panamerican Highway, which follows the contours of the coastal cliffs, carving a lonely path through bleak desert scenery. The severity of the sparsely populated landscape is relieved by tiny oases producing dates or maize and rickety fishing villages. Your modern hacienda-style hotel, La Hacienda Bahia Paracas, overlooks Paracas Bay.
Day 2: Embark on a private motor-launch tour of the Ballestas Islands, which comprise one of the most important wildlife areas of Peru. The arches and caves - the result of wind and tide erosion - provide shelter for thousands of seabirds: albatrosses, cormorants, boobies, pelicans and the odd Humboldt penguin. The coves and surrounding waters are also visited by sea-lions, the mournful cries of which mingle with the screeches of the birds in a cacophonous symphony of sound.
Later, board a light aircraft for a 90min flight to and over the Nazca Lines. This series of giant geometrical figures, animals and insects was etched into the desert floor by the Nazca people over a period of several hundred years. The interpretation of the lines puzzles scientists – do they comprise an astronomical map, calendar or astrological symbols? The rocky, wind-contorted desert scenery seen from the air is as startling as the lines themselves.
Day 3: Return to the city of Lima to continue your holiday or to the airport for your international flight.
UK clients arrive home the following day
Breakfast daily.
3 days from £801pp