Iguazu from Buenos Aires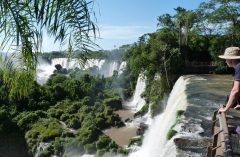 One of the continent's most awe-inspiring attractions, the Iguazú Falls – which straddle the border between Argentina and Brazil – is a vast basalt amphitheatre veiled by a curtain of foaming water which crashes through tangled sub-tropical jungle. This is one of the great must-see highlights of Latin America, indeed the world.
Day 1: Fly from Buenos Aires to Puerto Iguazú and continue to your hotel.
You'll have a private guided tour of the falls from the Argentine perspective. A little train takes you to the Upper Walk. a sequence of causeways which links dozens of tiny, basalt islands at the top of the rock face. Myriad streams of the Iguazú river cascade over the lip of the precipice, and a succession of lookout points allows your gaze to follow the water as it plunges onto the rocks below.
The train continues to a passarelle leading you across the river to the thunderous Garganta del Diablo with a spectacular vantage point over the thundering vortex below.
Day 2: Guided tour of the Brazilian side of the falls. At the entrance to the national park you'll board a shared service to continue to the water's edge. There's a 1km walkway with viewpoints - you get a panoramic view of the whole sweep of the cataracts, an entirely different experience from the Argentine side. Towards the end of the walk, there's an observation tower and a walkway at the bottom allows for a closer (and much wetter) look.
Day 3: Transfer to the airport for your flight back to Buenos Aires to continue your holiday or to connect with your international flight.
Breakfast daily.
3 days from £814pp