Estancia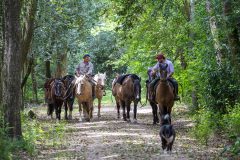 Throughout Argentina prestigious rural estates have been adapted to accommodate visitors. Estanica El Ombu is a colonial-style property oozing with atmosphere and history which will take you back in time to the regions heyday. A few days here will allow you to relax and savour life on the pampa prairies, while feasting off delicious food and wine.
Day 1:  Transfer by road from Buenos Aires to the gaucho town San Antonio de Areco in the heart of the pampas (90mins). The town has a compact centre of cobbled streets and colonial buildings. The Río Areco cuts through, flanked by parks and linked by a pedestrian bridge leading to Gaucho Museum. Arrive at the Estancia El Ombu just outside town.
Day 2: At leisure on the estancia. You can relax in the extensive grounds, take a dip in the (unheated) swimming pool or explore the region on horseback, just like the gauchos. Walks and carriage rides are also available. Expect at least one BBQ during your stay, often more during the summer months.
Day 3: Return to Buenos Aires to continue your holiday or to connect with your international flight.
UK clients arrive home the following day.
Dinner day 1, full board day 2, breakfast day 3.
3 days from £929pp