Ecuadorian Amazon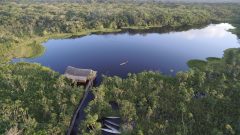 The rainforest of the Amazon of Ecuador, whence spring rivers which flow down to the Amazon proper, is conveniently accessible from Quito. Following a short flight and canoe trip you arrive at Sacha Lodge to begin your jungle adventures.
Day 1: A 35min flight takes you over the snow-capped Andes to Puerto Francisco de Orellana, known locally as Coca. Please note that luggage is restricted to 20kg.
On arrival, it is a short transfer to the docks where motorised dugout canoes are waiting to take you down the Río Napo, the largest river in the Ecuadorian Amazonia. Head deep into the rainforest - with opportunities to spot an array of wildlife along the riverbanks – to the reserve where Sacha Lodge is situated (2.5hrs). You'll then set off on a guided expedition along a raised boardwalk through dense flooded palm forest to Lake Pichicocha (30mins) before crossing the motionless black-water lagoon by canoe to arrive at the lodge.
Day 2: There's a varied menu of activities and excursions to choose from at the lodge. They are conducted in small groups led by an English-speaking naturalist guide, and take place in the early morning when the wildlife is at its most active, in the afternoon as the sun sets leaving a mellow glow draped over the forest, and at night when the nocturnal insects and frogs join in a melodious chorus.
Day 3: Waterborne adventures include a trip to a parrot lick, where the colourful and agitated birds gather to feed. There's also a 300m canopy walkway suspended 30m above the jungle floor, giving you a canopy-level view of the wildlife which inhabits the trees, while an overall panoramic view is available from the top of the observation tower. Go fishing for piranha, and at night, set out on the dark waters in search of alligators.
Day 4:
Breakfast daily, full board days 1-3.
4 days from £1,566pp