Easter Island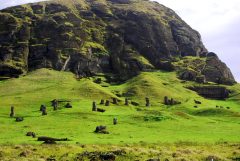 Polynesian Easter Island (Rapa Nui) lies 3,790km off the Chilean coast in the remote sub-tropical South Pacific. Windswept and grassy on one side, lushly vegetated on the other, and with a benign climate, it is famous for the clusters of huge enigmatic stone heads standing starkly against an azure skyline. Experience the unique atmosphere and friendly welcome.
These few days on the island, with group excursions led by local guides, will give you an overview of the wilderness landscapes and the unique Rapa Nui culture. Triangular in shape, Easter Island is about the size of greater London - each point of the triangle marked by a huge extinct volcanic crater.
Day 1: Arrive into Santiago and overnight in preparation for your next journey the following day. During the afternoon enjoy a tour of the city.
Day 2: Fly from Santiago to Easter Island and continue to your hotel, the O'Tai, a guesthouse in the centre of Hanga Roa, the main town on the island. It is a pleasant place set in large well-kept gardens, with a view of the sea in the distance.
Day 3: Visit Vaihu, where many of the massive carved maoi heads lie before heading off to Akahanga, where a dozen standing moais - backs turned to the ocean - stand on a massive plinth. Move on to the Rano Raraku volcanic crater and Poike quarry where hundreds of Cyclopean heads litter the hillside, some finished others half-carved. It's an easy uphill walk to get to the crater of the volcano. Continue to the pink-sand beach of Anakena, where you can swim and enjoy your packed lunch, returning to your hotel late afternoon.
Day 4: A bus takes you to the rim of the Rano Kao crater, where you go on foot to the ceremonial village of Orongo. It is here than the annual ceremony of the Bird Man or Tangata Manu would take place here among its stone-built houses and food stores. The object of the ceremony - or quest - was to find and bring back the first egg laid by the seabird manutara, a type of tern. Continue to the caverns of Ana Kai Tangata, where the islanders took refuge during times of war and where there are some pre-historic paintings.
Day 4: Transfer to the airport and fly back to Santiago where you will be transferred to your hotel for the start of your tour.
Breakfast daily, picnic lunch day 3.
This extension is based on visiting Easter Island before your Group Tour begins but it can also be arranged afterwards for those finishing in Santiago.
5 days from £1,773pp