Buzios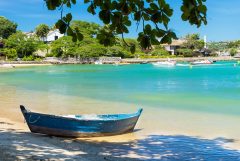 Head along the Atlantic coast from Rio, passing lagoons and wild, surf-lashed beaches to the chic beach village of Búzios. The low-key, but upmarket, European-style resort is renowned for art shops and fine dining. Here a peninsula of cliffs and low hills is dimpled with little coves and speckled with boutique-style hotels.
Day 1: Transfer by road (2.5-3hrs) from Rio de Janeiro to Búzios, crossing the spectacular 12km Niterói Bridge over Guanabara Bay. Once a tiny fishing village, Armação dos Búzios is now one of Brazil's most sought-after and lively beach resorts. Secluded beaches in craggy bays and nearby tropical islands can be reached by schooners. The friendly, small boutique hotel Casas Brancas is perched on a bluff with fine views over the bay.
Days 2,3: The centre of Búzios is just a short walk away and has a good selection of restaurants, bars (some with live music) and boutiques. The pousada itself is a lovely place in which to relax. Facilities include a small pool, spa, sea-front restaurant and sun terrace shaded by white drapes. The nearest beach is about 10 mins' walk away.
Day 4: By road back to Rio de Janeiro to continue your holiday or to the city's airport for your international flight.
UK clients arrive home the following day.
Breakfast daily.
4 days from £826pp