Atacama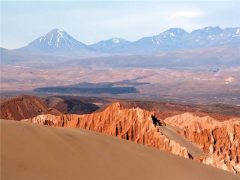 The Atacama's inhospitable desert landscape is harsh and rugged, but it echoes the legacy of its pre-Columbian inhabitants, while the volcanoes and geysers hiss into life. Oases splash the tawny landscape with vigorous vegetation. A few days here will give you a surprisingly varied experience of desert life.
Day 1: Fly from Santiago to Calama (2hrs) and on to the Andean town of San Pedro de Atacama (2,450m). The town is easy-going, with adobe houses and an accent on outdoor activities. You'll be staying at Hotel Altiplánico on the edge of town. Here you can take advantage of an outdoor pool, Jacuzzi and terrace.
In the late afternoon drive past spectacular rock formations to the Valle De la Luna (Moon Valley) where the lunar landscape is astonishingly photogenic. Huge sand dunes sweep across a panorama of salt-encrusted canyons, gullies and eroded rock sculptures. Walk up to the top of one to watch the valley at sunset - a dazzling palette of gold and reds.
Day 2: Today's adventure takes you past Licancabur volcano to the village of Toconao, typical of the small oasis settlements of the area. Continue south, entering the Atacama salt flats, a national reserve. Pink flamingoes haunt the lagoons of the featureless white salt flats, and cacti stride towards the horizon.
Day 3: Depart before dawn for a guided trip to Tatio geysers, at 4,300m the highest geyser field in the world. The geysers are a surreal sight at sunrise – blow-holes send jets of water and steam into a cloudless sky and, as the sun rises, the pools of water turn to shimmering silver. Later, you have time for a soak in hot springs (40°C). Please note these may be closed due to essential maintenance.
Day 4: Return to Calama airport to fly to Santiago. Transfer to the Hotel Torremayor Providencia (if joining a group tour the following day your consultant will book the correct hotel for that trip).
Day 5: Begin your group tour, continue your holiday or board your international flight home (an extra transfer will be required in this instance).
5 days from £1,342pp