Back
Explore Old Montevideo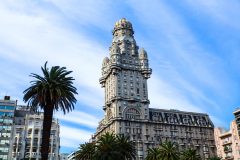 Discover the eclectic mix of architecture in Montevideo's Ciudad Vieja (old town).
Montevideo may not share Buenos Aires' grandiose history or reputation as an iconic Latin American capital, but it has a certain retro atmospheric charm which is well worth exploring. Monumental architecture and a pleasant waterfront combine to create an interesting itinerary for an exploratory walk.Follow a drive along Montevideo's riverside promenade, known locally as the Rambla, with a stroll round the historic centre.
Wander the narrow, cobbled streets of the old town with its eclectic mix of architecture, including one of South America's highest densities of well-preserved art-deco buildings. Many of the colonial era's public buildings and squares are extremely imposing.
Later you might continue on to the evocative Mercado del Puerto port market - a Montevideo institution within one of its finest 19 century buildings featuring wrought iron shipped in from Liverpool. Packed with parrillas (grills), it's a hive of activity at lunchtime and you'll be well advised to join the local enthusiasts for a traditional Uruguayan lunch with wine.
Uruguay
Montevideo