Back
See the tomb of the Lord of Sipan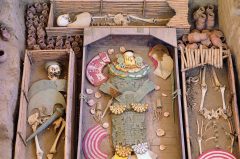 Visit the royal tombs of Sipán and the museum housing the extraordinary artefacts that were found there.
Representing one of the most important archaeological finds to be uncovered in the Americas within the last 30 years, the Sipán burial site contained the intact grave of an ancient Moche nobleman. This 'Lord of Sipán' was interred in full regalia, dripping in gold and precious metalwork.
The original remains and grave goods are now housed in the excellent Royal Tombs of Sipán Museum, while the extensive burial grounds contain in situ replicas. No stay in Chiclayo would be complete without visiting these hugely important monuments.
Peru
Northern Peru
Holidays See the tomb of the Lord of Sipan
From expertly designed Private Journeys to trail-blazing Group Tours, browse our range of carefully crafted holidays.