Back
Visit the ruins of Chavin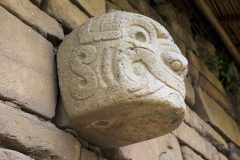 Take a guided tour of the ancient ruin of Chavín de Huantar, one of Peru's oldest major archaeological sites.
The sophisticated ancient civilisation of Chavín set the stage for the Incas and other Andean cultures that would follow. It is considered the oldest major Peruvian culture yet its artistic achievements rival those of much later peoples, as evidenced by the magnificent sculptures and carvings at the 2,000-year-old ruins of Chavín de Huantar.
This is an ancient religious complex of terraces, squares, walls and columns adorned with symbolic figures and patterns. The most striking of the sculptures is a 4m-high dagger-like rock, etched with striking carvings including a jaguar face, and wedged between the narrow passageways of a temple.
The site is in north-central Peru 460km from Lima and usually visited from Huaraz (110km).
Peru
Huaraz