Private Journeys
Signature Andes: Highlands of Peru, Bolivia and Chile
16 days from £4,310pp
Overview & Highlights
Three Andean countries in one. Visit Machu Picchu and Lake Titicaca in Peru. Travel on to Bolivia's exotic capital La Paz with dozens of markets. Continue south for an adventure on the Uyuni salt flats of the Atacama Desert, then on to Chile's capital Santiago.
Full day excursion to Pisaq ruins and the Sacred Valley
Guided tour of Machu Picchu
Guided Cusco city tour and visit to Sacsayhuamán ruins
Lake Titicaca crossing via visit to Uros Iruitos islands to La Paz
Guided La Paz city tour and trip to the Moon Valley
Guided visits from coach journey to Lake Titicaca
Guided La Paz city tour and Moon Valley
Excursions in the Uyuni salt flats of the Atacama Desert
This thrilling private journey captures the natural and cultural highlights of the southern Andes of Peru, the altiplano of Bolivia and the salt flats straddling the border with Chile.
Arrive in the vast metropolis of the Peruvian capital, Lima, and move on to historic Cusco, the former Inca capital and a treasure trove of Inca stonework and colonial architecture. Travel onwards into the fertile Sacred Valley of the Incas and travel by rail alongside a tempestuous river to the Inca citadel of Machu Picchu, set on a sub tropical mountain saddle above the Urubamba Valley.
Drive on to the icy, sapphire waters of high-altitude Lake Titicaca and continue overland to vivacious La Paz, squatting in a high altitude bowl at the foot of the massive bulk of snow-stifled Mount Illimani. Continue south and discover the glittering salt pans of Uyuni, an otherworldly experience. Cross the border into Chile and round off the holiday in its capital, Santiago.
Itinerary
Day 1
Arrive in Lima and transfer to your hotel in Miraflores on the Pacific coast.
You will be met at the airport and escorted to your hotel in the cliff-side Pacific residential and commercial district of Miraflores. The half-hour drive to the hotel through Lima's outskirts is not the most enchanting introduction to this city of extreme contrasts, but it does encapsulate the invigorating buzz of a modern-day Latin American capital. Lima is a vast, complex metropolis, with a history dating from the era of its wealth and importance to Imperial Spain to its current status as a dynamic, growing city of trade, industry and tourism.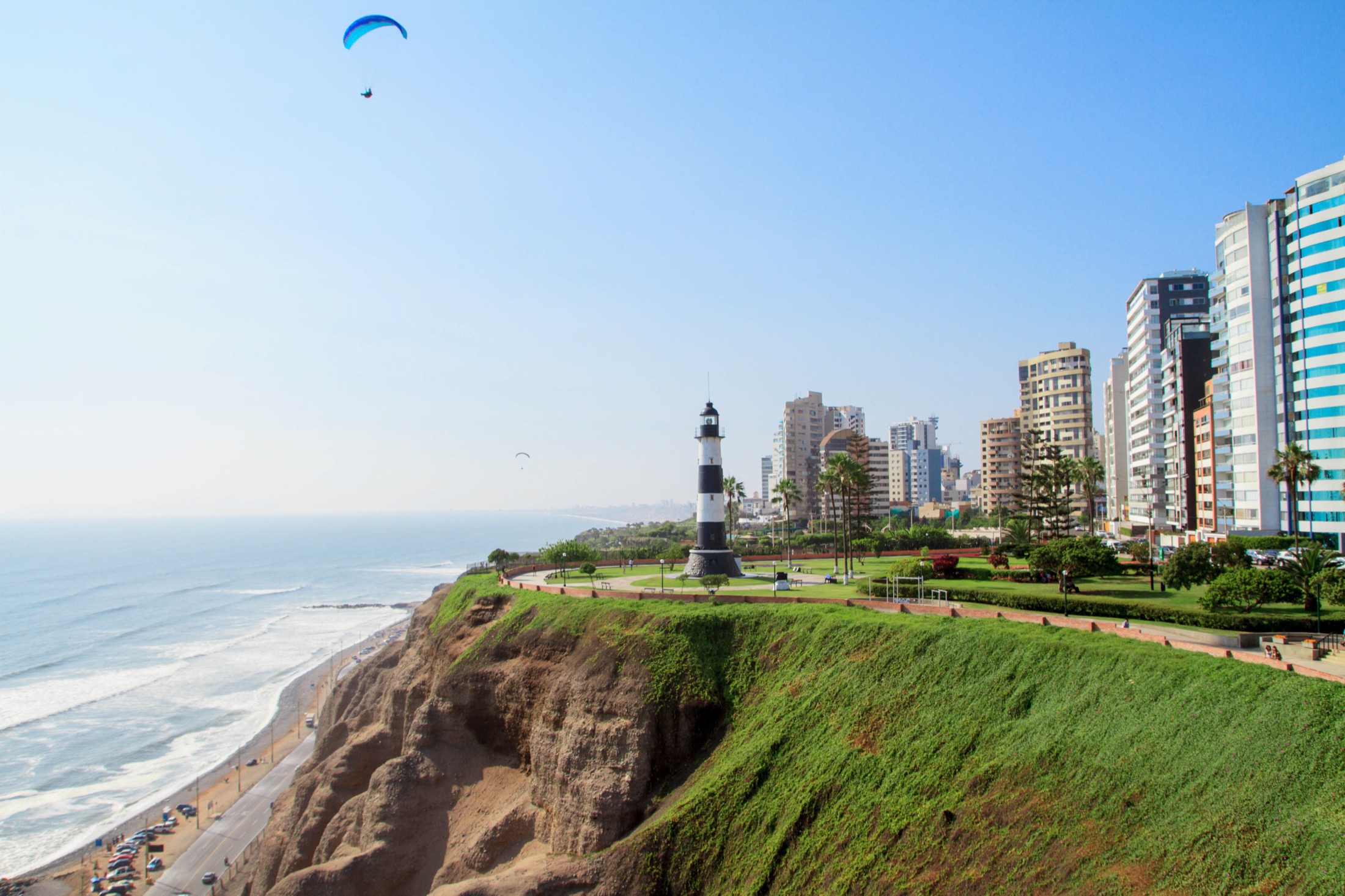 Day 2
Fly to Cusco, transfer to Urubamba.
Transfer to the airport and fly to Cusco in the Andes (1hr). Continue by road to the Sacred Valley of the Incas. Climb out of the bowl in which Cusco is set and descend into the fertile Sacred Valley of the Incas. Once the bread-basket of the empire, it was heavily populated in imperial times and scores of archaeological sites remain, where well-preserved ruins bear witness to the highly developed society that the Incas created. Overnight in Urubamba close to the river of the same name.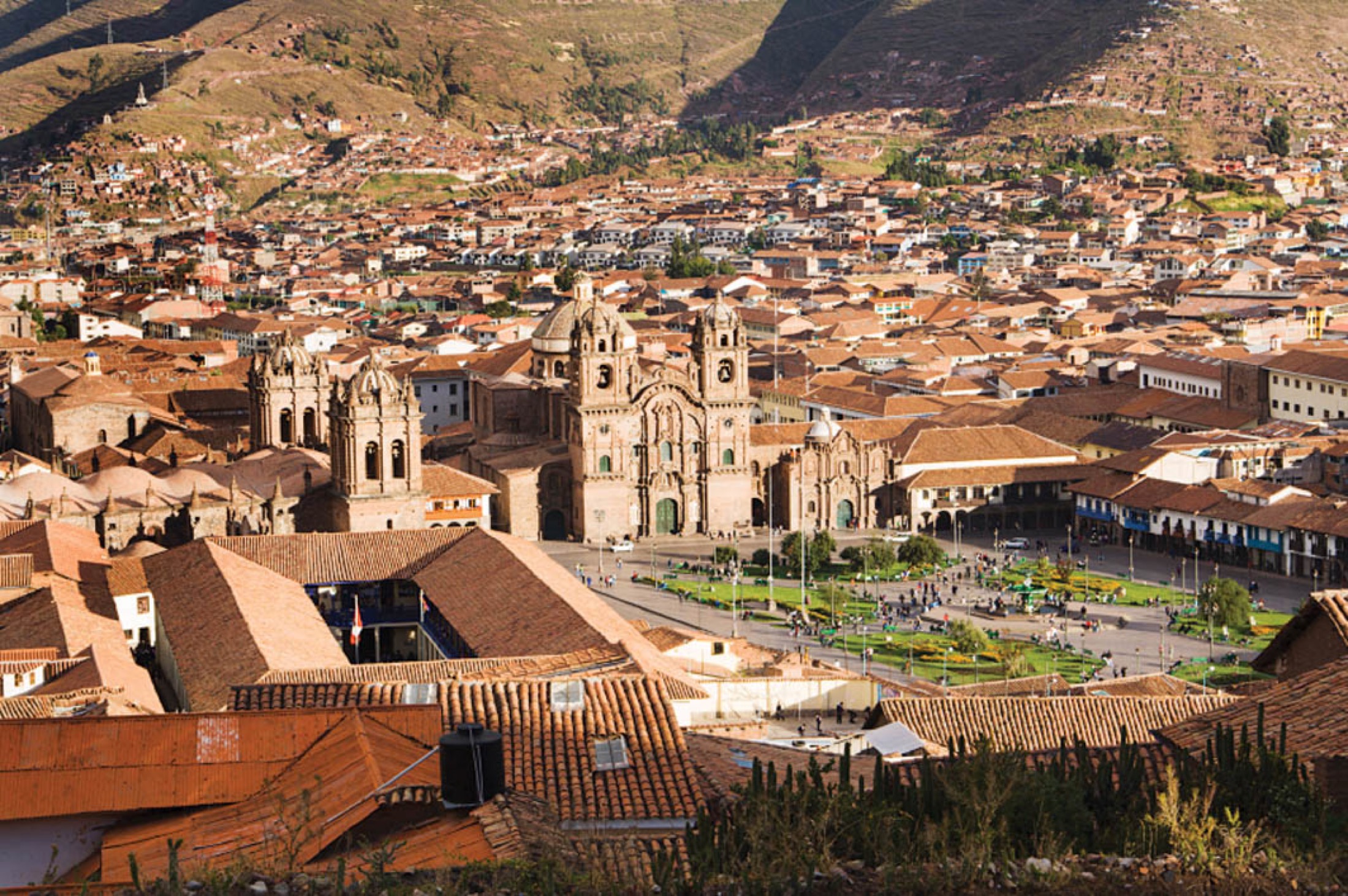 Day 3
Full day excursion to Pisaq ruins and the Sacred Valley.
A guided tour exploring the valley. The drive takes in several of the villages and temple fortresses that pepper the valley. You visit Pisaq, both the village, and the terraces and fort high above. The engineering and preservation are unrivalled. From the flat valley floor the sculpted hillside rises up like a green staircase to the heavens.
Continue along this picturesque, patchwork valley to the temple of Ollantaytambo. The snow-capped Andean cordillera forms a stunning backdrop. Ollantaytambo, sitting strategically at the gateway to the Amazon basin, was never captured by the Spanish conquistadores, but the inhabitants decided that the settlement was too vulnerable and would eventually fail, and so they abandoned it. The fortress, the colonial grid plan and the Inca foundations are still intact and there are wonderful views down over the sloping hillsides and into the fertile valley. Overnight in Urubamba.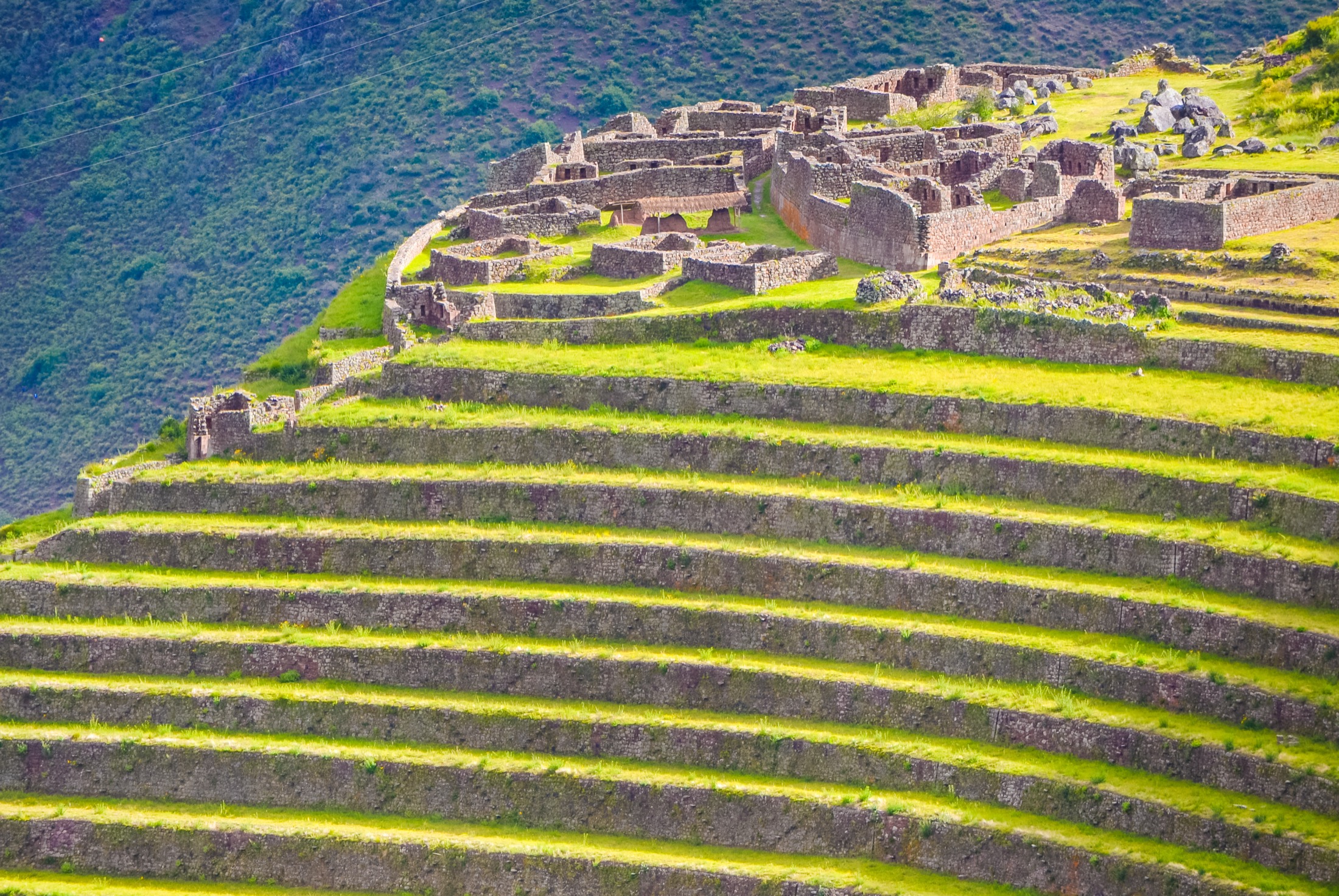 Day 4
By road to Ollantaytambo then train to Machu Picchu, guided tour of the ruins.
Transfer to Ollantaytambo station by road and travel for 90mins by train to the ruins of Machu Picchu. As the Urubamba river enters its narrow gorge between thickly-forested granite hills, there is room only for a single track, which hugs the right bank and passes through hamlets that are no more than a collection of shacks beside the railway. Close to the foot of the mountain on a saddle of which the citadel was built is the bustling village of Machu Picchu, dedicated to serving the many visitors with artisan markets, bars and restaurants.
The majestic ruined city, reclaimed from tropical cloud forest, is reached by minibus up a sinuous road, or on foot up a near vertical rocky path. The American explorer Hiram Bingham discovered it in 1911, by which time it was completely buried beneath jungle vegetation. It is the ruins' location on a ridge spur amid forested peaks and above a roaring river canyon, that most ignites the imagination.
You will have a guided tour of the ruins and there's time later to take one of the many trails within the site itself, such as the hike to the vertiginous Inca Bridge, carved into a cliff edge; or wander amongst the stone buildings and llama-dotted grassy ledges, soaking up the atmosphere.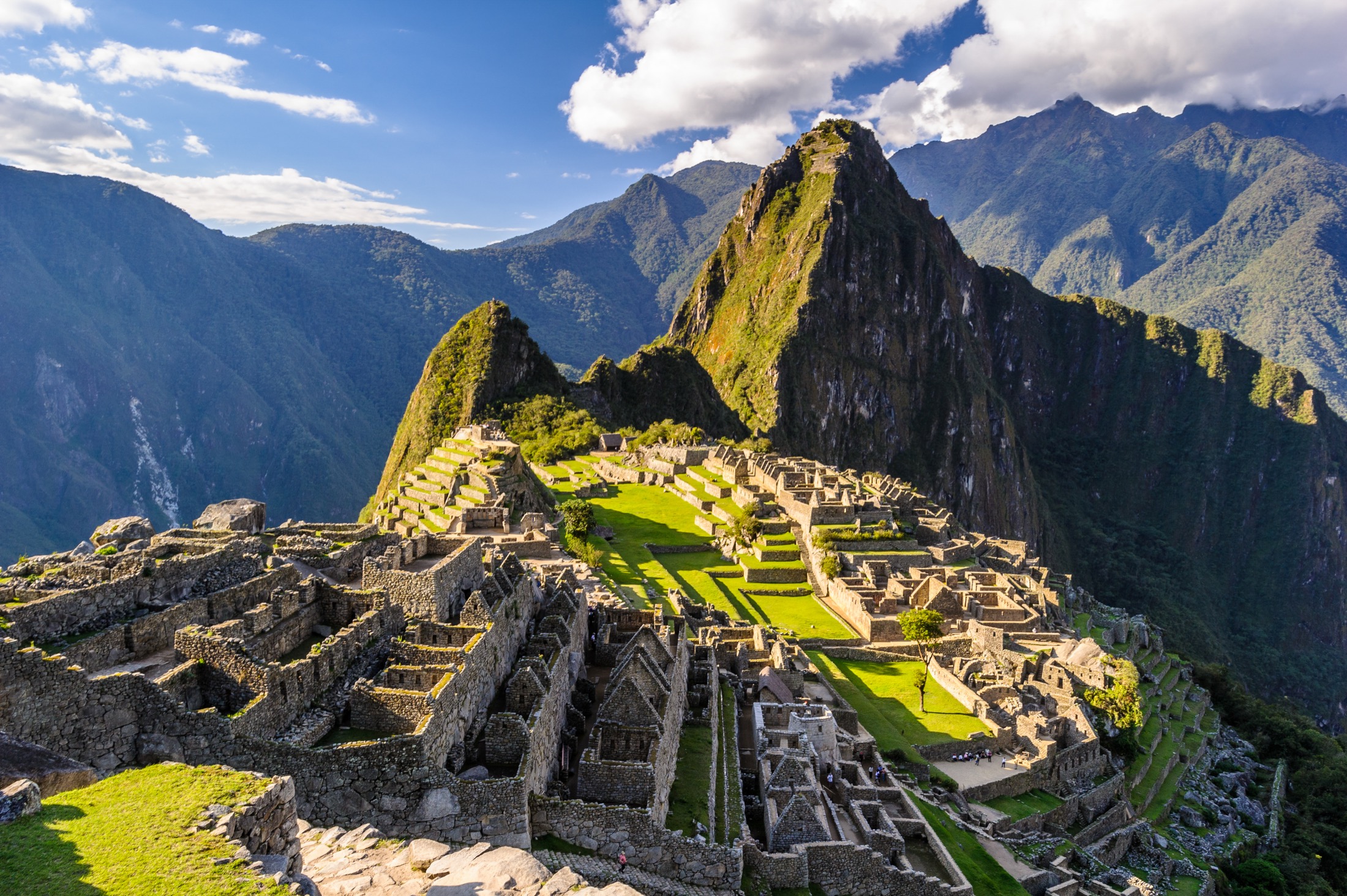 Day 5
By rail and road back to Cusco.
Return to Cusco by rail and road. The name Cusco derives from the Quechua indian word for navel, indicating its location at the centre of the Inca Empire, which reached its zenith at the same time as England was fighting the Wars of the Roses. Today its many impressive original Inca walls display extraordinary craftsmanship, while the bustling squares are dotted with ornate baroque colonial churches. It's a vivacious city, where shoeshine boys and postcard sellers jostle for your attention in cobbled streets lined with handicraft shops and cafés. In the evening, the town centre fills with people flocking to the many restaurants, bars and cafés.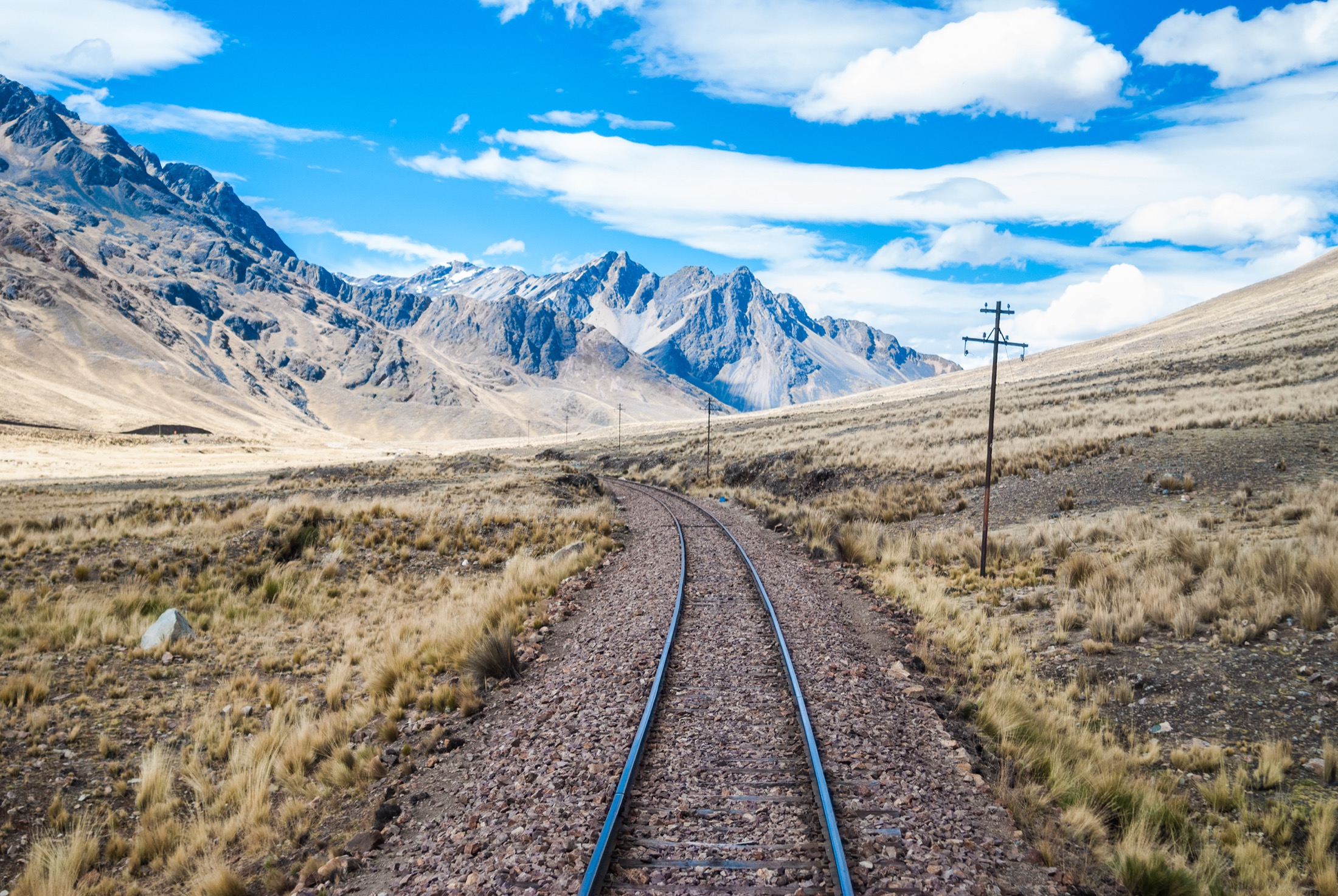 Day 6
Half day guided city tour and visit Sacsayhuamán ruins.
Today a fascinating tour of the city. You visit Q'oricancha, once the principal Inca Sun Temple, with extraordinarily intricate stonework, and then explore the colossal zigzag walls of Sacsayhuamán, brooding on a hillside above Cusco. In 1536 a desperate and defining three-day battle was fought between the Spaniards and the Incas around this fortress. The first conquistadores to see it were awestruck and centuries later it is still an extraordinary and imposing sight.
Cusco is a compact city, easy to explore on foot independently. You are at leisure to discover the street markets, the many baroque churches and museums, and to wander the attractive narrow streets.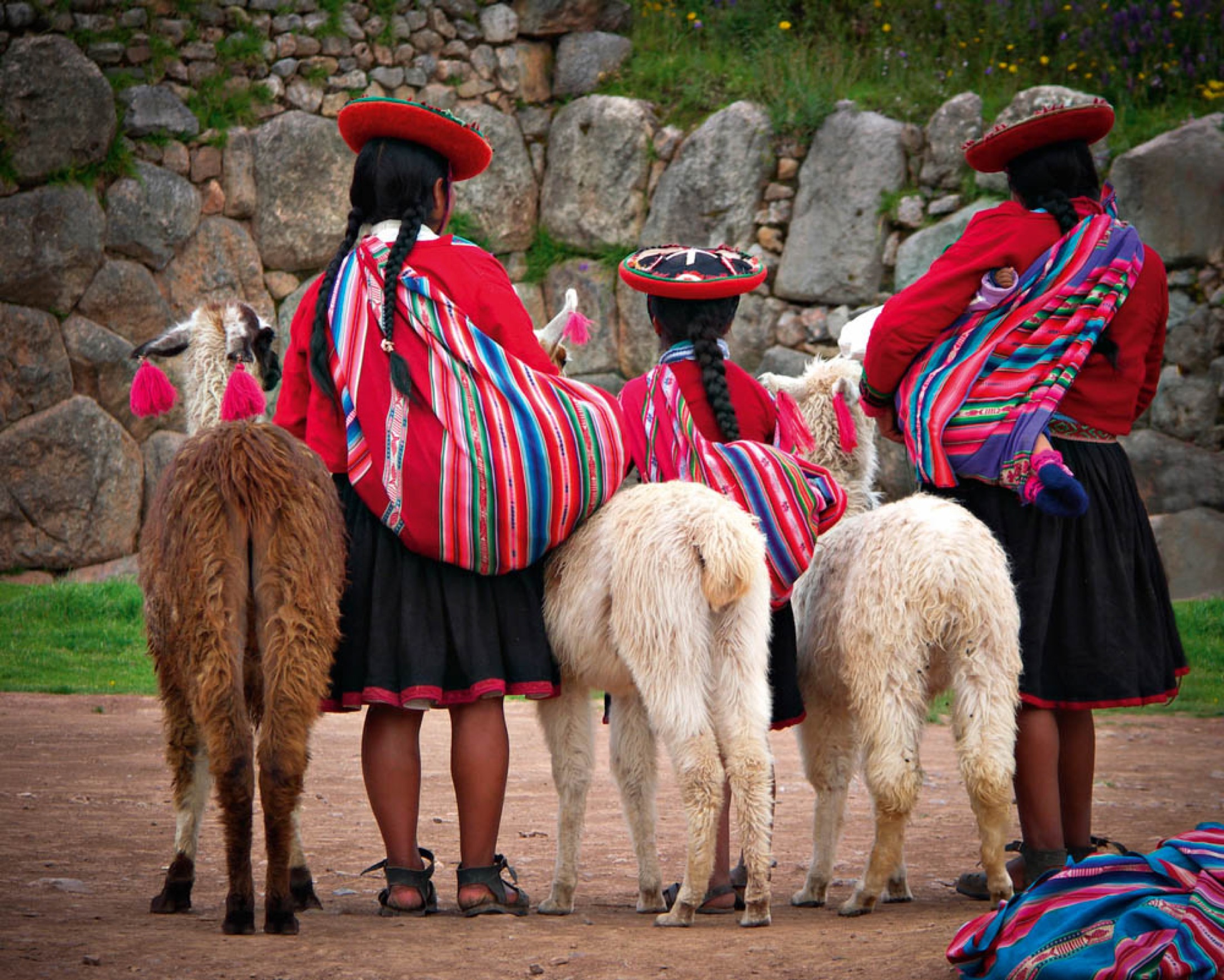 Day 7
By road to Puno on the shores of Lake Titicaca.
A 6-7hr road journey leads across the Andean highlands to the lively port and University town of Puno, 3,805m above sea level on the shores of cobalt Lake Titicaca. The scenery along the way is windswept and desolate and the vastness of the landscape yawns towards the distant horizon under a bright Andean sky. The occasional stop alongside a collection of small highland lakes may give you the chance to see flamingoes feeding in the mineral-rich waters.
The vast lake sits on the Peruvian- Bolivian border, and the fish-laden waters and surrounding fertile soil are the lifeblood of subsistence farming communities clustered in scores of adobe villages along the water's edge. Legend has it that this mystical spot is the birthplace of Inca civilisation: the progeny of the Sun God sprung from its depths to found the empire in Cusco.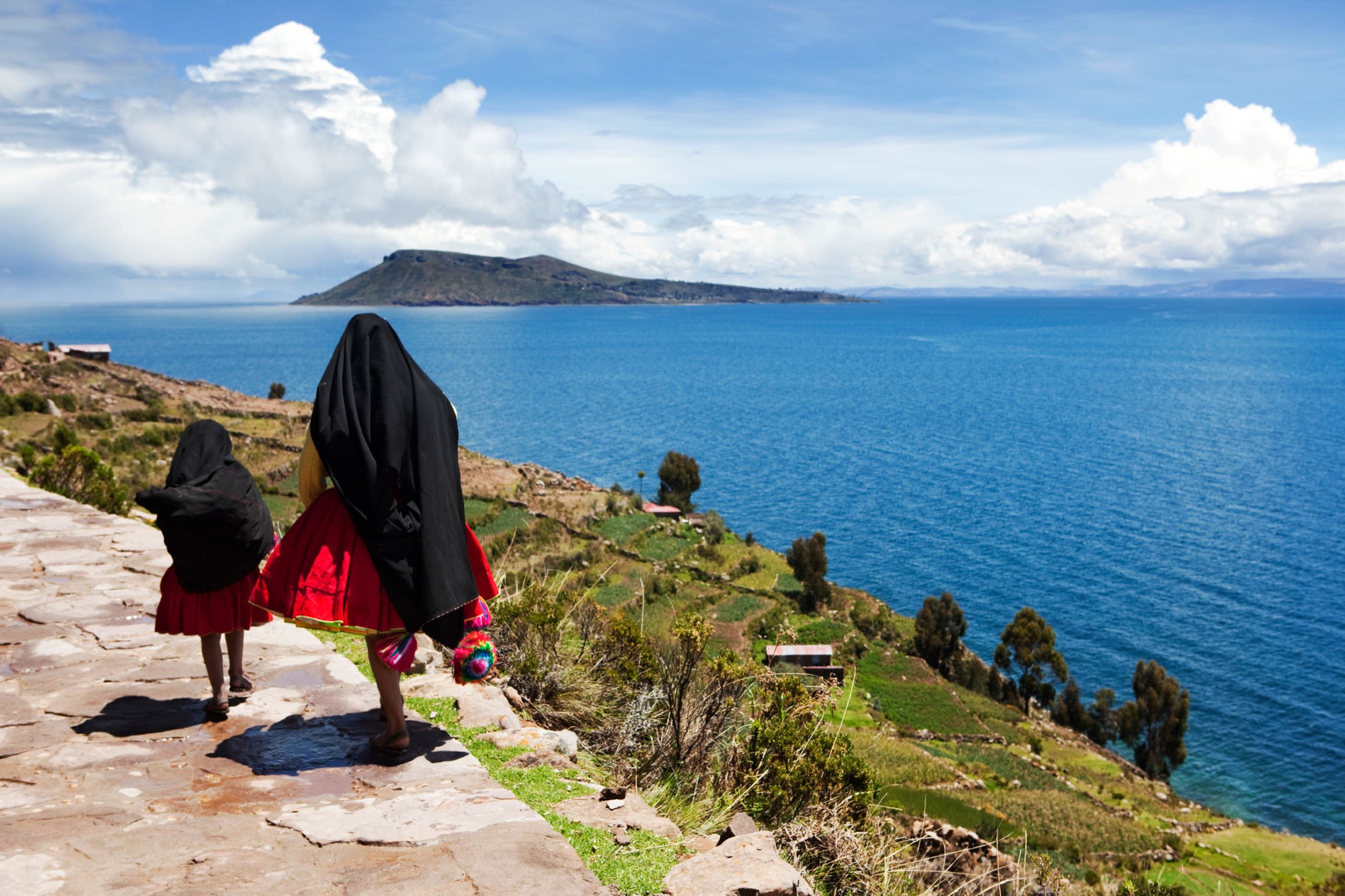 Day 8
Guided excursion to the Uros islands, Taquile and Luquina Chico.
A full-day guided experience on the lake. Depart early from Puno for the 15min drive to Chucuito. Take a boat trip to the tranquil island of Taquile with its stunning views of Lake Titicaca. Around 1,500 Quechua-speaking indians live in this remote community and many still wear the traditional hand-woven dress. The island, 7km long, has no roads or vehicles, its terraced hills dotted with pre-Inca ruins.
Continue by boat to the indigenous village of Luquina Chico on the Chucuito Peninsula. This community-based tourism initiative has strict controls over visitor access and a visit allows you a unique insight into local life.
Later, visit the floating Uros Islands, constructed and reconstructed from layers of tortora reeds by the Uros indians over several centuries. Today no pure Uros exist, but the islands are still home to several hundred inhabitants. Although the islanders now earn a living mainly from tourism, their unique way of life continues to be totally 'interwoven' with the tortora reeds - their boats, houses and the football pitch are made from this material.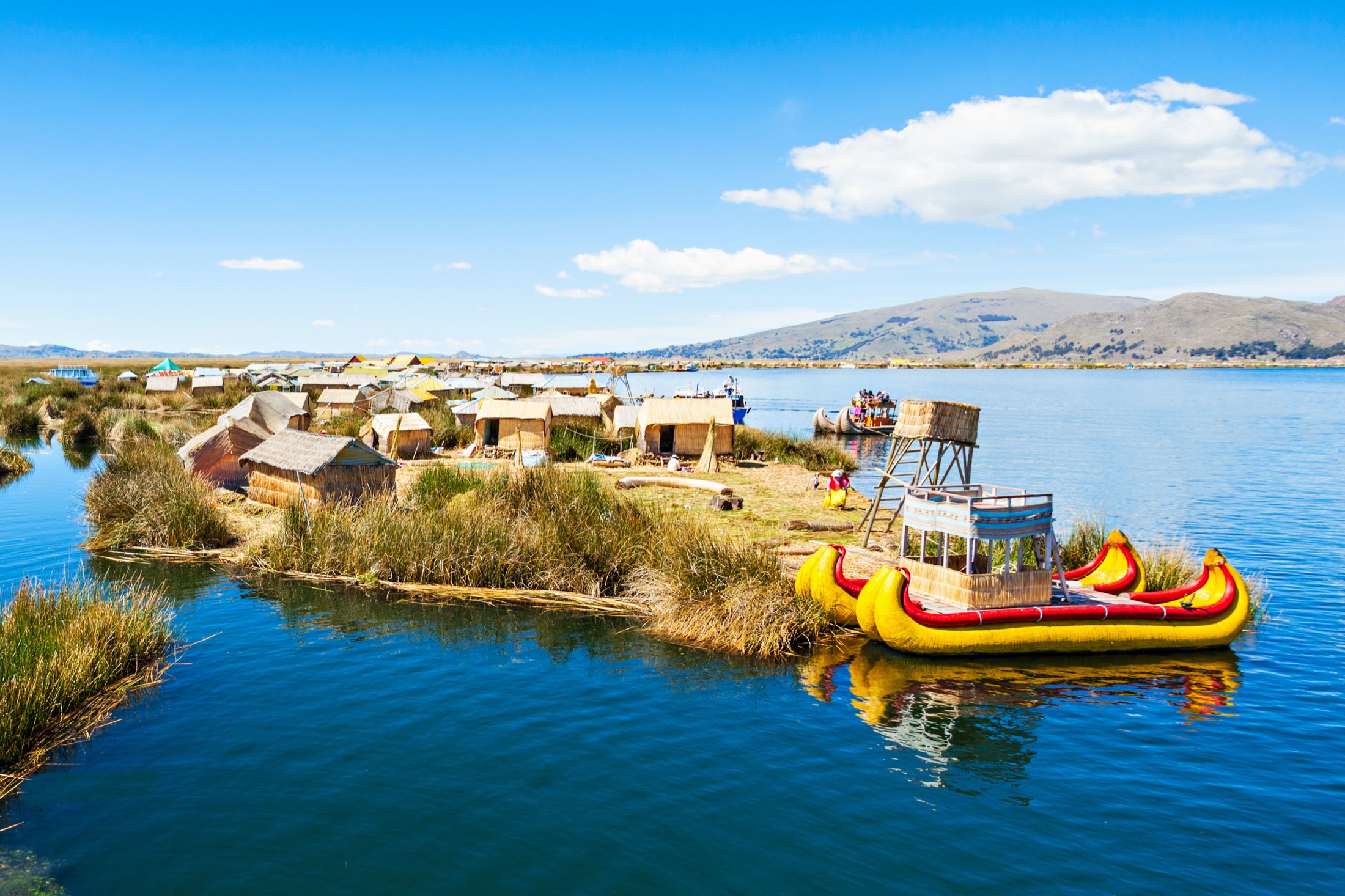 Day 9
Cross Lake Titicaca to Bolivia via Sun Island. By road to La Paz, capital of Bolivia.
Set off along the lakeshore towards the Bolivian border. The still waters almost lap the road, and wader birds may be seen negotiating the reeds. Pause to admire the little church at Pomata and continue to Copacabana (3hrs), a pretty little town set between two hills on the shores of Lake Titicaca. Copacabana gave its name to the better known beach in Rio.
Embark your comfortable hydrofoil to cross a corner of the lake to Huatajata. You'll visit the Andean Roots Eco-Village with its exhibits which depict the regions cultural past. Continue by bus through lovely mountain scenery to La Paz (1.5hrs). Set in a deep canyon, dominated by the snow-capped peak of Mount Illimani, La Paz (3,632m) is the highest capital in the world.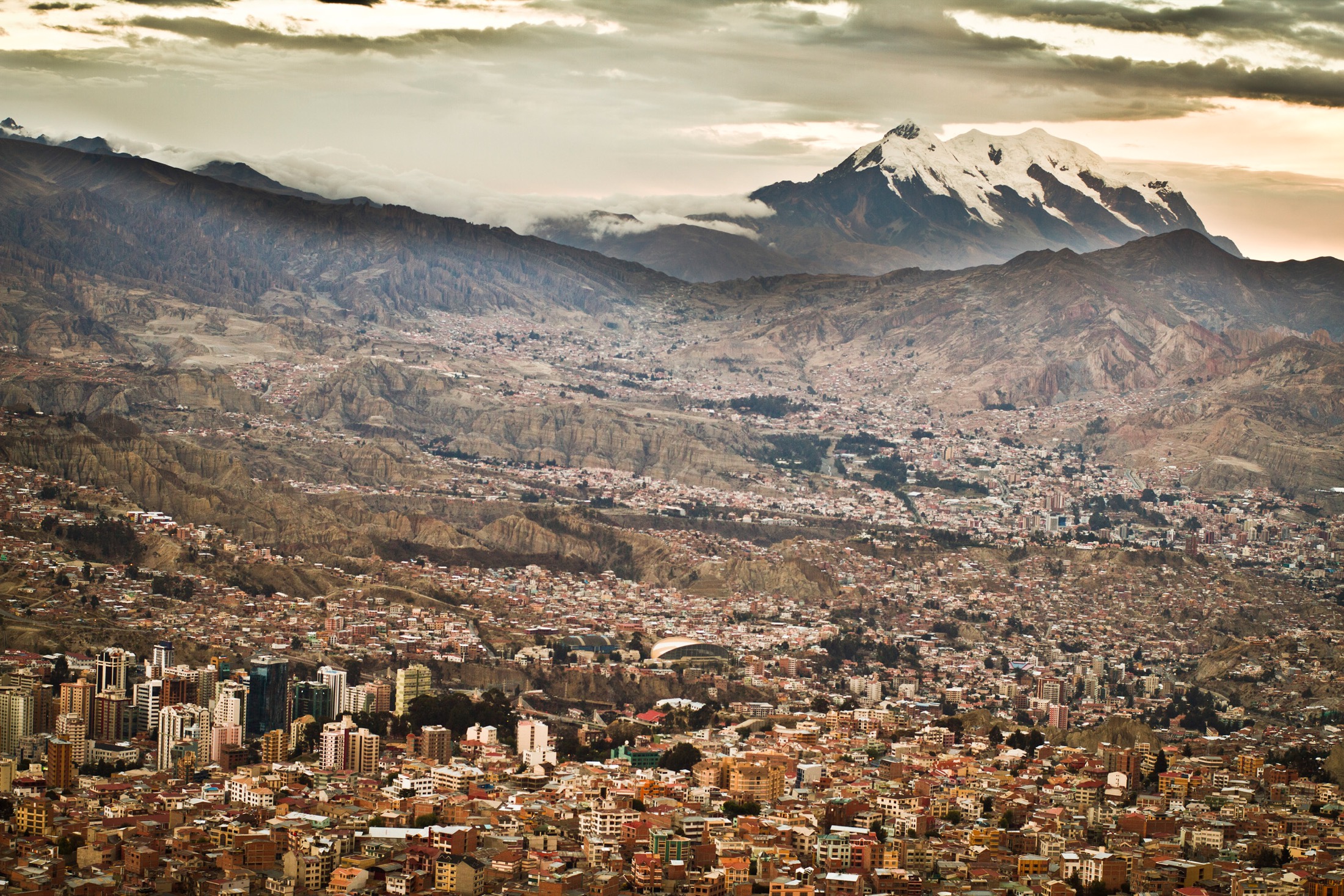 Day 10
Half day guided city tour and trip to the Moon Valley.
The colonial core around Plaza Murillo retains much of its quirky Spanish charm. Beyond, there are cavernous indigenous markets with open air grill restaurants and narrow alleyways lined with museums, churches and craft shops. Pavement vendors in felt bowler hats and colourful shawls crouch below the skyscrapers in tree-lined modern avenues.
You'll have a guided tour to visit the historical centre including the official buildings surrounding Plaza Murillo. Continue to a selection of small museums. Explore one of the capital's more unusual markets, the Mercado de las Brujas (witches' market) where you can find cures for everything from heartaches to headaches. Pass through several affluent neighbourhoods en route to Moon Valley - not a valley at all, but a fantastic landscape of gullies and spires formed from an ancient bed of eroded rock.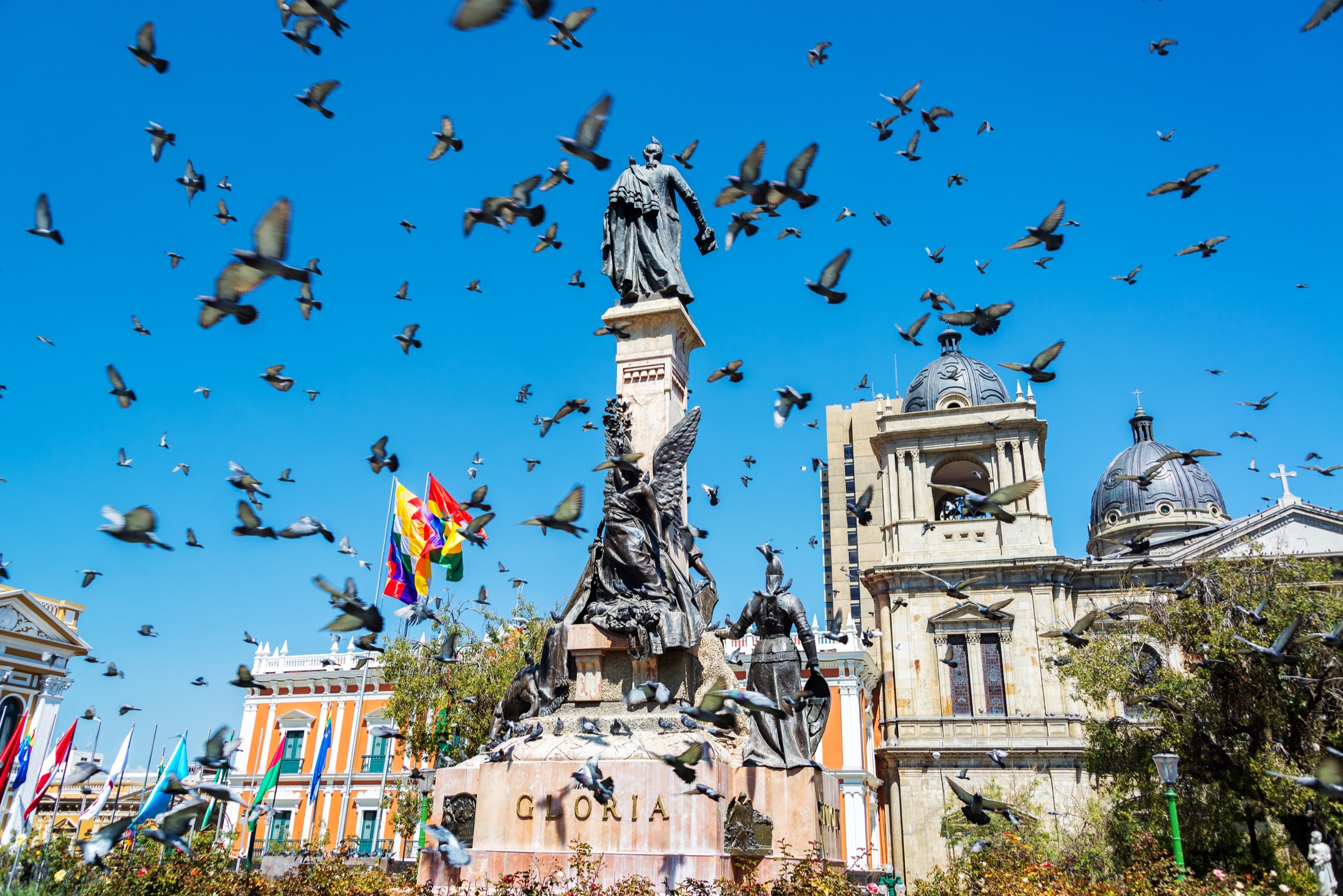 Day 11
Fly to Uyuni.
Your adventure in the salt pan wilderness of southern Bolivia and Chile starts today. Transfer to the airport to take a flight south to Uyuni, crossing the altiplano.
If it is clear, from the window you should see the bleak plains of the southern altiplano. This makes for an austere, uncompromising wilderness, scoured by bitter gales, where cut-glass lakes and untrodden, luminous salt pans - the Salar de Uyuni - reflect the vast dome of an icy sky. While its few wind-buffeted Aymara inhabitants scratch a meagre living from the dusty soil, the visitor can enjoy extraordinary landscapes of unexpected variety and surreal beauty. Desolate, denuded peaks, eerie blood-red canyons, contorted rock faces, sunlit lagoons of gemstone clarity and a horizon-bending white sea of salt will reward your perseverance. Snow-tipped volcanic cones and steaming geysers serve to remind you of the turbulent geology that has formed this challenging landscape.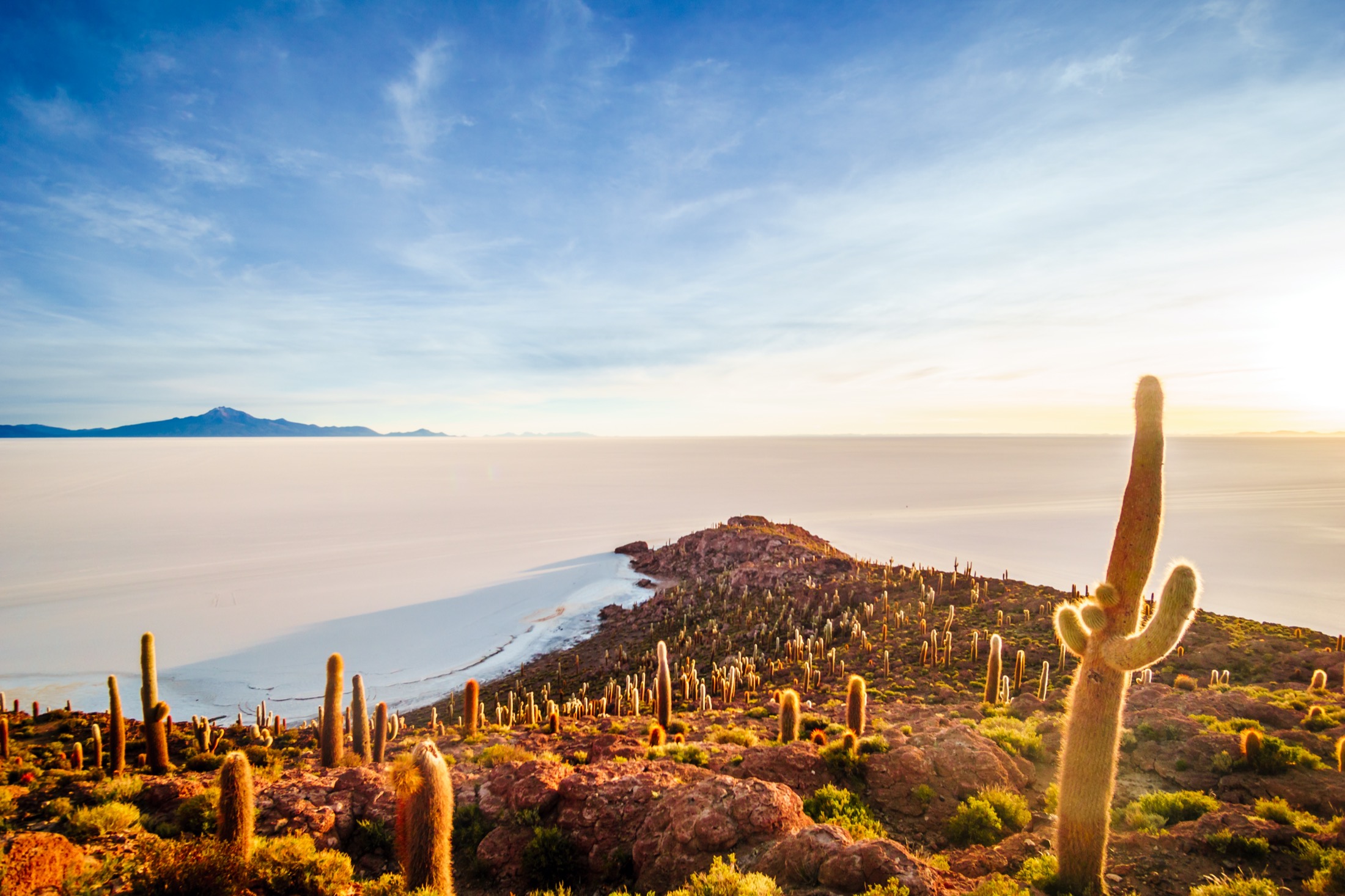 Day 12
Drive to the Salar de Uyuni (salt flats); explore the salt flats in the Atacama desert by 4WD vehicle.
Visit the nearby ancient fort and petrified mummies. Reached by 4WD vehicle only and situated halfway up Volcano Tunupa, this important archaeological site has the added bonus of uninterrupted views of the largest and highest salt desert in the world. After lunch, you'll be driven to Isla Pescado, a small volcanic 'island' smothered by giant cacti with great views over the dazzling salt flats. Continue to the remote and mountainous region of San Agustín and the lost city of the Valley of Rocks before finally arriving at Villa Mar. Here, your very basic accommodation is an unusual property built into the side of a cliff; the rock face forms the rear wall of some of the bedrooms.
Day 13
Continue over the border to San Pedro de Atacama, Chile.
An early morning start takes you to the shores of the fiery red Laguna Colorada, a bird-filled gash of vivid colour relieving the tawny monochrome of the desert. Continue up to a giddying 5,000m and descend to reach the sulphurous Sol de Mañana geysers and the hot springs of Polques - in which you can dip if you wish - and survey perhaps the most captivatingly beautiful and other-worldly scenery of the trip.
The surreal landscape here is of tortured rock formations splashed with a rainbow of colour, defined by a rim of snow-dusted volcanoes. You will reach Laguna Verde, a stunning aquamarine lake at the foot of Licancabur Volcano before changing vehicle for the last part of the journey, into Chile, which takes you along a road descending into the oasis town of San Pedro de Atacama.
Day 14
At leisure, optional outdoor activities.
At leisure in San Pedro. On the skirts of the eastern cordillera, 2,450m above sea level, the village is an oasis in the driest desert of the world. Despite the influx of tourists it has retained its charm and easy-going character, with dirt streets and adobe houses. The eastern side of town has panoramic views of the high Andes some 75km distant. In the clear air, they look a lot closer.
This unassuming little resort is a centre for outdoor activities and excursions to local attractions such as the Tatio geysers, the Valle de la Luna (moon valley) and the ruins of a pre-inca fortress known as the Pukará de Quitor.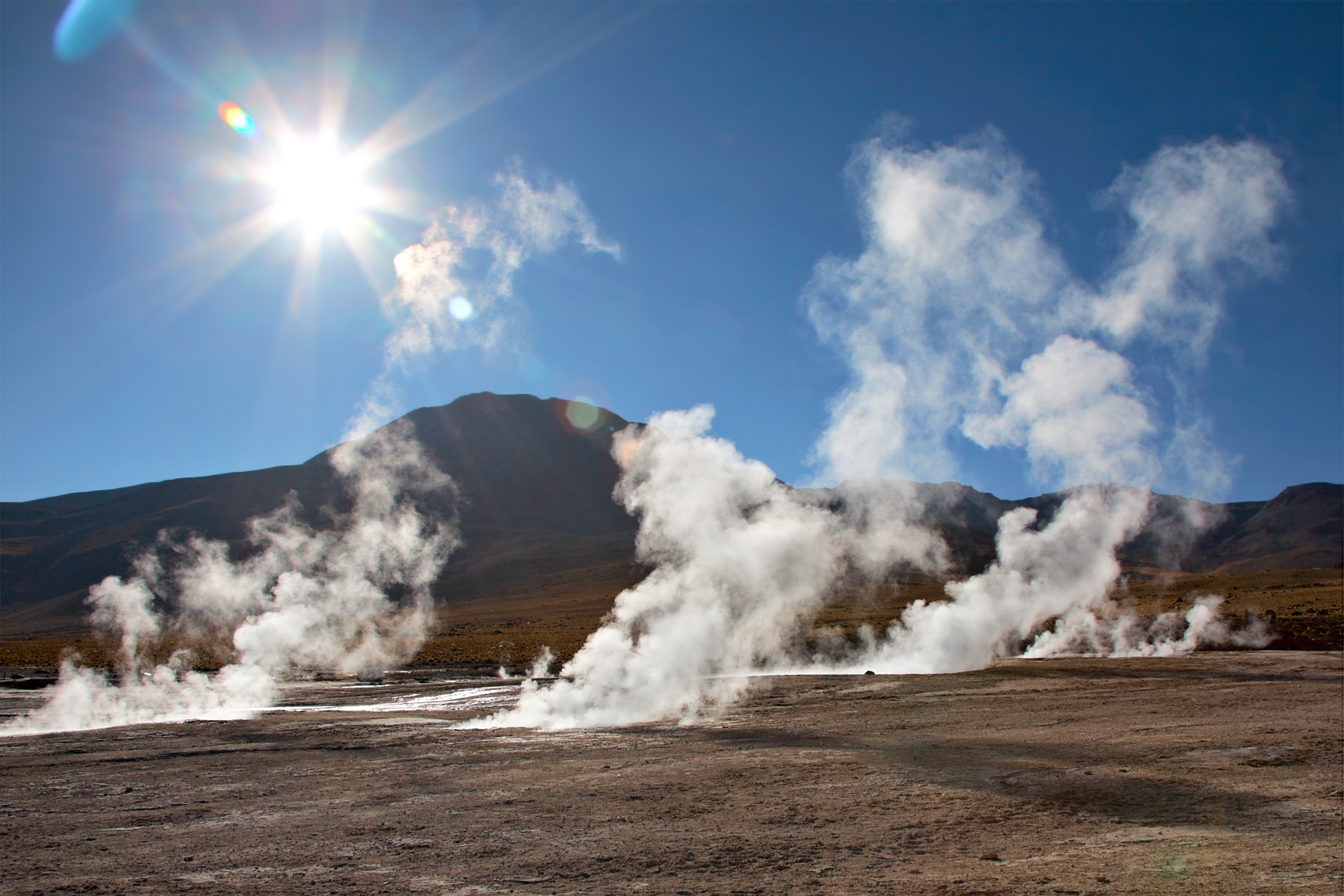 Day 15
Transfer to Calama airport and fly to Santiago.
Transfer to Calama airport and fly (2hrs) to Santiago, Chile's capital. The sprawling city has to its east the immense wall of rock of the Andes - snow-capped in winter. Transfer to your hotel in a modern part of town with some good restaurants and shopping opportunities.
If you have time, for a panoramic view of the city visit the Cerro Santa Lucía, a hilltop park, or take the funicular tram or cable car to the top of Cerro San Cristóbal. A mixture of chic, pleasant tree-lined residential areas and smart office towers surround a compact colonial centre.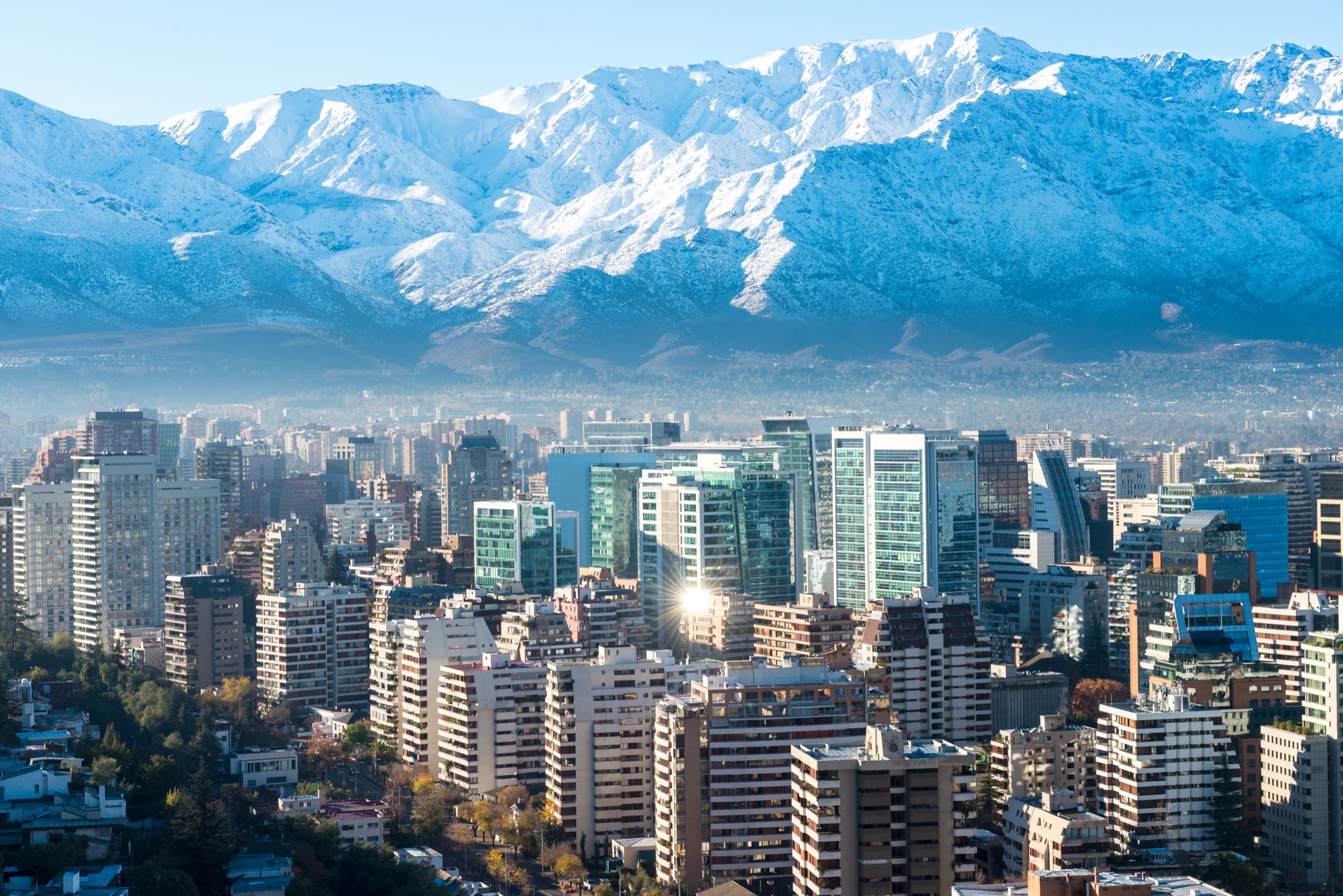 Day 16
Transfer to airport for international flight home.
Essentials
Tour info
Transport
2 flights (1 and 2hrs); 4 scenic road journeys (longest 6-7hrs); 2 rail journeys (longest 4hrs).
Accommodation
This holiday uses a mix of fairly small, good quality mid-range hotels, colonial or modern in style with well-equipped rooms, private bathroom and heating. The accommodation in the salt flats is basic, but unique: one hotel is built almost entirely from salt.
Meals
Breakfast daily; lunch days 3, 7-9; dinner day 4,
Guides
We carefully select our local partners, some of whom we have worked with for over 25 years. Their English-speaking guides understand the expectations of our clients very well, and are consistently singled out for praise by the latter on their return.
Summary Of Nights
16 days, 15 nights: Lima 1; Urubamba 2; Machu Picchu 1; Cusco 2; Puno 2; La Paz 2; salt flats 2; San Pedro de Atacama 2; Santiago 1.
Currency
The unit of currency in Peru is the sol; in Bolivia it's the boliviano, and in Chile the Chilean peso.
How To Take It
Cash machines are available in all major cities and towns, and so taking a debit or credit card with a PIN number is the most convenient way of withdrawing money while on your trip, and in most shops and restaurants you can also pay by card. However, since cards can get lost, damaged, withheld or blocked, you should not rely exclusively on a card to access funds.
We recommend that additionally you take a reasonable quantity of US dollars cash (no more than is covered by your insurance), which you can exchange into local currency, and possibly some travellers' cheques (American Express are the most widely accepted), though these are gradually falling out of use. Dollar bills should be in good condition, soiled or torn bills may be refused. You can take sterling, but the exchange rate is not always competitive or even available, restricting the number of places where you can change money.
Daily Spend
It is very difficult to give a guideline for essential expenses but a budget of around US$35-$45 per day should cover the cost of meals not included in the holiday itinerary, drinks and the odd souvenir. Eat at the best restaurants and you will pay considerably more.
Tipping
Tips are welcomed and local guides often rely on their tip as a significant proportion of their income.
Most service industry workers will expect a tip of some kind and so it is useful to have spare change for hotel porters, taxi drivers and the like. It is common to leave 10 – 12% in restaurants.
Tipping guidelines can be found in our Briefing Dossier.
Insurance
Travel insurance is essential. Details of our recommended policy can be found on our Travel Insurance page.
Airport Taxes
If you have purchased your flights through Journey Latin America, the international departure tax is usually included in the ticket.
Journey Grade
There are some early mornings and long days of travel on this trip, punctuated with occasional stops.
The streets in Cusco are cobbled and steep and you must be cautious taking these on, since you are at altitude. Lake Titicaca and La Paz, along with the Salar de Uyuni (salt flats), are situated at 3,500-4,000m – you may feel woozy and headachy at first and breathless before you get accustomed to the altitude. En route you'll climb (in a vehicle!) to 5,000m. If your symptoms are severe please contact our local representatives (see Altitude paragraph below). If you have cardio-vascular problems you should consult your doctor before undertaking this trip.
Although a unique experience, please note that one night spent near the salt flats is in basic accommodation.
Visas
Holders of a full British passport do not require a visa, although passports must be valid for at least 6 months after the trip begins. Anyone with a different nationality should enquire with us or check with the relevant consulate.
If flying to the US, or via the US you will need to fill in your online ESTA application.
Climate
The rainy season in the Andes runs between November and March when there are showers many afternoons. The dry season is from May to September, when the sun is strong during the day, but at night the temperature drops dramatically (from freezing to 10°C). April and October are less predictable, with both rainy and sunny spells.
Uyuni is a very remote region and is subject to harsh climatic changes: what you do and where you stay may be modified according to the weather and terrain, particularly in the wet season.
Altitude
If you have cardio-vascular problems you should consult your doctor before undertaking this trip. Your stays in the Sacred Valley (2,800m-3,000m), Cusco (3,400m), Lake Titicaca/Puno (3800m), La Paz/Uyuni (3,700m) and the Atacama Desert (2,400m) are at high altitude. The highest point you'll reach (during a vehicle ride from Bolivia into Chile) is 5,000m. Because the trip gains altitude slowly, most people are only mildly affected and if you drink plenty of water and allow your body to acclimatise (don't exert yourself or drink alcohol for the first couple of days at altitude), you'll probably be OK. Symptoms vary: most common are mild headaches, slight nausea and breathlessness. If you don't recover in a day or two speak to our representatives; in very rare instances it is necessary to descend to lower altitudes.
Please refer to our Briefing Dossier for further information.
Vaccinations
Preventative vaccinations are recommended against the following: typhoid; polio; tetanus; hepatitis A. You should consult your GP for specific requirements.
You can also find helpful information on the Masta Health Travel website.
Clothes And Special Equipment
For day-to-day wear you should go prepared to encounter all seasons. Both warm clothing and a sun hat are essential at altitude; a light fleece jacket and a waterproof/breathable outer shell makes a good combination along with gloves, scarf and woolly hat. Trousers, skirt or shorts made from light, quick-drying synthetic materials are appropriate. If you plan to eat in smart restaurants in the cities, although clothing is not formal (no need for jacket and tie), something quite smart would be appropriate.
Strong, comfortable footwear is essential and you should bring insect repellant, sun block and sun glasses.
Due to luggage restrictions on the train to Machu Picchu, main luggage must be left in Cusco. You can take up to 10kgs per person on the train and an overnight holdall is recommended to separate your luggage for the night spent away from Cusco.
Please get in touch with the office before departure if you have any doubts. Good equipment is very important and hard to come by in South America.
What's included in the price
Services of our team of experts in our London office
Services of Journey Latin America local representatives and guides
All land and air transport within Latin America
Accommodation as specified
Meals as specified
Excursions as specified, including entrance fees
Included Excursions
Full day excursion to Pisaq ruins and the Sacred Valley
Guided tour of Machu Picchu
Guided Cusco city tour and visit to Sacsayhuamán ruins
Lake Titicaca crossing via visit to Uros Iruitos islands to La Paz
Guided La Paz city tour and trip to the Moon Valley
Guided visits from coach journey to Lake Titicaca
Guided La Paz city tour and Moon Valley
Excursions in the Uyuni salt flats of the Atacama Desert
What's not included in the price
Tips and gratuities
Meals other than specified
International flights to latin America
Airport taxes, when not included in the ticket
Optional excursions
Real Latin America Experts
Kathryn Rhodes - Travel Consultant

Kathryn backpacked across Argentina, Chile, Bolivia and Peru before joining us. She has a degree in Philosophy and French and is a keen netball player.

Carrie Gallagher - Travel Consultant

A former JLA tour leader, Carrie brings a wealth of on-the-ground experience to our London-based Escorted Groups team.

Ben Line - Travel Consultant

Ben fell in love with Latin America on a six month backpacking trip from Colombia to Mexico in 1995. Since then he has explored most of South America, including living in Peru for a year. He is now Manager of the Tailor-made Department.

Paul Winrow-Giffin - Travel Consultant

After graduating in Computer Science, Paul spent seven months travelling from Colombia to Argentina and came home hooked on Latin America.

Hannah Donaldson - Travel Consultant

Having spent part of her childhood in Colombia and worked in Brazil and Costa Rica, Hannah's ties to Latin America run deep. Hannah is an invaluable part of our Group Tours team.

Sophie Barber - Travel Consultant

Sophie lived in Chile before joining us and has travelled extensively across Latin America, from Mexico to the furthest tip of Patagonia.
Meet the team