Back
Meet the Kuna indians of San Blas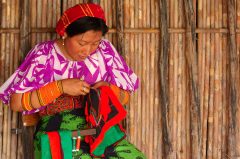 Swim, snorkel and follow nature trails on the paradise islands of San Blas while getting to know its autonomous Kuna community.
While the idyllic white-sand beaches, swaying palms and aquamarine seas are usually what attracts people to the Caribbean archipelago of San Blas, it may well be the privilege of being welcomed by the outgoing and often inspiring people who call it home that leaves the strongest impression.The indigenous Kuna run these islands as an autonomous zone, maintaining their traditional lifestyle and imposing their own laws. However they are generally a friendly and easy-going people, keen to harness ecotourism as a positive force for their communities and natural environment.
There's a range of organised activities to be enjoyed here, including canoeing, swimming to nearby islands, snorkelling in the warm, crystal-clear waters and following trails through the rainforest to spot wildlife or visit Kuna families. There are also opportunities to learn about traditional trades and the production of handicrafts, such as the colourful appliqué textiles known as molas for which the islands are known.
Panama
Portobelo and San Blas Islands