Back
Explore Spanish fortresses and pirate history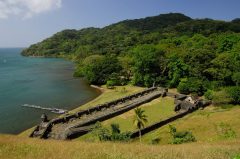 Uncover a bloodthirsty history of conquistadors and pirates in the former Spanish stronghold of Portobelo.
We'll drive you right across the Panamanian isthmus to the Caribbean province of Colón to visit the sleepy town of Portobelo, a UNESCO World Heritage Site that was once the stage for many dramatic historical events.
During the colonial era, heavily fortified Portobelo was one of the most important strongholds on the Spanish Main, protecting the northern extreme of the Camino Real. It was along this 'Royal Road' that the conquistadors hauled their looted gold, silver and gemstones from the Inca Empire to ship them off to Spain.
However, the glittering stream of treasure flowing across the isthmus soon caught the attention of the real-life pirates of the Caribbean, including famous figures like Sir Francis Drake and Henry Morgan. Portobelo was attacked, overwhelmed and captured four times – in fact, Portobello Road in London, the Portobello area of Edinburgh and Dublin's Portobello Barracks all owe their names to British victories here.
You'll learn about Spanish treasure, pirate raids and violent sieges as you explore Portobelo's most important fortresses and encounter remnants of the area's volatile history. Return via the Panama Canal Railway, the first railroad to connect two oceans.
Panama
Portobelo and San Blas Islands