Back
Bristol Panama
A first class contemporary property offering slick service and top-of-the-range facilities in the heart of Panama City.
The stylish and top-of-the-range contemporary Bristol Panama is situated in the capital's financial district not far from many of the city's best restaurants, bars and shopping opportunities. It's a slickly managed place, oozing efficiency and professionalism but manages to generate a friendly atmosphere so that you feel right at home.
Original canvases designed by local artists adorn public areas and the 125 spacious guestrooms which are extremely smart and business-like, with mahogany furnishings and bathrooms tiled in sparkling Italian marble. There is also a restaurant serving Panamanian specialities and a spa with a menu of treatments and massages. The hotel also hosts conferences and other functions. One of the high points – literally – of a stay here is a visit to the relaxation area on the top floor for a view over the city.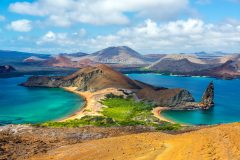 What our clients say
A really nice hotel for a city stay - very comfortable at the end of a hectic two weeks.
Our Expert's Opinion