Back
Take a Panamanian coffee tour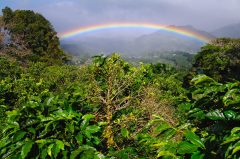 Discover the secrets that go into producing some of Panama's finest coffee on a jeep safari around a rural coffee plantation.
The fertile soils of Boquete sustain a cluster of renowned coffee plantations. At one of these rural estates, you'll get an overview of the timeworn coffee production process, from cultivation to harvesting the ripe, reddish coffee 'cherries' and roasting the beans. The tour takes you through every stage, beginning at the seed bed and ending with a tasting session for the chance to try the finished product for yourself.
Panama
Boquete and the Chiriquí Highlands
Holidays Take a Panamanian coffee tour
From expertly designed Private Journeys to trail-blazing Group Tours, browse our range of carefully crafted holidays.
Private Journeys
Private Journeys