Back
Luna del Rio
Luna del Rio is a quirky family-run guesthouse on the banks of Rio San Juan in El Castillo.
Riverside El Castillo is certainly a quirky little place, with its jungle-fringed wooden houses shading vehicle-free lanes and alleys all loomed over by the vast hilltop Spanish fort. You almost have the impression that you are in a Latin American magical realism novel and this feeling is only enhanced if you stay at the Luna del Rio.
This delightful small wooden guesthouse is at the quieter end of town. Perched right on the wide Rio San Juan's bank, it is managed by its friendly Spanish owner, Margarita, and her husband Miguel. There are just five small rooms with (occasional) hot water and air-conditioning. Two of the rooms have balconies with comfy chairs overlooking the rapids on the river – stay in one of those if you can.
Downstairs is a small bar and you take (an excellent) breakfast on a veranda right at the water's edge: watch the birds dipping and weaving or villagers fishing according to centuries-old practices. Other meals can be taken in restaurants around town; Margarita will take your order and you turn up there at the pre-agreed time. In spite of the opening of a new bridge crossing the river to Costa Rica, El Castillo is still remote: carry a torch for use in a power cut.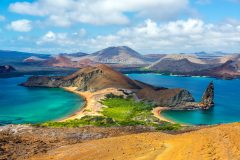 What our clients say
Margarite & Manuel were fab hosts - like staying with a family. Couldn't do enough for us. Lovely balcony overlooking the rio San Juan. Rooms on the small side but…
Our Expert's Opinion