Back
Hotel Los Robles
Colonial-style hotel in a modern, upmarket commercial and residential district of Managua.
This tranquil colonial-style hotel comes as a bit of a surprise, situated in a rather smart, upmarket residential district of Managua and close to the modern financial and commercial centre.
The guest rooms aren't large, but they have plenty of character being individually decorated, with exposed wooden ceilings and antique style beds. A buffet breakfast is served beside the patio and there is a small restaurant offering French cuisine. There are also numerous eateries nearby as well as bars and shops.
The shady garden, replete with tropical foliage, is a nice place to enjoy a cocktail, and there's a pool accessed through a rather grand arch.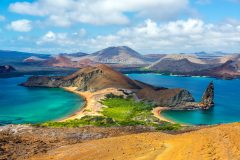 What our clients say
Overall we had an absolutely fabulous time and would recommend anyone to visit Nicaragua and visit using JLA - we felt it was a great mix of culture and wildlife…

"El Castillo is remote and absolutely rewarding . Our guides took us kayaking and made us a picnic from local produce and treated us like family. Owners of Victoria Hotel…

'"Overall we had an absolutely fabulous time and would recommend anyone to visit Nicaragua and visit using JLA - we felt it was a great mix of culture and wildlife…

"This was our first experience of Central America and the itinerary was spot on for us. Every place we visited held some considerable interest making it probably the best holiday…

El Castillo - wonderful setting on river - arriving by boat (even though it broke down and we had to Be rescued by public boat for last part of journey.…

"All.... the people are wonderful..and all are so keen to promote their country, which is in it's infancy of tourism. I told them that I would happily be an ambassador…
Our Expert's Opinion