Back
Visit Teotihuacan, pre-Columbian ruined city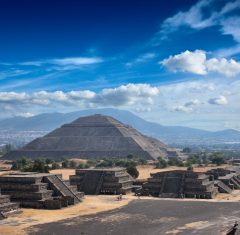 See Mexico City's crowning jewel, an ancient city in a remarkable state of preservation.
Nothing quite prepares you for the first sight of the immense temple complex of Teotihuacán, once the largest and most populated city in the New World.
As impressive as their Egyptian counterparts, the pyramids at either axis of the central Avenue of the Dead are awe-inspiring in their scale and grandeur. The larger of the two is the Temple of the Sun, a mystical construction aligned with the sunset and believed by the Toltecs to imbue all who climbed it with its sacred solar energy. You can try it for yourself by ascending the 243 steps – even if you don't feel a charge you'll certainly be dazed by the magnificent panorama of the ancient site unfolding before you, crowned by the corresponding Temple of the Moon.
One of the most striking aspects of the site is its sheer size, and there is a huge amount to discover along the 4-kilometre Avenue of the Dead connecting the most significant structures. Your knowledgeable guide will build a picture of life in the ancient city, describing the religious rituals and sacrifices to the sun that once took place atop Teotihuacán's majestic pyramids, and the significance of the wonderfully charismatic sculptures of serpent and jaguar gods that guard the temples.
Mexico
Mexico City