Back
Visit Taxco and Cuernavaca silver towns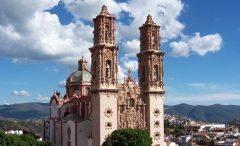 Combine two beautiful colonial towns on an enchanting day trip.
Begin with a guided tour of Taxco, where a warren of steep, twisting streets links an enchanting collection of baroque churches and historic buildings. This well-preserved national monument was once one of the wealthiest silver mining towns in the New World and its links to the precious metal are still visible in the town's large number of jewellers and silver workshops.
Continue on to Cuernavaca, known in Mexico for its year-round spring climate. Aztec emperors once had summer residences here and today's Mexican elite have followed their example, with the many mansions of the rich and famous elevating the sedate town just half an hour from the capital to the status of a glamorous enclave. However, the revival of the city's fortunes has not changed its essential nature: charming, breezy and thoroughly historic, with Aztec ruins as much at home amidst the rich tapestry of its heritage as the elaborate palace of Spanish conquistador Hernán Cortés.
Mexico
Colonial and silver towns