Back
Visit Puebla's churches and markets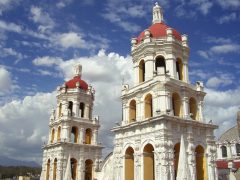 Explore the colonial baroque churches and lively food markets in Puebla.
Puebla, deservedly a Unesco World Heritage Site, has streets lined with churches and colonial mansions, many adorned with the beautiful hand-painted Talavera tiles for which the city is famous. Among the buildings you may visit are the gorgeous baroque Cathedral - the second largest in Mexico - and Mercado El Parian, a crafts market in the 'artist's quarter'.
As well as having the highest number of churches in any Mexican city, Puebla has the most professional chefs and they are some of the best. Many have honed their culinary skills working in Puebla's markets, cafés and street stalls; a world of colourful sweet and savoury delights. This is the place where Mexico's national dish - mole poblano – originated.
Mexico
Colonial and silver towns