Back
Villa Santa Catarina
Quiet hotel with a landscaped garden and pool, at a remove from the bustle of Panajachel.
The secluded Villa Santa Catarina is 4km from the tourist resort town of Panajachel, in the small village of Santa Catarina Polopó overlooking the lake. It has been constructed in an attractive colonial style and the setting is very peaceful. While not special in itself, it is a good choice if you long for a quiet retreat with few other tourists.
At the heart of the hotel is a small landscaped garden with a medium-sized swimming pool surrounded by loungers and a well-kept lawn. The grounds are overlooked by an open-air terrace restaurant and bar.
The simple but spacious rooms are set on two floors, with terrace or balcony, and most have views over the lake and volcanoes.
Activities including boating, fishing, windsurfing, waterskiing and tours to other lakeside indigenous villages can be arranged from the hotel, and there are hot springs within walking distance.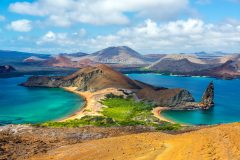 What our clients say
Nice hotel right on lake. convenient to arrange own boat trips across the lake.
Our Expert's Opinion