Back
Sumpango giant kite festival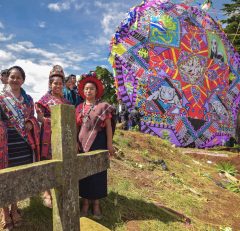 Travel to a highland village in Guatemala to attend the colourful kite festival celebrating the Day of the Dead.
Every year on 1st November the sleepy Guatemalan village of Sumpango comes joyously to life with its 'Giant Kite Festival' which contributes to the celebrations of the Day of the Dead.
Thousands of people from all over the country gather to compete: the massive community-made kites, which may have taken months to finish, are created solely from tissue paper, and many of them contain messages extolling caring for the environment of women's rights. The gorgeous works of art vary in size from 2-30m in diametre and, in the competition, are judged both on creativity and the length of their flight.
Travelling with a guide to the village, you'll be overwhelmed by a guaranteed deluge of colours, music, food and dancing.
Guatemala
Antigua and the highlands