Back
Boat tour of Lake Suchitlan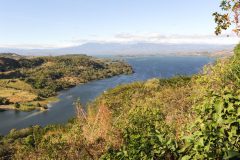 Explore the cobbled streets of a charming colonial town before taking a boat tour of Lake Suchitlán, a haven for bird life.
Offering a tantalising glimpse of a pre-war El Salvador, this town of pretty plazas and cobbled streets is one of the most pleasant and attractive spots in the country. Its burgeoning arts scene and cultural traditions lend a vibrant ambience to the list of the town's abundant charms.
Wander with a guide around the shady colonnaded streets, past whitewashed houses with wooden balconies and terracotta tiled roofs. There is over a millennium of history to learn about, from pre-Hispanic origins to modern-day cultural revival via strife and civil war.
After your walking tour, take a leisurely boat trip out onto the nearby artificial lake, where hawks, falcons and a great variety of water fowl can be seen in their picturesque natural habitat.
El Salvador
Suchitoto