Back
Walking tour of colonial Quito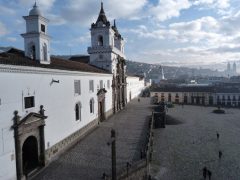 Explore the historic centre of the Ecuadorian capital in the company of a knowledgeable guide.
With its narrow cobblestone streets and white-washed buildings huddling beneath a skyline of extravagant steeples and cupolas, Quito was the first city ever to be named a UNESCO World Heritage Site. Its compact colonial core hides a wealth of architectural and historic treasures around almost every corner, and a short walking tour is an ideal way to begin exploring.
Quito's historic centre is one of the largest and best-preserved in the Americas, and you'll visit all the most significant sights including the monastery of San Francisco, the main plaza with its cathedral and governmental palace, and the Basilica del Voto Nacional, best known for its quirky gargoyles representing the native animals of Ecuador, from anteaters to marine iguanas.
Ecuador & Galapagos Islands
Quito