Back
Casa Gangotena
Sumptuous boutique hotel with muted neoclassical décor and an unrivalled location at the centre of Old Quito. Voted number 21 in Trip Advisor's top 25 Hotels in the World (Jan 2015)
Casa Gangotena is a richly luxurious boutique hotel right on the main square of Quito's old quarter. The building is a restored Renaissance-inspired mansion which preserves the opulent ambience and décor of its former incarnation. Furnishings and fittings are mostly neoclassical in flavour, the ornate design tempered by the use of muted colours – beige, light green, cream and gold.
Guestrooms are large, quiet and very well appointed. There is a nod to contemporary style in the spacious bathrooms where you will find marble bathtubs and rain showers.
Befitting its aristocratic ambience, the hotel has no extra facilities such as a spa, pool or gym but there is a terrace bar with great views over the plaza and a small patio garden. There is also a small restaurant serving breakfast and dinner. The staff are very attentive.
The hotel has achieved what for many is the ultimate accolade: to be included on Condé Nast Traveller's Hot List of favourite hotels around the world. To have done this within 6 months of opening is impressive indeed.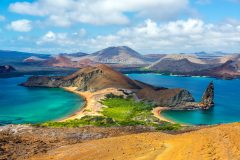 What our clients say
"Casa Gangotena, Quito, is one of the best hotels we have ever stayed in. Let down by its restaurant (breakfasts excellent)."

Hotel perfect in every way. Central, great food and beautiful - very comfortable rooms and beds.

"Very stylish in every way and the complimentary afternoon tea was a bonus."

"The historic town centre is great in the day but more challenging at night."

"Great position, lovely food in the restaurant."

The staff were fantastic. There was a very odd smell in our room from time of arrival although we didn't mention it until there was loads of rain and a…

Read more
Our Expert's Opinion