Back
Visit the birthplace of the Panama hat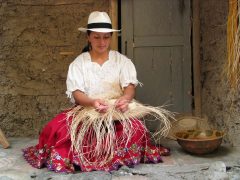 Take a trip to Montecristi to see where the misnamed Panama hat originates from.
With a misleading name owing to old trading routes rather than its place of origin, you could be forgiven for placing the centre of the Panama hat industry about 1,000km too far north. But no, it really comes from Ecuador, where it has been popular for three centuries.
Montecristi is the birthplace of the Panama Hat and is still where the finest examples are made, although mass production has moved south to the city of Cuenca. The highest quality 'Montecristis' can hold water and even pass through a wedding ring.
Ecuador & Galapagos Islands
Pacific coast