Back
Visit Otavalo market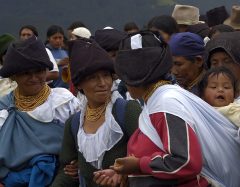 Pick up handcrafted souvenirs and people watch at a bustling indigenous market.
At Ecuador's largest indigenous market, the enterprising and prosperous Otavalan Indians sell local produce and handmade goods including the high-quality textiles for which the region is known. It's a wonderful place to see traditional highland costume and culture, as well as pick up souvenirs and gifts from stalls piled high with colourful handicrafts.
Surrounding the town are clusters of rustic hamlets each specialising in a different cottage industry, from leather to woodwork. On some itineraries, you could choose to visit one or two of these en route for a first-hand insight into the age-old crafting traditions and supply chains which fuel Otavalo market.
Ecuador & Galapagos Islands
Otavalo and the northern highlands