Back
Explore the Mindo cloud forest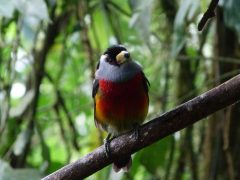 Discover a lush habitat of tropical wildlife, orchids and hummingbirds in the steamy cloud forest of Mindo.
As the peaks of the high Andes fall away and the desolate highlands give way to lush lowland plains, a profusion of subtropical vegetation announces your descent towards the boundless rainforest at the heart of South America. This is the cloud-forest, straddling the divide between Andes and Amazon.
Mindo is a great choice for anyone wanting a quick and accessible taste of the jungle without going as far as the Amazon itself. Though just 100km from the capital, it's a world apart – gone are all signs of urban activity, replaced by hillsides enveloped in foliage and a soundtrack of rippling streams and bird calls. The greenery is punctuated by the vibrant colours of orchids, bromeliads and heliconias, making this a particularly scenic setting for nature walks. It's one of Ecuador's most biodiverse areas with over 350 species of birds alone, and is particularly known for its abundant hummingbirds.
Ecuador & Galapagos Islands
Mindo and the cloud forest