Back
Visit Cotopaxi National Park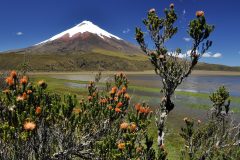 Travel down the Avenue of the Volcanoes to arrive at a national park dominated by one of the world's tallest active volcanoes.
The route from the capital to Cotopaxi National Park leads through the Avenue of the Volcanoes, a scenic corridor watched over by an imperial guard of volcanic cones shrouded in permanent snows. After passing under their far-reaching shadows you'll reach Cotopaxi, 5,897m, one of the highest active volcanoes in the world and the second tallest mountain in Ecuador.
The volcano is the centrepiece of a national park that shelters a great variety of bird life, from hummingbirds to the Andean condor, and a number of hardy mammals including deer, rabbits, foxes and the elusive puma. You can put the flora and fauna into geographical context at the park's interpretation centre before hiking a trail that curves beside Lake Limpiopungo, its tranquil surface perfectly mirroring the snow-draped cones that rise above it.
Ecuador & Galapagos Islands
Avenue of the Volcanoes