Private Journeys
Private Galapagos: Santa Cruz and Isabela Islands
8 days from £6,826pp
Places visited

Overview & Highlights
Discover an astonishing array of wildlife sheltered among the hidden coves and sparkling bays of the Galápagos Islands. From Quito, you'll stay in the unique Scalesia Lodge and stylish Finch Bay hotel.
Scheduled excursions to nearby islands from Scalesia Lodge
Visit Los Gemelos volcanic sinkholes
Scheduled excursions to neighbouring islands from Finch Bay
Stargazing workshop at Finch Bay hotel
Excursion to Divine Bay and Charles Darwin Research Station
Encounter basking sea lions, chattering penguins and giant tortoises on this journey across the Enchanted Isles of the Galápagos. Explore both land and sea by staying in two top-quality lodges on contrasting volcanic islands, and setting out each day to explore nearby islets by motor yacht.
Begin in Quito, Ecuador's charming Andean capital, where you'll spend a night in an ornate Renaissance-inspired mansion in the heart of the Old City. You'll travel by air to Isabela Island, taking in the breathtaking scenery from a twin engine light aircraft, before ascending into the highland forests that envelop modern safari-style tents at Scalesia Lodge. Nearby volcanic islands of twisted lava and sparkling sandy coves await exploration, with daily excursions from the lodge to encounter the graceful marine creatures and trusting wildlife that make the archipelago so unique. You'll round off your trip at the stylish Finch Bay hotel, located on a tranquil beach within easy reach of the region's oldest and most beautiful islets.
Itinerary
DAY 1
Arrive in Quito and transfer to your luxury hotel.
Upon arrival at Quito, Ecuador's high altitude capital city, you'll be met at the airport and taken by private transfer to your luxurious boutique hotel in the main square of the Old City. Casa Gangotena is a restored Renaissance-inspired mansion, with ornate neo-classical furnishings and spacious rooms. Relax in the terrace bar or the quaint patio garden, sample delicious food in the small restaurant and enjoy the complimentary cultural activities on offer.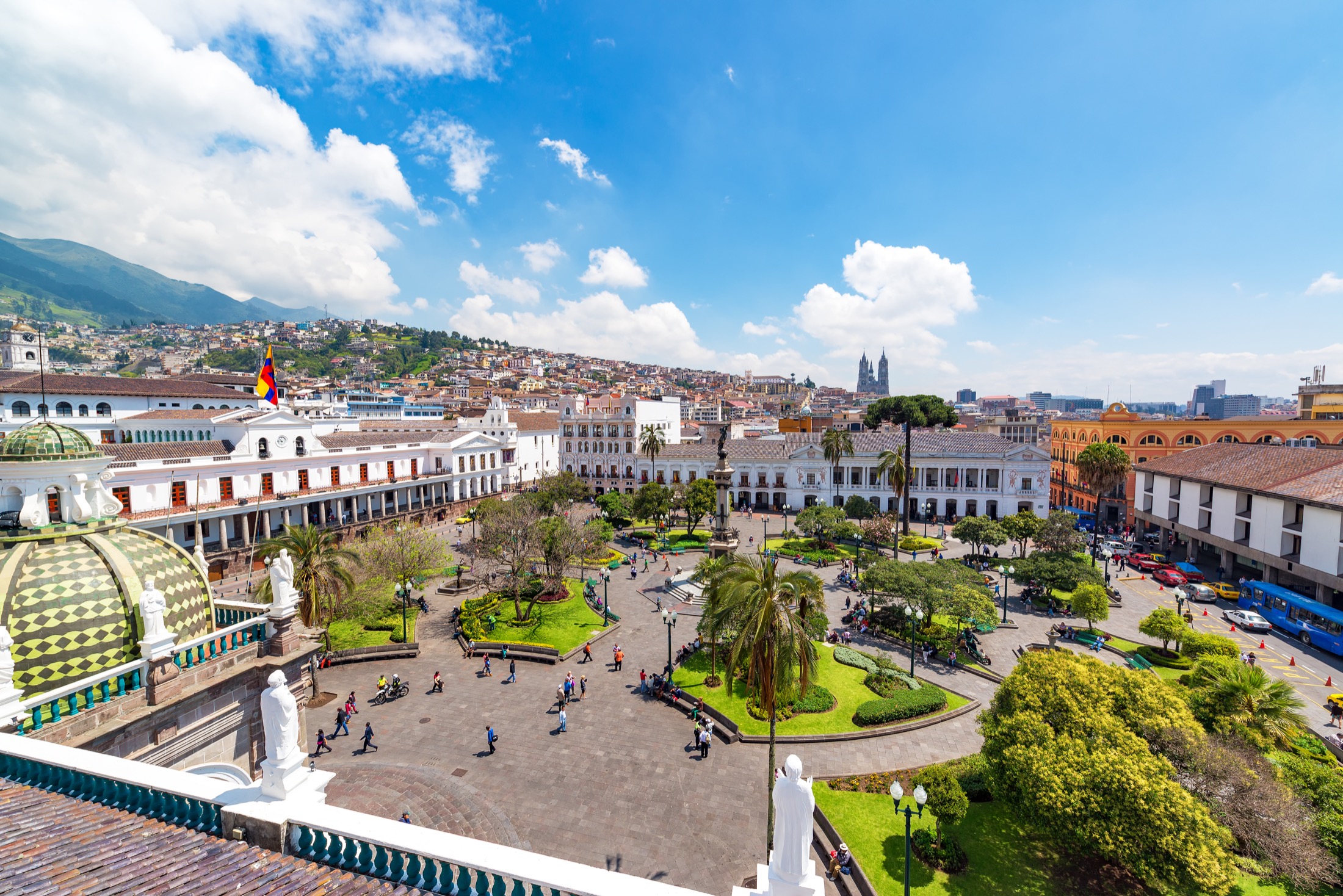 DAY 2
Fly to the Galápagos Islands, scenic light aircraft flight to Isabela Island.
From Casa Gangotena you'll be taken by private transfer to Quito airport where you catch a flight to the Galapagos Islands. Your next journey to Isabela Island is truly unforgettable- take in breathtaking scenery on a twin engine light aircraft with only 5-9 passengers. After touchdown you'll drive for 20 minutes up into the highlands to reach Scalesia Lodge, your home for the next three nights. Enveloped in wild forests, the Lodge features an ultra-contemporary glass-fronted main building housing the restaurant and lounge areas. You'll be staying in one of the 16 safari camp-style tents, fully-equipped with a king-sized bed and modern facilities. Soak in the easy-going atmosphere and choose from an astounding range of excursions and activities on offer, including hikes, volcano visits and snorkelling trips as well as wildlife-spotting.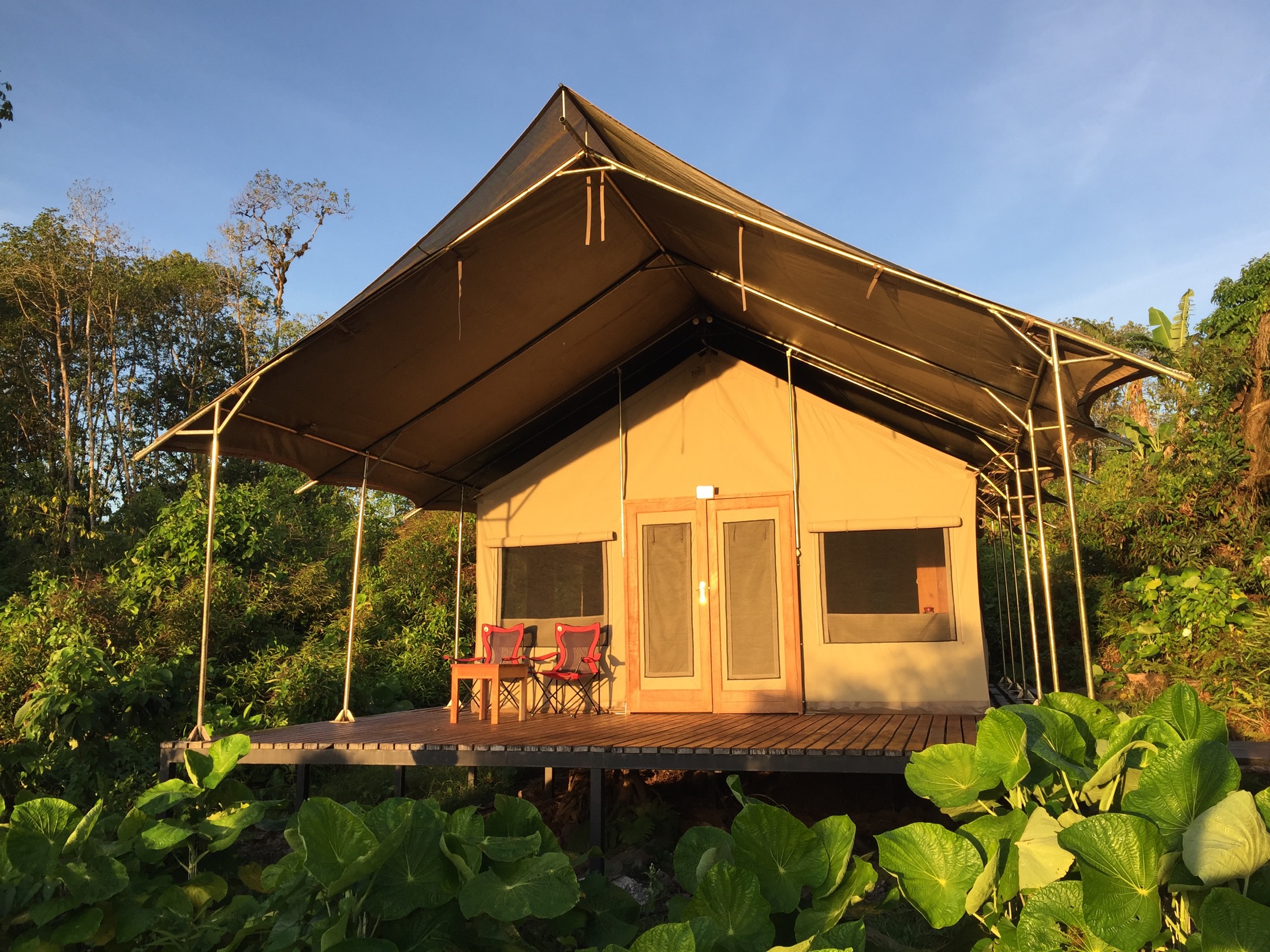 DAYS 3-4
Enjoy excursions and activities around Isabela Island.
Choose from a wide range of excursions on offer at Scalesia Lodge, with different activities scheduled each day. You may wish to visit the white tip reef sharks and penguins of islet Tontoreras, or the thriving mangroves, natural pools and solitary beaches of Los Humedales, frequented by magenta-hued flamingos.
One of the best snorkelling destinations is Los Tuneles, a marine paradise where lava flows have produced many arches and tunnels both under and above water. The magnificent formations are replete with Galápagos green sea turtles, sea lions, manta rays, parrot fish and yellowtail surgeonfish among many others. Another area renowned for its vibrant marine life is Concha de Perla Bay, where you can snorkel alongside penguins and sea lions in warm, crystal clear waters.
Keen hikers can ascend to the smouldering craters of enormous active volcanoes Sierra Negra and Volcan Chico, or delve into Sucre's cave in the thriving agricultural region of the island. Plus, there is always plenty of time to enjoy the sparkling beaches of Puerto Villamil with biking, surfing and kayaking all available at an extra cost.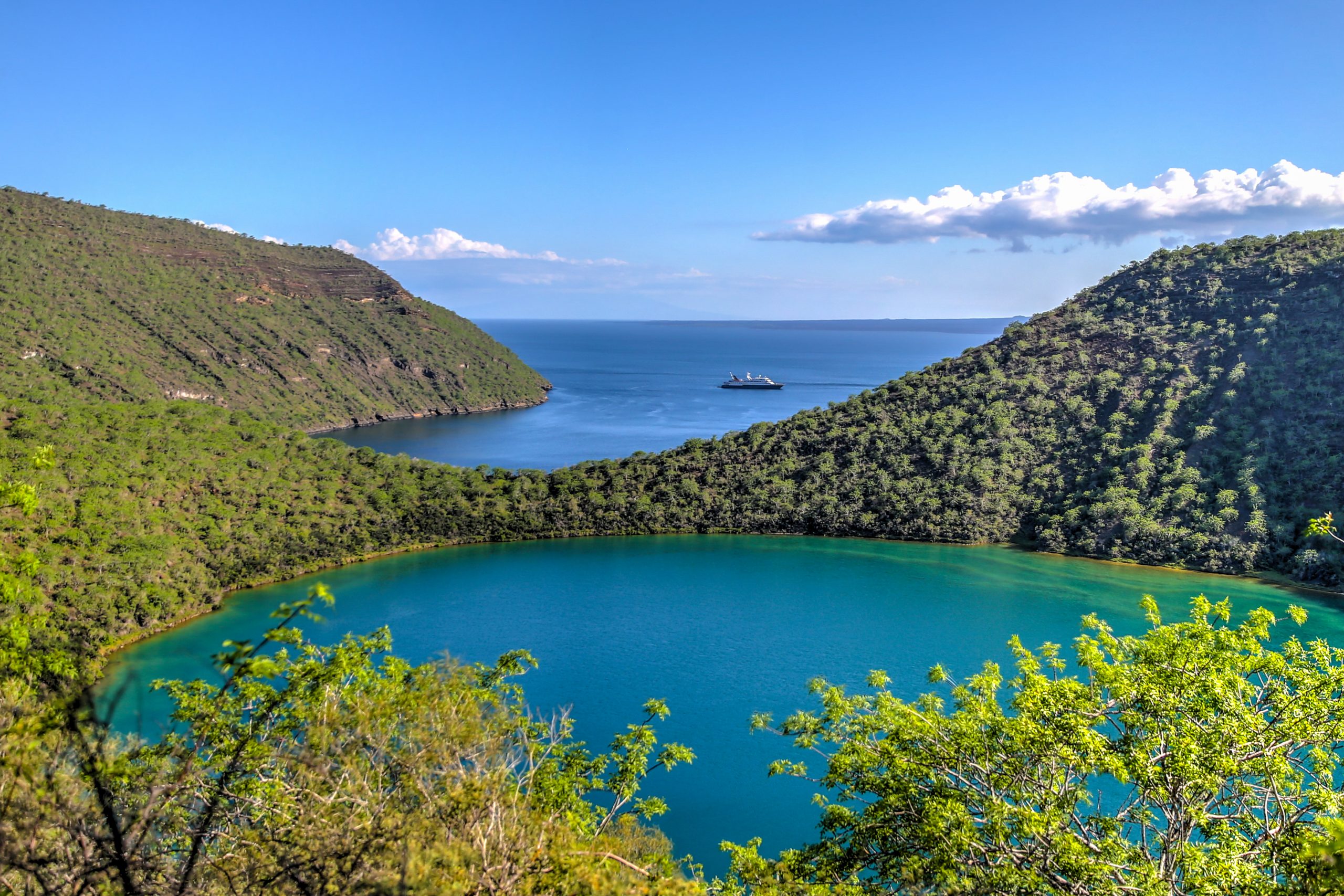 DAY 5
Light aircraft flight and private transfers to Finch Bay hotel.
It's a short drive back to the Isabela airstrip, where you'll once again enjoy stunning aerial views of the islands aboard a light aircraft to Baltra airport. From here you'll be taken by private transfer across the Itabaca channel to Santa Cruz, the most populated island in the Galápagos. Drive up into the rugged highland forests to reach the twin volcanic craters Los Gemelos. At 600m above sea level, these volcanic sinkholes are home to many Darwin's finches. After lunch you'll continue to the town of Puerto Ayora and make the short hop to Finch Bay hotel on a water taxi.
Finch Bay overlooks the lush greenery and glittering waters of Punta Estrada. Rooms are bright and spacious and lead out to a private terrace or balcony, with décor inspired by the natural tones of the surrounding beach. The property is mindful of its ecological responsibilities with energy conservation and water-saving measures, but the facilities remain comprehensive with a large pool, outdoor Jacuzzi, restaurant, bar and spacious sun terrace.
Finch Bay offers an array of relaxing, active and expeditionary excursions including snorkelling, diving, sea kayaking, mountain biking, hiking and day trips by boat to other islands.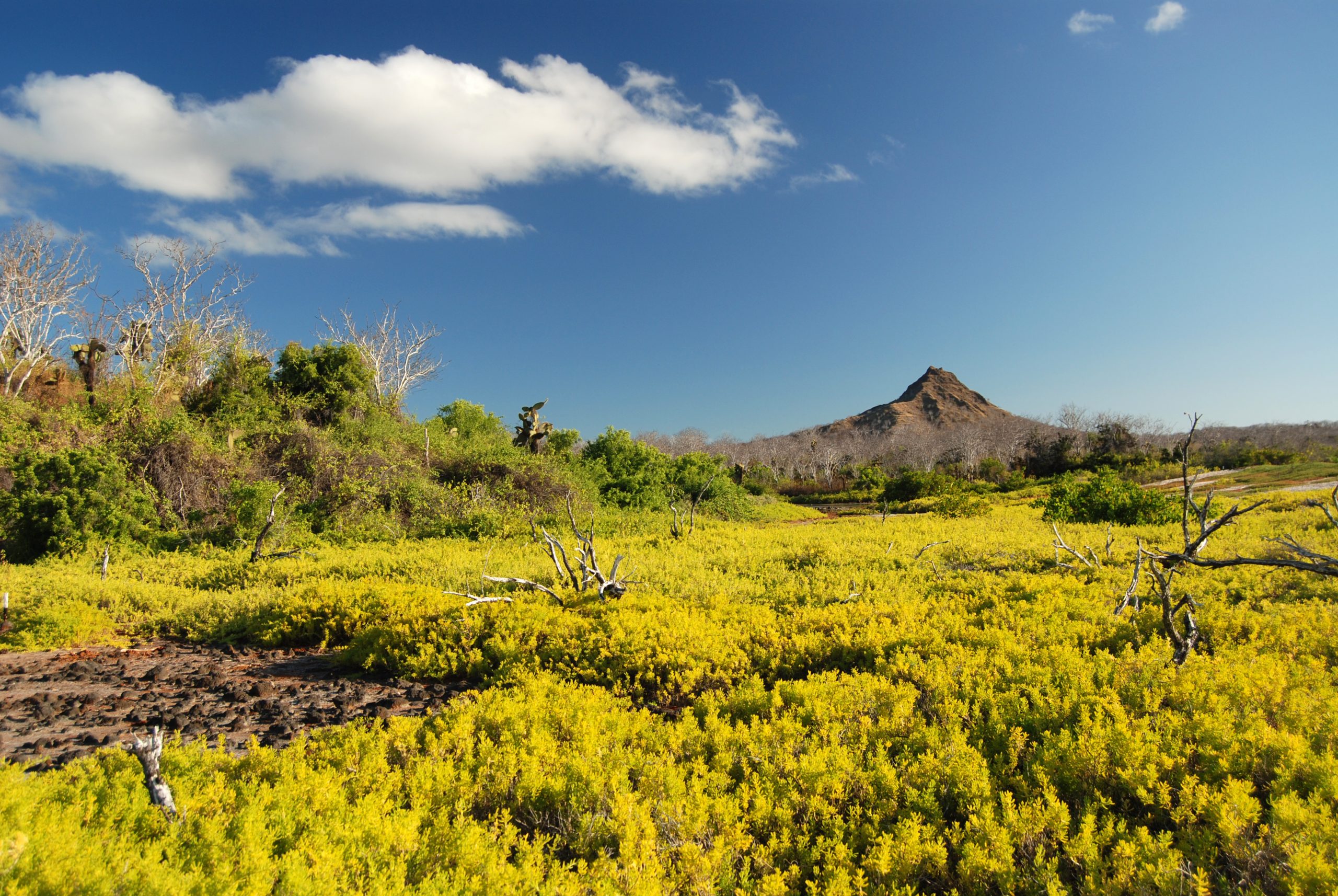 DAY 6
Visit neighbouring islands by yacht, optional beach dining experience.
Join highly-qualified naturalist guides for a day of exploring nearby islands on Finch Bay's own motor yacht. The island you visit will depend on the day of the week.
North Seymour (Mondays and Sundays) is a low, flat island that shelters silvery grey Palo Santo trees and raucous colonies of blue-footed boobies, as well as plenty of sea lions, marine iguanas and lava lizards.
Bartolomé island (Tuesdays and Saturdays) is a moonscape formed by cinder cones and lava bombs, whose summit offers panoramic vistas over the surrounding islands. You'll enjoy time on the beach, snorkelling with Galápagos penguins and sea turtles.
Though South Plaza Island (Wednesdays and Fridays) is one of the smallest islands, it is home to an impressive array of wildlife: sea lion colonies bask on smooth rocks, iguanas populate a cactus forest and swallow-tailed gulls, tropicbirds and shearwaters nest along the cliff edge.
Santa Fé Island (Thursday) is one of the oldest and most beautiful islands of the archipelago, boasting sheltered coves and turquoise lagoons which abound with white-tipped sharks, sea turtles and sea lions. Among forests of prickly pear cacti, look out for a large land iguana endemic to Santa Fé and the harmless, stealthy Galápagos snakes.
In the evening you have the option to dine al fresco, enjoying a 3-course meal set up especially for you on the beach.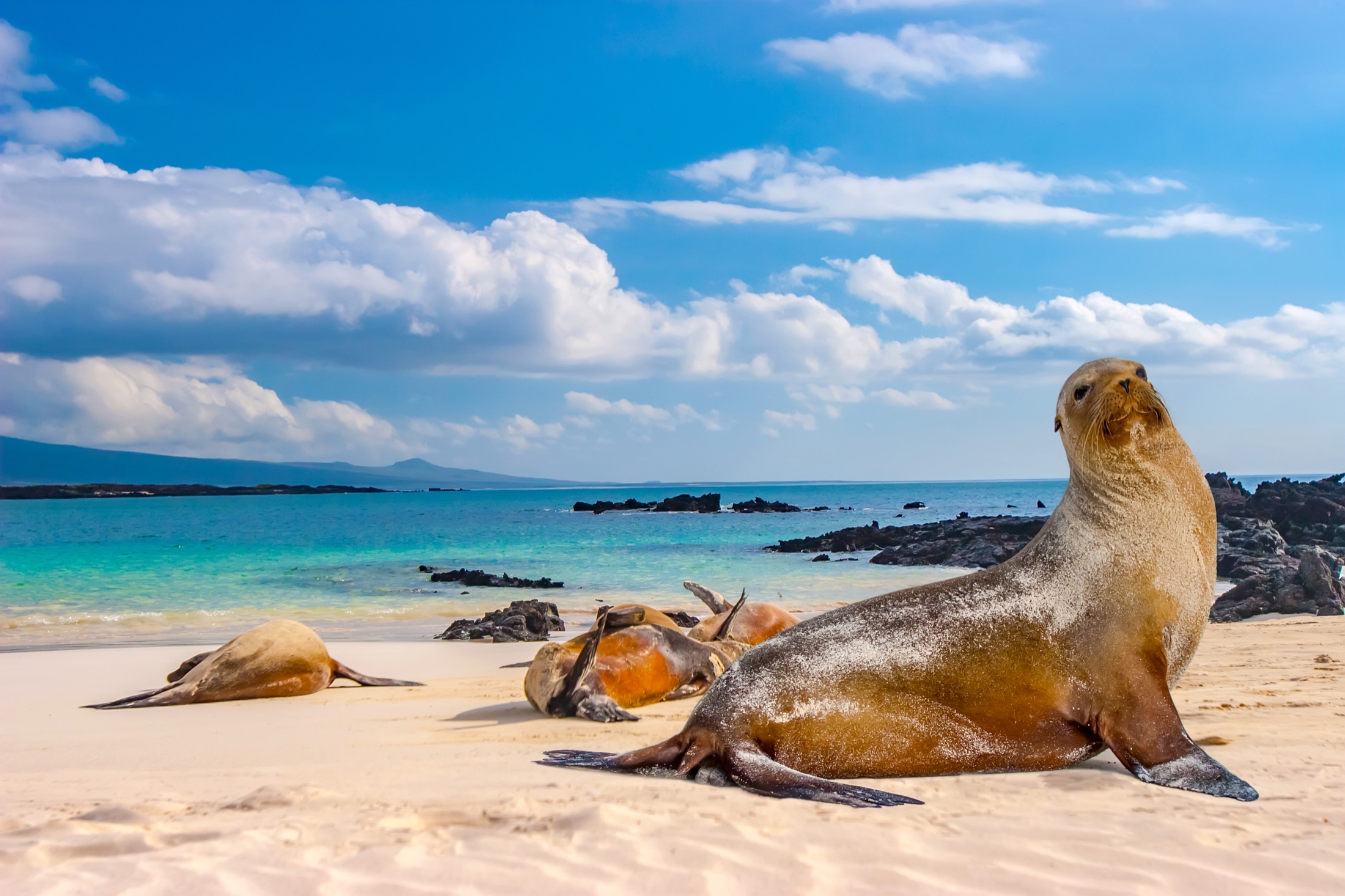 DAY 7
Excursion to Divine Bay, Charles Darwin Research Station and a star gazing workshop.
The aptly named Divine Bay is a tranquil haven for wildlife, protected from ocean swells by natural volcanic reefs on one side and a gallery of mangrove trees on the other. Hundreds of herons cross the bay each morning and return at sunset, while noddy terns and blue-footed boobies perch along the cliffs. Snorkel in the inviting waters of the cove, where sea turtles graze on sea weed, hundreds of reef fish species swim about the lava crevices, and young reef sharks and rays employ the brackish streams as havens from large predators while they mature.
You'll also learn about the natural history of the Galápagos Islands at the Charles Darwin Research Station on Santa Cruz island, home to a giant tortoise sanctuary. Later that night, weather permitting, join an experienced guide on a mesmerising star gazing workshop where you'll admire glittering constellations from the deserted beach.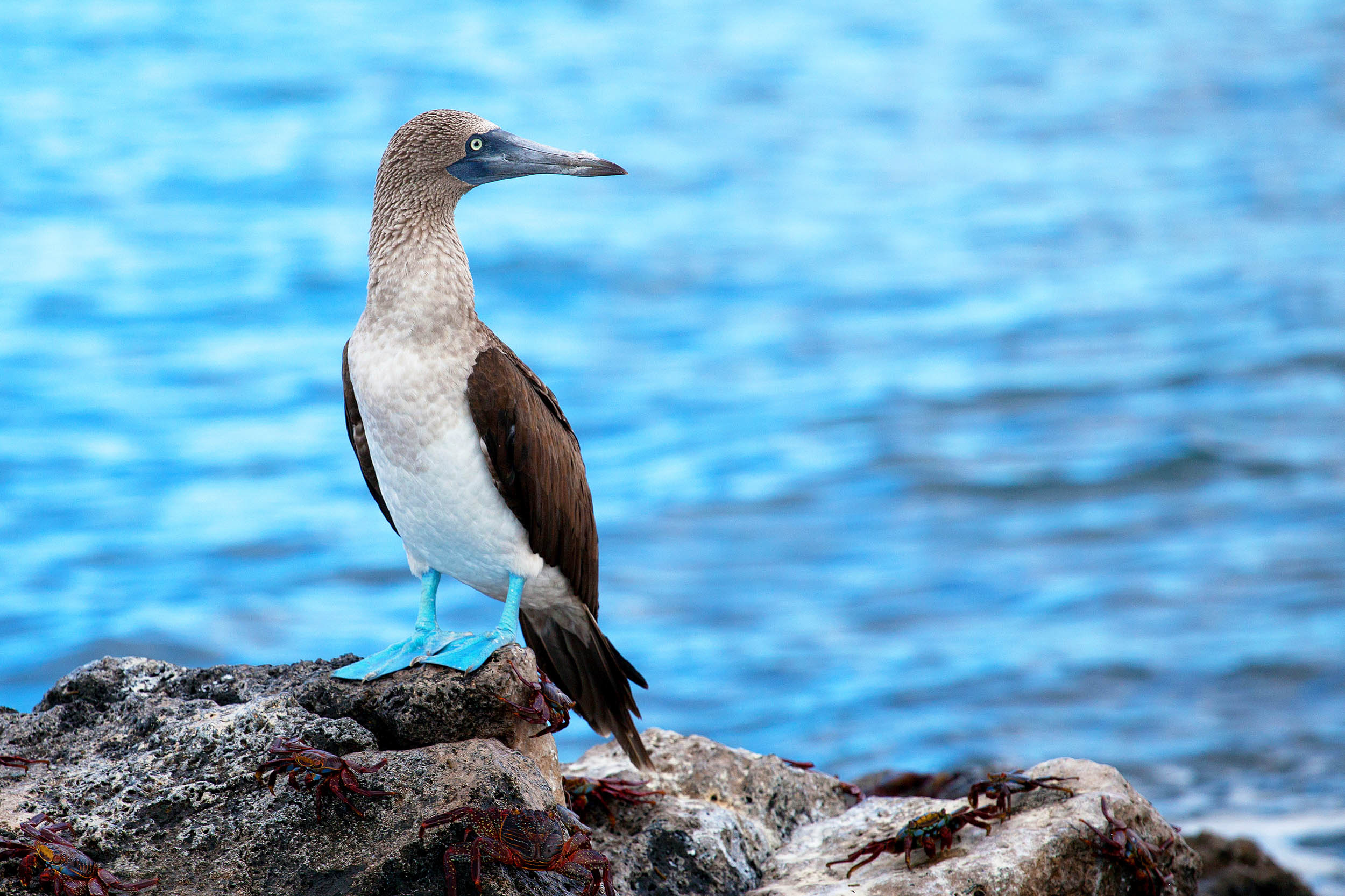 DAY 8
Private transfer to airport.
You'll be collected from the hotel and taken by private transfer to Baltra airport for your return flight to mainland Ecuador.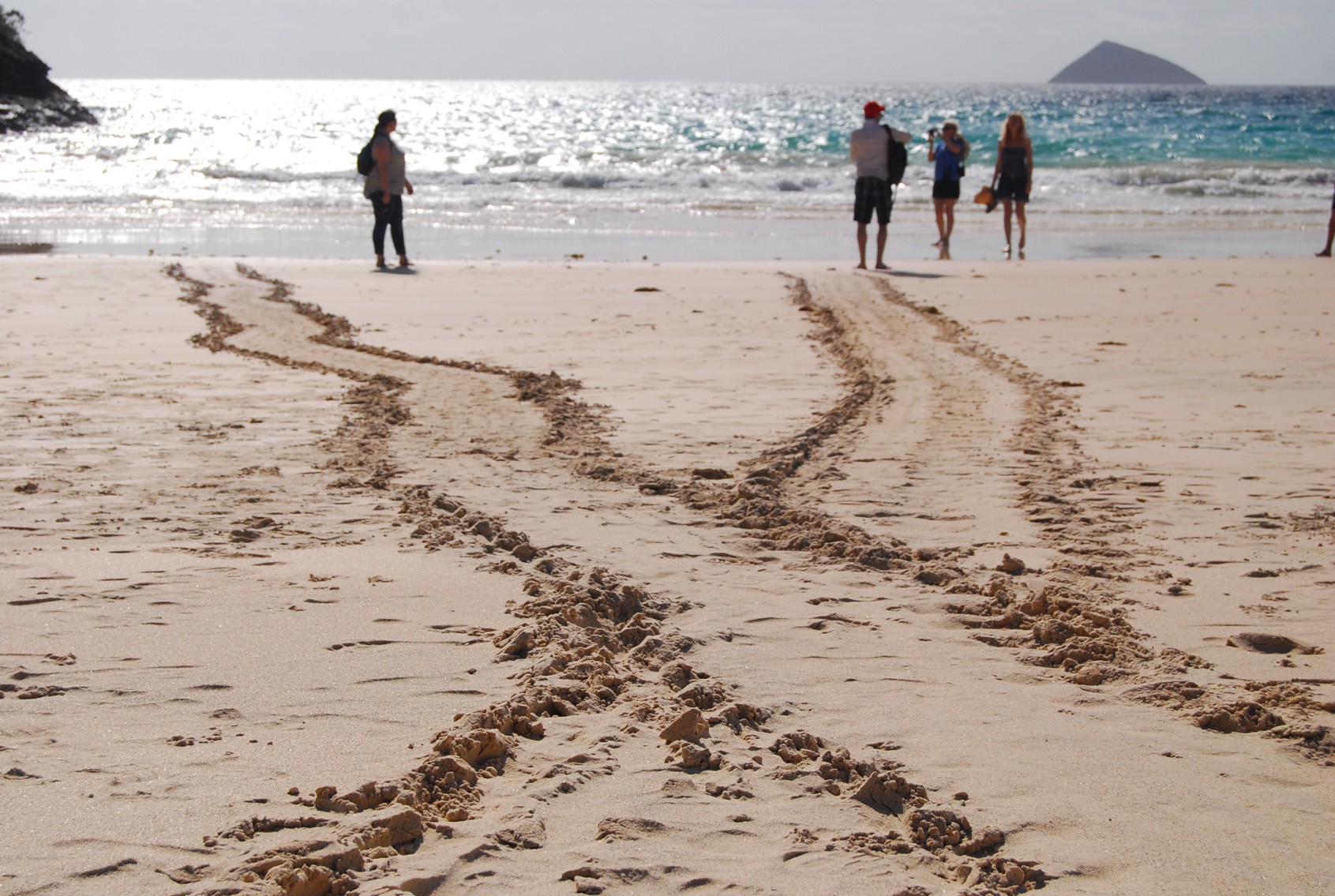 Essentials
Tour info
Money
The price of this holiday is based on four passengers travelling together.
Transport
4 flights (longest 2-3 hours), water taxi, all private overground transfers.
Accomodation
This holiday incorporates a restored mansion in Quito, a deluxe tented lodge on Isabela Island and a first class beachside eco-lodge on Santa Cruz Island in the Galápagos.
Meals
Breakfast at Casa Gangotena, full board at Scalesia Lodge, breakfast and lunch at Finch Bay Resort.
Summary Of Nights
8 days, 7 nights: Quito 1; Isabela Island 3; Santa Cruz Island 3.
Currency
The unit of currency in Ecuador is the US dollar; in the Galápagos it is the US dollar.
Daily Spend
It is very difficult to give a guideline for essential expenses but a budget of around US$45 per day should cover the cost of good quality meals on those days in the holiday itinerary when not on the cruise, drinks and the odd souvenir. Eat at the very best restaurants and you will pay considerably more.
How To Take It
Cash machines are available in Quito, and so taking a debit or credit card with a PIN number is the most convenient way of withdrawing money while on your trip, and in most shops and restaurants you can also pay by card. However, since cards can get lost, damaged, withheld or blocked, you should not rely exclusively on a card to access funds. 
We recommend that additionally you take a reasonable quantity of US dollars cash (no more than is covered by your insurance), which you can spend as the dollar is the local currency. Dollar bills should be in good condition, soiled or torn bills may be refused.
Recommended Tipping
Tips are welcomed and local guides often rely on their tip as a significant proportion of their income.
Most service industry workers will expect a tip of some kind and so it is useful to have spare change for hotel porters, taxi drivers and the like. It is common to leave 10 – 12% in restaurants.
You might tip your guides in the Galápagos $US10 per person for a half day excursion or more for a full day.  
Tipping guidelines can be found in our Briefing Dossier.
Guides
We carefully select our local partners, some of whom we have worked with for over 25 years. Their English-speaking guides understand the expectations of our clients very well, and are consistently singled out for praise by the latter on their return.
Galápagos guides have all undergone strict training in order to work in the islands, many have naturalist qualifications. Guides on activities such as kayaking and cycling are familiar with the local conditions. 
Insurance
Travel insurance is essential. You should ensure you have travel insurance with coverage for all expenses associated with Covid-19.
Journey Latin America's recommended insurance company is Campbell Irvine, and their medical and repatriation cover is handled by International Medical Assistance.
Details of our recommended policy can be found on our Travel Insurance page. 
Airport Taxes
If you have purchased your flights through Journey Latin America, the international departure tax is usually included in the ticket.
Journey Grade
This holiday is suitable for all able, reasonably fit visitors. There are a number of outdoor activities to choose from at the lodges, advice can be given locally about their suitability for you personally. 
The sea can be choppy around the Galápagos islands.
Climate
In the Galápagos, from January to April it's hot and the sun is relentless, with some sudden showers. May to July, and October to December is cloudier; August and September it's often cloudy and cool, and a stiff breeze makes the waters choppier. High and Low seasons reflect demand rather than the best time to go.
Altitude
Quito stands at 2,850m above sea level. Travel to high altitude can cause mountain sickness and even if you feel fighting fit it's important to take things easy and stay hydrated (drink plenty of water, avoiding alcohol and caffeine) as you get used to the thin, dry air. 
Clothing And Special Equipment
For day-to-day wear you should go prepared to encounter all seasons. Trousers, skirts or shorts made from light, quick-drying synthetic materials work well on the Galápagos Islands. Long-sleeved shirts will protect you from insects and sunburn. 
Strong, comfortable footwear is essential and you should bring insect repellent, sun block, hat and sunglasses. You should take swimwear for ocean swimming (Galápagos). You can hire snorkelling equipment but may prefer to bring your own. Aqua-socks or rubber sandals are useful for embarking and disembarking on wet landings. Bring a light waterproof jacket in case of rain. For June to November departures, wetsuits are recommended, as the waters can be chilly for snorkelling.
Don't forget your binoculars, camera, charger and cards.
Please get in touch with the office before departure if you have any doubts. Good equipment is very important and hard to come by in South America and Galápagos.
Vaccinations
Preventative vaccinations are recommended against the following: typhoid; polio; tetanus; hepatitis A. You should consult your GP.
For admission to the Galápagos a yellow fever certificate is required for anyone over 1 year old coming from an area with risk of yellow fever transmission. 
You can also find helpful information on the Masta Travel Health website. 
Visas
Holders of a full British passport do not require a visa, although passports must be valid for at least 6 months after the trip begins. Anyone with a different nationality should enquire with us or check with the relevant consulate.
If flying to the US, or via the US you will need to fill in your online ESTA application.
What's included in the price
Services of Journey Latin America local representatives and guides
Services of our team of experts in our London office base
Accommodation as specified
Private land transfers as described
Meals as specified
Excursions as specified
Included Excursions
Scheduled excursions to nearby islands from Scalesia Lodge
Visit Los Gemelos volcanic sinkholes
Scheduled excursions to neighbouring islands from Finch Bay
Stargazing workshop at Finch Bay hotel
Excursion to Divine Bay and Charles Darwin Research Station
What's not included in the price
Tips and gratuities
Meals other than specified
Airport taxes, when not included in the ticket
Optional excursions
Galapagos National Park entrance fee
Real Latin America Experts
Chris Rendell-Dunn - Travel Consultant

Anglo-Peruvian Chris grew up in Lima and spent much of his adult life in between London and Cusco as a tour leader, before settling permanently in our Sales team.

Kathryn Rhodes - Travel Consultant

Kathryn backpacked across Argentina, Chile, Bolivia and Peru before joining us. She has a degree in Philosophy and French and is a keen netball player.

Hannah Waterhouse - Travel Consultant

Hannah had an early introduction to Latin America when her family moved to Ecuador and she returned to study in Buenos Aires for a year before backpacking across the continent.

Hannah Donaldson - Travel Consultant

Having spent part of her childhood in Colombia and worked in Brazil and Costa Rica, Hannah's ties to Latin America run deep. Hannah is an invaluable part of our Group Tours team.

Evie Oswald - Travel Consultant

It's hard to believe that Evie has had time to cram so much in to her life so far. Having lived as a child in the Americas and Europe she found herself immediately attracted to Latin America.

Mary Anne Nelson - Travel Consultant

Born in the Atacama Desert in northern Chile, Mary's insider knowledge and dry sense of humour make her a highly valued member of the Tailor-made team.
Meet the team