Back
Explore Cuba by car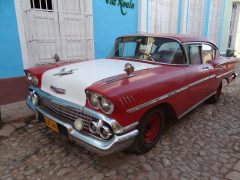 Experience a real adventure on Cuba's roads less travelled.
Although Cuba has main roads linking its cities, the locals make no distinction between how they use them and the dirt tracks of more rural areas, so don't be surprised to find yourself slowing down for an ox cart or getting stuck behind an unhurried rabble of livestock. However, with a bit of patience and a well-developed sense of adventure, there can be few more rewarding experiences than a self-drive trip in Cuba.
Cuba's the largest island in the Caribbean and you may need to restrict yourself to one region to keep the distances manageable. One possible itinerary is to head out west to see the mogotes of Viñales, set amongst lush, green tobacco plantations, followed by a few days in colonial Trinidad with a chance to drive to nearby beaches. Or to get further off the beaten track, try the less-visited east of the island, heading to Santiago along even quieter roads that pass sugar cane fields stretching out to the horizon.
Cuba
Vinales and the Sierra de los Organos
Holidays Explore Cuba by car
From expertly designed Private Journeys to trail-blazing Group Tours, browse our range of carefully crafted holidays.
Private Journeys