Back
Visit Poas volcano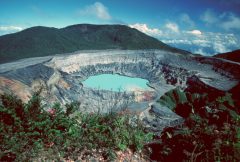 Look out over the enormous crater of Poas volcano, with its vivid turquoise lake and frequent bursts of steam.
A desolate expanse of rock rises up on all sides to enclose a surreal, milky turquoise lake at the top of Poas volcano. Within the crater you can often see misty fumaroles of smoke, hinting at the volatile energy that forged this harsh, ruptured landscape.
After a drive past strawberry farms and coffee plantations, you'll arrive at a viewing platform perched on the summit of Poas to look down into the vast bowl of the crater – it's an incredible panorama and one of Costa Rica's most famous sights.
Costa Rica
San Jose, central highlands and central valleys