Back
Rio Tarcoles crocodile experience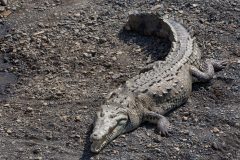 Go on an exciting water-borne safari to spot giant crocodiles in Costa Rica.
Take part in an exciting water-borne safari seeking out the crocodiles which frequent the river banks. Set off early to be more or less alone with these huge creatures (they can reach 4m in length) although bird life is also plentiful here, including hawks and various species of heron.
There have been crocodiles on Earth for over 200 million years, during which time they haven't evolved much - so the toothy creatures have a really prehistoric air. You can also see iguanas and basilisks basking in their natural habitat. Your covered boat will be steered by a Captain and a bilingual guide will accompany you, both of them able to navigate expertly in order to maximise the opportunity of spotting these gigantic reptiles. They can also tell you about all the fauna and flora of the river, pausing to let you photograph and film the wildlife at close range.
Costa Rica
San Jose, central highlands and central valleys
Holidays Rio Tarcoles crocodile experience
From expertly designed Private Journeys to trail-blazing Group Tours, browse our range of carefully crafted holidays.