Back
Go snorkelling at Osa Peninsula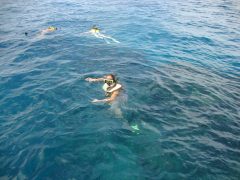 Visit the biological reserve of Caño island to submerge yourself in a natural aquarium of manta rays, lobsters and hundreds of tropical fish.
Join shoals of vividly coloured fish and search for starfish and gangly octopusesi in the aquatic wonderland of Caño Island Biological Reserve. This is the best place to go snorkelling on the Osa peninsula and there's an endlessly entertaining world to be observed under the ocean surface.
The warm water is awash with marine life, from eels and manta rays to turtles and dolphins, and there are beautiful natural gardens of coral sheltering countless varieties of tropical fish.
From Caño Island you can spot dolphins and whales at certain times of the year.
Costa Rica
Osa Peninsula