Back
Discover Colombian cowboy culture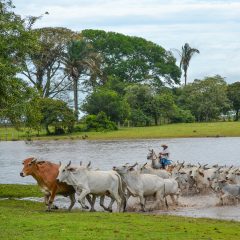 Get to know the lifestyle of the cowboys of Los Llanos - the llaneros - their skills working with livestock, their joropo music and dance.
Llaneros are the traditional herdsmen, or cowboys, who roam the plains of Los Llanos, the savannahs and wetlands extending from eastern Colombia over the border into Venezuela. This is a sparsely populated area of huge ranches –originally set up by Jesuit colonists – devoted to cattle rearing. Just a little over a million people live here in both countries combined. Owing to the remoteness and isolation of this area, and various political upheavals which only served further to distance Los Llanos from development in the rest of the country, the distinctive culture of the llaneros has been preserved.
On a stay at one of the hatos which nowadays welcome visitors you can observe the llanero lifestyle in action – watch these proud cowboys tame horses, round up zebu cattle, and relax to the strains of their own creole musical style, joropo – played on a harp or guitar. The music frequently accompanies associated joropo dance, a variation on the waltz.
Colombia
The Colombian llanos