Back
Colombian safari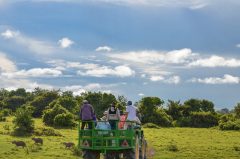 Take a safari by tractor or jeep to explore the prairies and wetlands of Colombia's Los Llanos.
Board a tractor or jeep to set off on a guided safari into the savanna and wetlands of the Colombian Los Llanos. This landscape is in itself beautiful, peppered with and enlivened by an abundance of wildlife at every turn.
You'll be out for between two and four hours, depending on the birds, reptiles and mammals in view, and the extent of your own interest. We can't imagine you won't want to linger: these creatures are all so tame and trusting, not to mention curious, that you will be able to observe the wildlife right up close without actually approaching it yourself. The species you have a good chance of spotting include spectacled caimans, deer, ibis, tortoises, anacondas, rattle snakes and armadillos. There's an absolute cornucopia of birds to be spotted and identified: jabiru storks, jacanas, roseate spoon bills, burrowing owls, black-hawk eagles, chachalacas, orinoco geese, oriole, macaw, aracaris, motmots and oropendulas to name but a few.
The roads can be rough, and muddy in the wet season, but this just adds to the exhilarating feeling of wilderness adventure. Anyway, you'll be so captivated as not to notice the bumps. The guides are usually recruited from the local community and have great stalking skills – by employing them, the hatos are really contributing to the economic well-being of the local communities.
Colombia
The Colombian llanos