Back
Visit Tatacoa Desert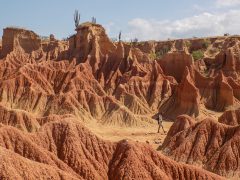 Visit the startling red desert at Tatacoa, a starkly beautiful wilderness of arid, sculptured rock.
Yes it's a desert – strictly speaking, it's called dry forest, but there are certainly no trees in this well defined region of arid lava flows and sand dunes scorched by a relentless sun. Created as a result of an odd configuration of meteorological characteristics, it's a crumbly, tortured, other-worldly landscape which would be well at home on Mars, with unexplained towers of vertical rock cut through by dry furrows.
You can wander along faint trails through the rust-red Laberintos de Cuzco closest to the village of Villa Vieja 37km away, or the peal white lava sculptures further on, maybe pausing at the look-out point at La Ventanas and one of a few basic countryside eateries.
You'll be spellbound by the silence, disturbed by just a few fluttering birds, and, if visiting at sunset, the bright palette of colours from russet to gold. There's time to wonder at the fact that close by are the foliage-choked banks of the Magdalena river and rolling hills blanketed with coffee plantations. If you manage to visit at night when the sky is clear, you can enjoy marvellous views of an explosion of stars, best viewed from the Observatory 6km from town.
Colombia
San Agustin, Popayan and Cali