Back
Visit Purace National Park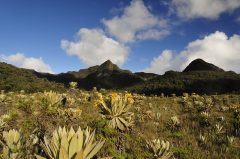 Purace National Park is a starkly beautiful region of volcanoes, lagoons and cloud forest.
In a country, nay a continent, bursting with a plethora of stunning national parks, Purace is surely one of the most impressive and well worth a day-long visit at least. The jewel in the crown of this chilly high altitude protected area (most is over 3,000m) is Purace volcano; at 4,646m it can be conquered on a strenuous guided climb.
The park comprises not just aces of wind-scarred rough páramo (tundra) grasslands but also jagged snow-capped peaks, hidden waterfalls, bird-filled lagoons and pools of bubbling sulphur. Not many people live in this harsh environment but spectacled bears and mountain tapir roam freely and there is a wealth of interesting vegetation, including battalions of frailejon, a shrub which can grow to heights well taller than a man, which sports bright yellow blooms in September and October.
On a guided day trip you can see plenty of this, and your experience will be enlivened by the sight of condors which come down to feed near the entrance. You also may also have the chance of a country-style lunch at a friendly local farm.
Colombia
San Agustin, Popayan and Cali