Back
The transformation of Medellin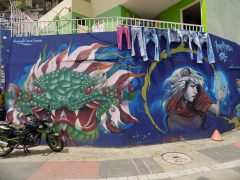 Experience the uplifting turnaround in Colombia's most dynamic city.
Medellin is a city which is barely recognisable from the anarchic days of the paramilitaries and the dominance of the drug cartels. Lively, enterprising, optimistic and forward-looking, the city's government and people have, over the last 20 years, achieved an extraordinary transformation for the better.
Visit Communa 13, once controlled by guerrillas but now a centre for the arts, with amazing works of street art created by its inhabitants and guest artists from around the globe. Artisan ice-cream sellers, dance troupes and musical groups are popping up everywhere Elsewhere in the city, ride the cable cars, which link the outlying boroughs on the hillsides, from where you have extensive views over the growing city.
Colombia
Medellin