Back
Silletas: The world's most extravagant floral displays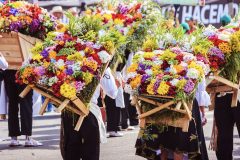 Visit the flower plantations which supply the world's most extravagant flower festival in Medellin..
Flowers are the symbol of Medellín and August's annual Flower Festival (Feria de Las Flores).is the cultural highlight of the year. Ornate, elaborate flower arrangements, known as silletas, are the cornerstone of the week-long festival.
The flowers are cultivated in a small village, Santa Elena, set on a high mountainside 16km from the city centre and surrounded by verdant Antioquian landscapes.
The farmers of this gorgeous region cultivate an abundance of dazzling flowers on the fertile volcanic soil, many of which are exported abroad. It's a privilege to be able to visit one of these traditional organic flower plantations, where you can learn about the design and preparation of the sumptuous silletas from one of the friendly local horticulturalists who dedicate their lives to this craft.
Colombia
Medellin